Car Seat Type
Welcome to my Baby / Toddler car seat guide, basically there are 3 main types of car seats and to keep your kid as safe as possible on the road, always choose the seat that's best suited to their age, height, weight and follow the manufacturer installation instruction and the current road authority regulation.

1. Baby capsule (birth to 9kg or birth to 6 months approx)
Baby capsule fits baby snugly during the first year or so, depending on the seat and size of your baby. They can only be use with rear facing (face the rear of the car) and carry babies up to 8kg and 70 cm tall. It usually has a handle for easy carrying. They can snap in and out of a base you install in the car, and in and out of your stroller.

2. Convertible car seats (birth - 18kg or birth to 4 years approx)
Convertible car seats are larger and heavier than baby capsule. Most of them these days got dual facing capability. It can be use from birth with rear facing (up to 6 months – approx.) and later change to forward facing (6 months to 4 years – approx.)

3. Booster car seats (14 - 26kg or 2 to 7 years approx)
Once your child outgrows the convertible car seat (follow the manufacturer's recommended height and weight limits), it's time to switch to a booster seat as it will place your child in the correct position to enable you to use the car's seat belt correctly and safely. Most of them these days can be use as forward facing car seat with 5 point harness (2 to 4 years – approx.) then later can be switch to booster seat mode (4 to 7 years – approx.) and use the car's seat belt.

As a general guide when you buy USED car seat from eBay and always do visual check of the structure, seat cloth condition and what is underneath it.

Most of the time, you will find that the seat cloth is either dirty, dusty or sometimes smelly (due to long period of storage) and if you checked what is underneath, you will find some nasty surprises such as rotten food waste, bug, sticky lolly etc hidden underneath the seat cloth as per picture below.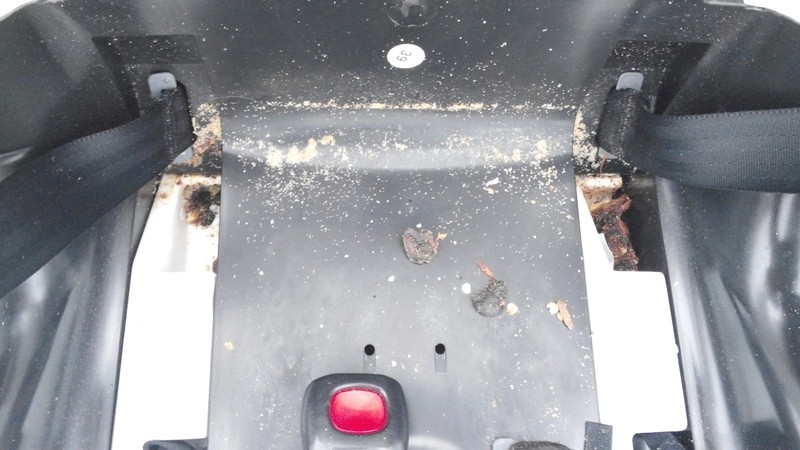 Simply Trash n Treasure Car Seat Criteria
All the USED car seats that you found in my store have been cleaned inside out and ready for use. With so many satisfied customer, we are proud of ourselves in providing quality car seat / booster at an affordable price.

You are welcome to inspect it first before you buy or if you found it is not suitable when you visually check it on your pick up, you are welcome to cancel the transaction and I will happily refund your money.

NOTE:
More details of each car seat can be found in the item description

DISCLAIMER:
The above guide is just a general guidance only and buyer is responsible to visually check and confirm it if it is suitable for their own child. As this is a USED car seat, it won't perform as good as a new one and there will be some wear and tear.