Welcome to BabyImpress's Tips and Guide on How to Best Make A Better Casting Of Your Baby's Hand and Foot sculpture
---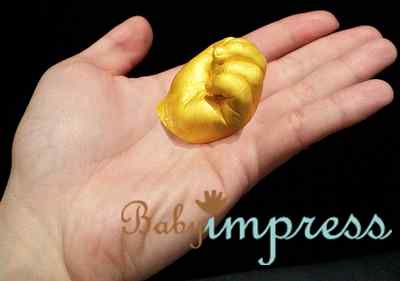 Planning and preparation
The mould making process involves preparing the moulding paste and placing the baby's hand or foot into it and keep still for the paste to clot completely. Moulding powder are also known as alginate; used by various industries such as for food emulsifier, and dental impression.
Preparing the moulding paste is quite easy, work out the required portion of the moulding powder and water, depends on the manufacturer's recommendation. Mix the 2 together in a large Salad bowl quickly. Use a flat surface electronic scale for more precise portion. BabyImpress's complete casting DIY KIT comes with all the step and calculation to what to work it out precisely.
TIP 1:
When making the mould for your baby/infant up to 6 months old, it is best done while they are asleep on your arm, so there is less movement for longer period of time.
TIP 2:
For toddler, if you have one that tends to fiddle in this process, we find it bribing them with their favorite treats work best; tell them it is theirs if they can play still. You could also ask them to hold their small favorite treats like a couple of jelly beans.
TIP 3:
Instead of using plastic bag, use
clear plastic cup
for baby hand, and
takeaway container
for foot. First timers will find it much easier because of the rigid shape, and helps you focus in keeping your baby's hand/foot centered and not touching the mould wall.
TIP 4:
Depends on the manufacturer's recommendation, most paste changes colour when mixed with water to show the different stages in the clotting process. For example turning from pink to dark pink may indicate the paste is ready set soon. The temperature in the environment and water also play a big part on how quickly the paste clots.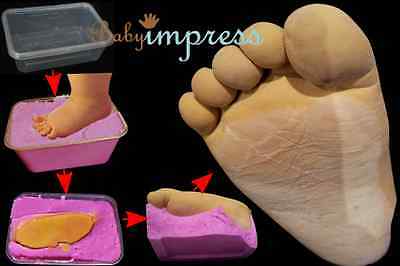 The main tools are:
Water thermo-meter to ensure the comfortable temperature for your baby and enough time for mixing a smooth even mixture.
Whisk - the best way to mix the powder and water quickly and smoothly.
Electronic scale working with flat top made for light objects and in gram
Large mixing bowl; use your average large salad bowl is ideal
The moulding process
Prepare the mould paste
Create one hand or foot mould at a time, dip your baby's hand or foot into the paste. Stir hand/foot a bit so it has full skin contact and not touching the wall of mould.
Remove your baby's hand/foot once the paste is completely harden; wiggle hand/foot around to let air in, then gently pull out.
TIP 5: The timing is very important here in the whole process, the paste should be smooth and even, stir quickly with the ladle and work your way to the base of the mixing bowl.
TIP 6: If you do spill some paste onto carpet or your clothing, simply wait for it to dry and rub it off.
TIP 7: Have another person to assist in the process is real fun.
The casting process
After you have created a pair of moulds, prepare the casting paste and pour into the mould and let it sit for few hours.
Break the mould gently with your hand.
Inspect the casting immediately for any imperfection such as small bubble, use tooth picks to push it off.

TIP 8: Pour slowly with small amount of casting paste at a time into the mould cavity, tilt the mould side to side to allow air bubble to escape from some tight areas.
TIP 9: Patch some small bubble holes with mixing some casting paste.

The finishing touch
Let your casting sit in a well ventilated place to dry, refer to your manufacturer's recommendation.
TIP 10: Painting the casting with 2 thin coats of paint will help protect the surface and looks great too. Choose the colour best matches to the shadow-box to show case in.
---
If you do find this guide helpful please VOTE.
At BabyImpress, we want to make it easy and enjoyable in making your own magical life castings.
Good Luck & Have Fun