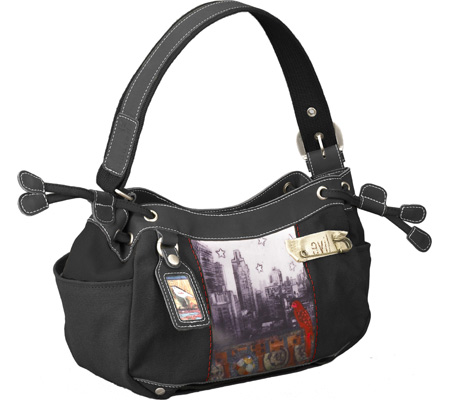 In the culinary world, a baguette is a long and narrow loaf, commonly eaten in France. Similarly, a baguette bag is rather long from side to side and short from top to bottom. However, compared to the edible type of baguette, it has a rectangular shape. The baguette bag features a short strap that makes it easy to carry. Although this bag is not very large, it can accommodate day-to-day essentials, such as keys, a mobile phone, a wallet, lipstick, and mascara. Compared to a typical clutch bag that is about the same in size, a baguette bag leaves the hands free for other tasks, and is thus a good daily companion for any woman. Many colours and designs are available, so everyone should be able to find one that is appealing to the eye, from more extravagant to simpler models.
Baguette bags are available from clothing and designated bag shops. However, they can also be purchased without leaving the comfort of one's home, through online auction sites, such as eBay.
Baguette Bag Features
Buying a bag may seem a simple task only to people who have never bought one, because there are so many features to consider in order to find the perfect item. Besides the obvious, the appearance and design of the bag, its strap, fastener, and compartments should also be taken into account, as these are important when it comes to functionality.
Baguette Bag Strap
A regular baguette bag has only a short strap attached to it. However, some models also come with longer straps, which can be adjusted according to the wearer's needs. Some of these straps may even be so long as to allow one to wear the baguette bag as a cross-body bag. When the baguette bag has an adjustable strap, the strap's length may be specified as a range.
Baguette Bag Compartments
A good bag suits its wearer's needs and has interior pockets that allow one to organise the items put inside the bag. The compartments inside the bag may be either large or quite small, offering only enough space for a credit card and keys. The more pockets the bag features, the easier it is to organise its contents in order to quickly find things when they are needed. A mobile phone pocket is a useful compartment to have, as it allows one to quickly find the phone when it rings, without having to turn the whole bag upside down. Often the interior pockets of a baguette bag are equipped with zip fasteners that allow for secure storage of items.
Baguette Bag Closures
A common design for a baguette bag features a flap with a magnetic button on the top. Other bags may have open tops, while models with zip fasteners and buckles are also designed. Choosing the closure not only comes down to functionality, but to style as well, because the type of closure used can influence the overall look.
Baguette Bag Designs
A baguette bag may be very simple or it may feature intricate embellishments that add elegance and allow its wearer to make a fashion statement. Traditional bags feature just one colour. Such bags are considered to be sophisticated, as they can worn with almost everything and they combine well with office attire. However, for a more striking look, a more colourful bag can be chosen. Contrasting details or cheerful patterns are available. The colour of the straps may contrast with the colour of the bag itself. For the most courageous, animal print bags are a great choice. Other pattern variations include checkers, stripes, symbols, and snakeskin.
Not only the patterns and colours can make the bag outstanding, but also the details attached to it. Bows and flowers are common decorations for baguette bags, for example. A designer bag is likely to feature a logo and other details pertaining to that brand.
Baguette Bag Materials
The material of a baguette bag influences its durability and also conveys a certain style. Most often, baguette bags are made of real, faux, or patent leather. Other materials used include cotton and canvas.
Leather Baguette Bags
Genuine leather bags are made from animal skin. Most leather comes from cattle, while some more expensive bags use lamb and deer skin, and some are made of pigskin. The most exquisite and most expensive baguette bags are made from even rarer or unusual skins, taken from ostriches, alligators, dogs, kangaroos, yaks, or oxen. Often, these animals are under protection in some countries, and obtaining such a bag can be quite costly. Leather bags should be kept away from rain and other moisture because water eventually changes the fibrous structure of the leather. Leather can be cared for with special conditioners.
Faux Leather Baguette Bags
Artificial leather, better known as faux leather, is actually not genuine leather at all. Instead, it is a fabric that imitates the look and feel of leather. This is a common choice for vegetarians and animal rights advocates, who object to the killing of animals for such purposes. Compared to real leather, this material is generally cheaper. Faux leather baguette bags can easily look like real snake skin, ostrich, or leather bags, but thanks to being artificially produced, they come in more colours than the genuine leather bags.
Patent Leather Baguette Bags
Patent leather is genuine leather that is covered with a plastic coating. This gives it a glossy finish and allows one to experiment with different colours. Hot pink, royal blue, and neon green are only some of the tones that may be used on patent leather bags. Thanks to the plastic, patent leather baguette bags are waterproof, besides being eye-catching. Probably every daring fashionista has at least one patent leather bag at home.
Cotton Baguette Bags
Cotton is a natural fabric made from the cotton plant. In bag design, cotton fabric can be printed with various patterns, and therefore cotton baguette bags are colourful and fun. Such bags are great for the warmer months because they go well with flowery dresses and light clothing. They are not waterproof and are thus not a practical choice during winter or rainy periods.
Canvas Baguette Bags
Made from flax, hemp, or similar material, canvas is a very strong and coarse fabric. Therefore, it is typically used for tents and sails. However, durable baguette bags can also be created from canvas. These bags are most often plain, navy, beige, or brown, although more colourful designs are also available. Canvas baguette bags are suitable for complementing a casual look, and they make good everyday bags.
Buying Baguette Bag on eBay
Finding a baguette bag on eBay is relatively easy, as you can use the search box that is located at the top of any eBay page. The keywords that you type into the box can be quite general, such as "baguette bag", or more specific if you know the colour, material, or special design features that you want. Therefore, you may word the search as follows: "pink baguette bag", "patent leather baguette bag", or "baguette bag with buckle", to give a few examples. Including the brand name, if this is important to you, may also help you to edge closer to your perfect bag. Once you receive the initial search results, you can further narrow them down, sorting them by auction time or price. Setting the item condition, be it either to new or used, is another option to limit the number of results. It may also be possible to find a special deal on a bag through eBay.
When choosing a bag online, it is essential to look at the photos. Browse through them closely and zoom in if possible. You want to be sure that the bag fits your style, so pay close attention to them. If the visual information is not enough to aid you in your decision, you can always contact the seller to ask questions.
Conclusion
Similarly to its culinary counterpart, the French loaf, a baguette bag is long from side to side and short from top to bottom. This rectangular bag has a short strap, and it can easily be worn on a day-to-day basis in order to carry essential items. Some models come with a longer strap that allows the bag to be used as a cross-body bag.
When it comes to the bag's functionality, the interior pockets should be considered. The more pockets there are, the easier it is to keep all the items organised. A designated mobile phone pocket allows one to find the phone quickly, while zipped pockets keep items secure. The bag closure is also a question of functionality as well as style, and influences the overall look of the bag. When it comes to designs, the colour and decorations used on the baguette bag are those that make the bag stand out and determine whether or not it matches the attire it is worn with.
Baguette bags can be made of several materials. While genuine leather is the most common choice for a baguette bag design, because of its classic look and durability, some people prefer faux leather due to ethical or other concerns. Soft cotton that can be printed in many colours and strong canvas are also used for baguette bags, and they help the wearer to achieve a casual look.