ROUND FIT BANGLE
A simple method for approximating comfortable Round Fit bangle size is to measure the length between
the first three knuckles on the hand the bangle is to be worn on.
Make a fist and measure the length from the outside of the first knuckle to the point between the third and fourth knuckle.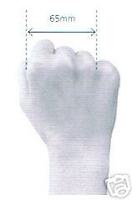 This measurement equals the required diameter of your Round Fit bangle.
for example, if the measurement comes to 65mm, then a 65mm (inside diameter) bangle should fit your hand.
OVAL FIT BANGLE
The fitting measurements for oval bangles differ from that of round bangles.
Please use the following formula to calculate your Oval Fit bangle size.
Simply add 3mm to your comfortable Round Fit bangle size.
For example, if a Round Fit 65mm bangle fits comfortably, add 3mm to this measurement to determine your Oval Fit size
65mm plus 3mm equals 68mm.
Note Oval Fit dimension is measured from internal widest point to widest point
This method works in most instances, however we offer this tip as a guide only.