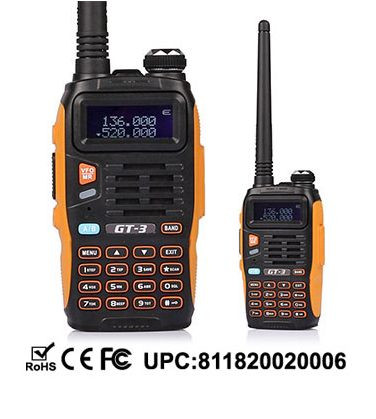 GT-3(Black-Orange)
Description:

This is the 2014 latest Baofeng two way radio with human-oriented features. Large capacity Li-ion Battery can last for 7-9 hours of continuous use.Small and lightweight, it is small enough to fit in a pants pocket.Upgraded frame material and black&orangecolor matching make it more durable and give it a more fashionable appearance.Multi-Language manual is available, including English, German and French.Moreover, it comes with a user-friendly user manual for bringing fabulous user experience.

Technical Index
1) Frequecy Range: 65-108 Mhz(Only commercial FM radio reception) VHF: 136-174 Mhz(Rx/Tx). UHF: 400-480 Mhz(Rx/Tx)
2) Broad (Wide) / Narrowband (Narrow), High power / low (5W/1W), selectable.
3) Selectable Frequency Step/2.5/5/6.25/10/12.5/25 kHz.
4) Function Busy Channel Lock "BCLO".
5) Function "VOX" (Voice Operated Transmission), "OFFSET" (frequency offset for repeater access).
6) Function Busy Channel Lock "BCLO".
7) DTMF encoded.
8) Incorporates 105 codes "DCS" and 50 privacy codes "CTCSS" programmable.
9) Timer transmission "TOT" programmable.
10) Selecting the Scan Mode.
11) Built-in RX CTCSS/DCS scan, LED flash.
12) Programmable by PC.
13) Dual Watch/dual reception.
14) Level Threshold "Squelch" adjustable from 0 to 9.
15) Crossband reception.


About us
Fujian Nanan Baofeng Electronic Co., Ltd is a professional handheld transceiver manufacturer and a high-tech enterprise, focused on the research &development, production, sales & after-sales service of transceivers and corresponding accessories.
Since the establishment, our company has been concentrating on the research & development of radio communication, dedicating to the continuous innovation of products, so far, our company has owned an experienced R & D team in the radio communication field, and also developed BAO FENG series transceivers and relatives products.
At the moment, Baofeng has about 400 staff, it owns about 30000 square meters production base, with the high efficient production capacity and advanced quality control abilities, Baofeng is one of the main manufacturers of wireless communication equipments.
Our company introduces the advanced production procedures and various modern high-tech equipments; we own 5 SMT production lines, 5 plastic injection production lines and 5 comprehensive production lines.
We also use various advanced testing instruments to test the product performance, such as comprehensive testing instrument, spectrum analyzer, network analysis instrument, oscillograph, adjustable voltage regulator and so on. In this way, we can make sure the stability and high quality of the products. The production procedures are strictly carried out by ISO 9001:2008 standards. Every item must go through various strict testing, such as vibration testing, anti-pressure testing, high& low temperature testing, rain exposition testing before they are delivered. In this way, we can make sure the product is 100% qualified。
Our newest design handheld transceiver UV-3R and UV-5R series transceivers got CE Certificate approval (CE NO.: 0678) in March, 2011, and in April, 2011, our UV-3R series transceivers got RoHS approval (RoHS No.: 1103182), these certificates lay the solid foundation of entrance to Europe market for our products. in May, 2012, our UV-5R series transceivers also got FCC from the USA and RoHS approval, which will pave the way to American market for our products.
So far, BAOFENG mobile radios have been sold to every market of China, and have many wholesalers and distributors, we have built up the sales net work all over China. In addition, BAOFENG transceivers have also been sold to the USA,Europe, Japan, Mid-east and South Africa
Bao Feng holds the operating principle: Grow up with the customers and all the staff.
"Develop the best products, realize the highest cost performance, provide the best service", this is Bao Feng's enterprise's competitive strategy .

If you have any demands or question, please feel free to contact us by email, fax or call. You are also warmly welcomed to visit our factory personally.