Planning the trip of a lifetime, a weekend in the bush or on the beach?

Be prepared, Don't get caught out!



The following are the basic 4x4 requirements for safe 4 wheel driving:
Basic recovery gear
Basic first aid kit
Fire extinguisher
UHF/CB Radio - Vehicle Mounted or Handheld
Tool kit, spare parts, a can of WD40
10 litres of water per person or more depending location to be visited
Map of area and surrounds and/or GPS
Matches, compass, torch, knife and a space blanket
Basic Recovery Kit
Use only accredited straps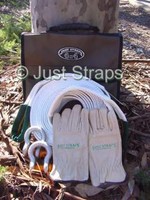 Snatch strap
Two rated and stamped 'Bow' shackles
Shovel
Axe
Gloves
Jack and jacking plate
Depending on the nature of the trip and the problems likely to be encountered, to the above you can add
Manual and/or Electric Winch
Tree protector strap, winch extension straps
Snatch-Block, extra 'D' shackles
High lift jack and accessories
Air bag jack
Chainsaw, snow chains - if applicable to location and state.
Chain saws are illegal in some areas (such as National Parks) make sure you check before you leave home
Recovery points securely mounted to front and rear of vehicle
Tyre repair kit

The First Aid Kit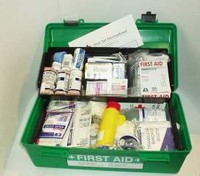 Basic first aid manual (from Red Cross or St John Ambulance)
Antiseptic fluid (Betadine, Dettol or similar)
Antiseptic cream (Betadine or similar)
Panadol
Eye drops
Assorted bandaids, strips/spots, wound closures
Elastic or crepe bandages (for sprains and snake bite)
Sterile gauze bandages (50 mm & 75 mm)
Triangular bandages (to support limbs and hold dressings in place)
Adhesive tape, cotton wool, tissues
Scissors, safety pins
Thermometer
Calamine lotion, Stingose or similar
Pencil and note pad

To that you can add many items
Antihistamine tablets
Itch/skin relief cream (for itch, bites, minor burns)
Anti-diarrhoea tablets (or mixture)
Gastrolyte - for treatment of diarrhoea
Travel sickness tablets
Andrews tablets, or similar, for indigestion
Ear drops
Temporary tooth filling mix to replace fillings, loose caps
Nyal toothache drops
Burn cream
Cream/ointment for bruises and swelling due to injury
Strepsils or similar
Tweezers, splinter remover
Rubber pointed eye probe, eye wash
Methylated spirits
"Airsplint" (for any broken limbs)
Personal medication or tablets
The Tools to Carry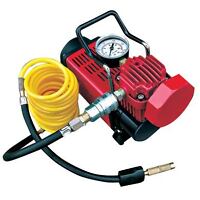 Set of ring and open end spanners (to suit your vehicle)
Adjustable spanner, plug spanner
Wheelbrace, jack and jacking plate (30 cm square x 2.5cm thick board)
Screwdrivers - Phillips head screwdriver
Hammer, chisel
Hacksaw and spare blades
File, including a points file
Pliers and wire cutters Feeler gauges
Tyre levers
Air Compressor and pressure gauge for tyres
Tube/tyre repair kit
Battery jumper leads
Repair manual
WD40, or water dispersant
Tanami Pump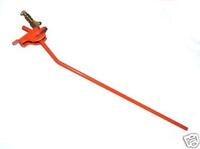 Spares to Carry
Full replacement hose and belt kit
By Pass Hose for cooling system
Fuses, globes, electrical wire, spark plugs, plug leads, points, coil and condenser
Tyre tube

The above lists are a starting point and are not comprehensive.
When planning a trip always be aware of the space and weight required for your spares and safety equipment