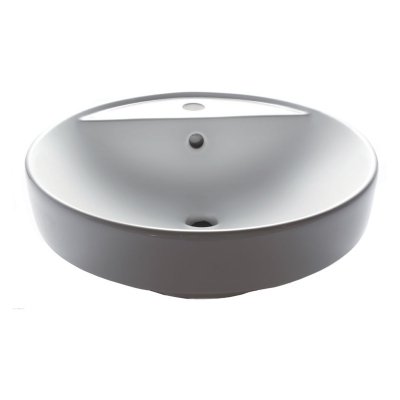 Bathroom basins are an essential plumbing component for washing hands and other personal hygiene purposes. There is an extensive range of bathroom basins to choose from on the current market in a variety of styles, shapes and designs to accommodate for the differences in individual tastes, preferences, desires and requirements.
The purpose of this guide is to inform the reader all about bathroom basins and to explain how to purchase these bathroom products on eBay in the most safe and efficient way.
Bathroom Basins
Bathroom basins are a bowl-shaped plumbing fixture that is used for washing hands. Basins have taps (or faucets) which supply hot and cold water and control the flow of the water. Basins also feature a drain at the bottom which removes the used water by removing the plug once the user has finished washing.
Another type of basin is the kitchen basin which is similar to a bathroom basin except they may also feature a flexible hose for easy plate rinsing and food washing. Basins may also be referred to as sinks, hand or wash basins.
Bathroom basins can be made from a wide range of materials including:
| | |
| --- | --- |
| · Stainless steel | · Enamel (over cast iron) |
| · Ceramic | · Marble |
| · Plastic | · Concrete |
| · Soapstone | · Terrazzo |
| · Wood | · Stone |
| · Copper | · Glass |
| · Granite | · Nickel |
Enamel (over cast iron) basins are very popular in bathrooms worldwide because they are heavy and durable. Enamel bathroom basins are very versatile which means they can be manufactured into an extensive range of shapes and are available in many different colours.
These basin types are resistant to hot or cold objects but they can be damaged by sharp impacts and if the glass surface is breached the underlying cast iron can corrode which often breaks off more of the glass. Enamel (over steel) is another common material used to make bathroom basins however they are less durable and are generally considered to be a less cost-effective option.
Solid ceramic basins are also common in bathrooms across the globe. These basin types share all the characteristics as enamel (over cast iron) except there's no risk of surface damage which often leads to corrosion.
Whilst stainless steel sinks are very popular in commercial environments such as restaurant kitchens, they are not so common in bathrooms largely due to the fact that they are noisy due to the material being metal.
Bathroom Basin Types
Bathroom basins are available in many different types and styles so there's a basin for everyone regardless of their desires or requirements. Below are the most common bathroom basin types available on the current market:
Full Pedestal
Full pedestal bathroom basins are of full height and stands on the ground. The pedestal part is designed to cover up the sinks pipework.
Semi Pedestal
A bathroom basin with a semi pedestal is mounted onto the wall with a half pedestal to cover up the pipework whilst creating a modern look. Semi pedestal basins are not designed to take the weight of the basin so they must be properly mounted onto the wall during the installation.
Wall Mounted Basin
A bathroom basin without a pedestal is fitted straight onto the wall. Wall mounted basins may also contain a decorative bottle trap as an additional feature.
Semi Recessed
A semi recessed bathroom basin is fitted directly onto the countertop with only the lip of the basin protruding from the unit. Pipework is typically hidden within the basin unit for a sleek and elegant appearance.
Countertop
A countertop basin sits directly on top of the bathroom countertop or unit for a modern and stylish appearance.
Used Bathroom Basins
Brand new bathroom basins can be quite costly, with some top of the range bathroom basins costing in excess of a thousand dollars. Second-hand or used bathroom basins however can be purchased at significantly lower prices than their brand new counterparts.
There are many advantages of buying used bathroom basins but perhaps the greatest benefit over buying brand new is that the quality of the product is still of a high enough quality that it can be sold again even after someone else has previously used it.
Another benefit of opting to buy used bathroom basins rather than a brand new one is the positive environmental impact as re-selling bathroom basins is a form of recycling. Buyers purchasing in this manner are acting responsibly in an environmentally conscious manner.
How to buy Bathroom Basins on eBay
The choice of bathroom basins online greatly outnumbers those that can be found on the high street and numerous amounts can be analysed and compared alongside each other aligned with the buyer's individual tastes, requirements and preferences. In this sense, eBay is effective for presenting a quick, easy and effortless route into searching for bathroom basins on the internet.
For the most successful purchase, keep the following guidelines in mind for the most efficient and safe shopping on eBay:
Search – To find a product on eBay using the search toolbar simply:
· Enter "bathroom basins"
· Then click the category entitled "Home & Garden" located on the left-hand side of the screen
· Next click the option "Building Materials, DIY"
· Then click the category "Plumbing & Fixtures"
· Finally click the option "Sinks, Basins" if available
Material – To search for bathroom basins by their material type, buyers need only to click the relevant option under the category "Material". For example, buyers searching for a ceramic bathroom basin should simply select "Ceramic".
Search results may then be limited down to the type of ceramic by selecting the relevant option under the category "Ceramic Type". Buyers searching for porcelain bathroom basins for example, need only to tick the option "Porcelain" from the sub-category "Ceramic Type".
Shop Safely – In order to have the most successful purchase shopping on eBay; always read the product description thoroughly (to confirm exactly what is being purchased), review the postage details and payment options prior to purchase.
Buyers can always contact the seller if unsure about the transaction. This function can also be used to ask the seller a question about the product or simply if more information about the product is needed.
Use PayPal – Although eBay accepts a range of payment methods, PayPal is the safest way to make online payments. PayPal allows shoppers to send payments securely and quickly online using a credit card, bank account or PayPal balance.
To find out more information about how PayPal and eBay work together to provide customers safe shopping online, visit the 'About PayPal' section on eBay.
eBay Deals – Don't forget to check out the latest deals on bathroom basins by looking in "Bathroom" section of the "Home & Lifestyle" department. Many fantastic discounts can be found here along with free postage costs.
Conclusion
There are many factors to consider and issues to take into account when purchasing bathroom basins. However with the important information and crucial considerations outlined as part of this guide, coupled with eBay's highly detailed and easy to use website, purchasing bathroom basins is quick and easy.
Buying on eBay should be considered not only due to the prospect of finding a good deal; but due to the extensive range of bathroom basins that the website offers. Remember to always keep personal information and banking details safe and secure by using payment authority PayPal to complete transactions with eBay sellers.