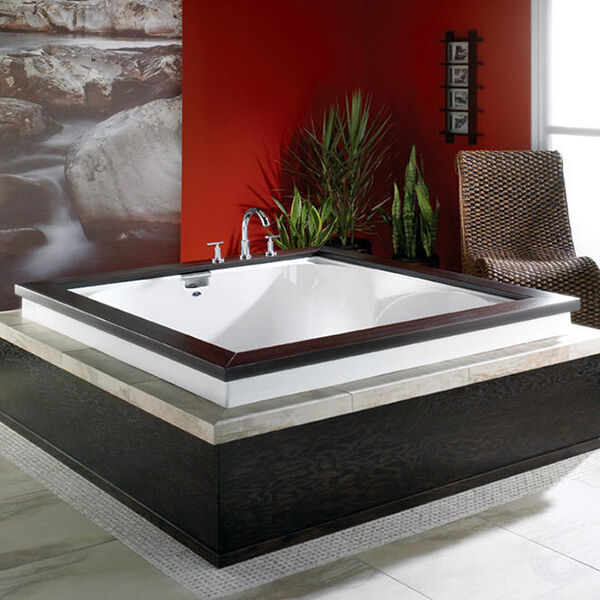 The days of a simple rectangular bathtub are long gone. While you can still purchase a rectangular tub at many online retailers, there are also many additional shapes and styles to choose from now. Features including whirlpools and jets are also on the market. Before you decide to take the plunge in a new bathtub, explore what is out there first.
Stand-Alone Tubs
Stand-alone tubs can sit almost anywhere in a bathroom. They work well for bathrooms with a lot of room to spare. Claw-foot tubs and other standalone tubs are simpler to install than a recessed tub because they don't require fitting into a section of the wall. However, it will require that cold and hot water pipe lines come either through the wall or the floor. Although easy to install, they may be more expensive than a recessed tub because of their materials. A stand-alone tub can be made of cast iron which is more expensive than an enamel recessed tub.
Recessed Bathtubs
A common tub is the recessed bathtub. It fits into a wall within the bathroom, and only one side of the tub faces outward. This lowers the cost because the tub only needs to be finished on one side, as three sides are recessed into the wall. Although the recessed tub may be less expensive, the installation itself may cost more. The wall that the tub is being recessed into must be prepared prior to installation, which may cost more in labor. This type of bathtub also allows homeowners to incorporate a shower into the space as well for dual-purpose bathing. If you're a person who only needs a soak on occasion and would rather take a shower, the recessed tub may work best.
Drop-In Bathtubs
Drop-in bathtubs are often installed within a platform in the floor. You can install this type of tub in any area of the bathroom, even in the middle of the room. Some are recessed slightly below floor level, for easier access in and out of the tub. These tubs require a roomy bathroom and won't work for tight spaces as most drop-in bathtubs are much larger than their counterparts. Sometimes the homeowner adds a separate shower to accompany the drop in bathtub. If you like to luxuriate in a warm bath with lighted candles and a glass of wine, consider the drop-in tub.
Whirlpool and Jetted Tubs
Whirlpool and jetted tubs offer comfort and luxury for homeowners. If you suffer from sore, stiff muscles, a whirlpool or jetted tub may help loosen tight areas in the body. These tubs are more expensive and will cost more in electricity to run the jets and to keep the water warm for a longer soaking time. You should also factor in repair costs, since a jetted tub has moving parts that may require fixing at some point.
Walk-In Bathtubs
Seniors and people with mobility problems may want to consider a walk-in bathtub. These tubs offer a door that opens and closes so a person can walk in and out of the tub instead of stepping over the tub ledge. Since these are speciality tubs with a unique feature, they will cost more than a regular tub.
The type of bathtub you choose should fit into the kind of life you lead. Whatever your situation, there is a bathtub to fill your needs.