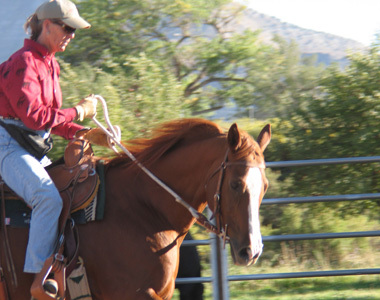 How-To: Improving Cues
QUESTION:
Is it important to keep your cues consistent when training your horse?
ANSWER:
Well, in my opinion, yes and no. I believe that you should be very consistent when first training anything for the obvious reason that you're trying to make a connection in your horse's brain. However, when you can clearly see that your horse understands a specific cue, then you will be well-advised to start "messing with your horse" as a part of the training process. What this does is to force your horse to read your body language, to think in more of a problem-solving sense, and to really ruminate over what it is you're looking for, rather than simply performing a trick or maneuver, then tuning you out. (It also causes you to use ever-lighter cues.) Note that while your cue may be sloppy, you must still expect correctness from the horse.
If your cue for him to turn left is to apply pressure on the left rein, then try instead picking up the rein with as light a pressure as you can muster, but also pointing with an elbow or a hip swivel. Try holding the rein at an entirely different angle. Turn around in the saddle. Have fun. As long as you pick up that rein, your horse knows you're after something, regardless of how lightly you hold it. Put it in your mind that you're drunk as a skunk and really "blow the cue." Keep giving your screw-ball cues (and applying necessary motivation like bumping with your legs if necessary) until the horse happens upon the correct answer. You'll be surprised how quickly your horse figures out the game and moves correctly.
How can this work? Because when you're riding and you "think about doing something" you unwittingly carry your body differently. Those small changes should be read by your horse - and if not, the exercise above teaches them to be "more tuned in."
* The preceding was inspired by the book "
Horse Tricks," Chapter 39, "To Pass Around the Hat
." (It is not an exact extraction.) It's a terrific book - if I do say so myself - as it offers 39 classic tricks - as written by equestrian genius, Dr. GH Sutherland - plus another five penned by myself, five more "tricks" that have proven quite popular at my clinics. Check it out below.
Please vote YES below if you think this guide was helpful - I'd really appreciate it!
Copyright 2014, Keith Hosman
Add a caption
John Lyons (L) and Keith Hosman, Parachute, Colorado
About Your Author
Keith Hosman, Utopia, TX USA
John Lyons Certified Trainer Keith Hosman lives near San Antonio, Texas and divides his time between writing how-to training materials and conducting training clinics in most of these United States as well as in Germany and Czech Republic.
(
Click to see his books or get more info
)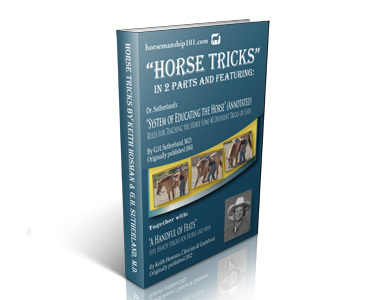 "Horse Tricks"
A paperback by G.H. Sutherland MD and Keith Hosman
"Old doesn't mean out-dated."
"
Horse Tricks" offers 44 tricks a horse might be taught
plus a quick and easy fix for horses that bite.
Annotated with thoughts for the modern horseman
Includes 5 original chapters by John Lyons Certified Trainer Keith Hosman
In all, 44 tricks plus an addendum containing a fix for "Biting Horses"
Part I
, first published in 1861 and written by GH Sutherland, presents
39 tricks
annotated for the modern horseman.
Part II
, penned in recent times by John Lyons Certified Trainer Keith Hosman, explains 5 "feats" - each feat having proven quite
popular at his training clinics
conducted about the U.S.
Available for all major e-reading devices and in paperback. Get the paperback here on eBay - shipped directly to your home by me - the book's author!
Click here to get more information and purchase "Horse Tricks"