Beautiful 2004 Model KARAKAR 3 Angle Load 2 Horse Float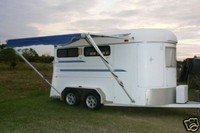 Beautiful Near New 2004 Model KARA KAR 3 - Angle Load Horse Float
converted to carry two horses!!!
Safety features include electric brakes, break-away system and 240v safety switch.
* Reverse Cycle Air Conditioner
* Roll-out awning
* Sliding tinted windows
* Saddle rack
* Over-head rug racks
* Padded stallion dividers
* High kick boards
* Rear lift door
Fully enclosed kitchen with:
* Fridge / freezer
* Sink
* Oven
* Stove
* Microwave
* Pantry cupboards and drawers
Also included in sale is Panasonic TV and DVD player.
So don't miss out on this excellent horse float
at a bargain price!!!
Returns
As a bonus you also have my 100% Guarantee...
(If the item is not exactly as advertised, just send it back and i will happily refund your money!!!)
If you have something to sell just contact me and i will make it my business to sell your item...
check out my other items, listed in my eBay Store...
Enjoy your eBay experience ;-]
I really hope you find this guide useful and if you have,
please make sure you place a "vote" for it by hitting the Yes button at
the bottom of this guide where it says "Was this guide helpful?"
By hitting "yes" you place a vote for it which increases my ranking.
Be sure to check out my other guides and have a wonderful day!