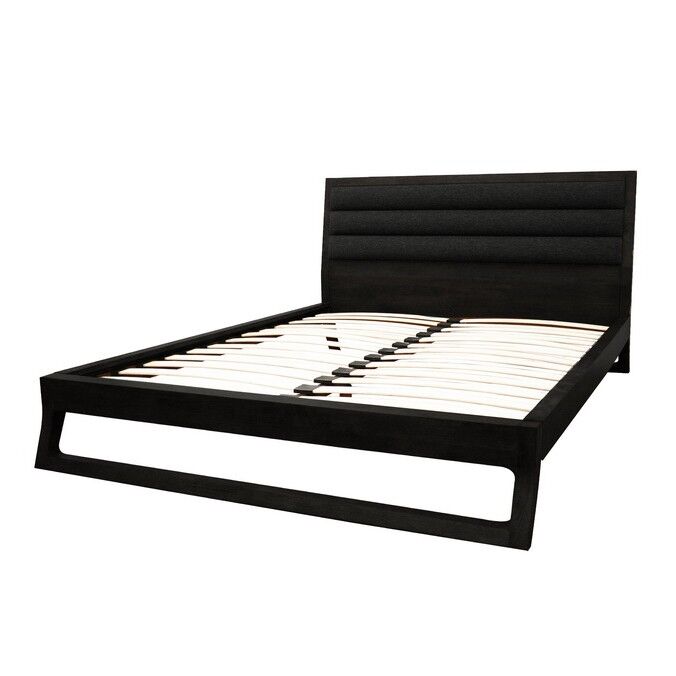 A bed is a major purchase. Aside from the money involved, most people spend about a third of their lives in bed, so it should be an enjoyable place to be. But while a bed functions as a single piece of furniture, it is seldom sold that way. Most beds consist of a mattress and a box spring supported by a separate frame. Some beds also have separate headboards and footboards. Then, of course, there are pillows, blankets, and linens. Each piece has to be bought separately, and all the pieces need to fit together, in terms of both size and style, in order to make a complete place to sleep. Because the bed frame is the logical first piece to buy for many people, looking at how to buy a bed frame is a good place to start.
Bed Frame Types
There are many different types of bed frames available, and these can be grouped or divided in any of several different ways; any given way of naming the different types must be somewhat arbitrary, but they do make it easier to talk about the options in widely recognisable terms. The choice of frame type is largely a matter of appearances, although there are some functional differences between types as well. For example, daybeds are always comparatively narrow, and platform beds rarely require a box spring. The variety of bed styles is actually much wider than the variety of frames, since headboards and footboards have such a huge influence on a bed's style, and these are sometimes separate from the frame.
Basic Metal Frames
Basic metal bed frames are simply a rectangular metal rim, sometimes with cross-bars, set on wheels or casters. These are inexpensive, and are often sold with the mattress and box spring set. While not themselves very stylish, the metal can easily be hidden with a fabric skirt, and the bed can be dressed up with a separate headboard.
Basic Wooden Frames
Basic wooden frames are similar in design to basic metal frames, though most have longer legs and thus are taller overall. Many wooden frames have attached headboards and footboards, or corner posts, either short or long. There are many sizes and styles of headboards and footboards or posts to choose from, all based on the same basic wooden frame design.
Platform Frames
A platform frame is just a large box, usually made of wood, on which the bed sits. These are very stylish, and provide a very solid support, but there is no open space under the frame for storage. Some frames with shelves or drawers built in can be considered variations on the platform bed theme.
Day Bed Frames
Day beds are hybrids between beds and sofas. As beds go, they are fairly narrow and have headboards and footboards that double as armrests, and often a back, like a sofa. Obviously, their frames need to be very distinct.
Trundle Bed Frames
Trundle beds are very low and slide underneath another bed when not in use. They work well for providing extra bed space in guest bedrooms. The frames of both beds must be sized to fit each other.
What to Consider when Buying a Bed Frame
Knowing what kinds of frames are out there is not enough. The buyer also needs to be focused on the aspects of a frame that really make a difference. The main areas to focus on are frame material and construction, frame size and height, and the style of the frame.
Bed Frame Material
Metal bed frames are fairly consistent in their materials, but wooden frames vary. Solid wood, joined by either pegs or screws, is good. Particleboard or plywood may be less expensive, but is unlikely to last. Bear in mind that if the wood is painted, or has a veneer, it may not be obvious whether the wood underneath is solid or not.
Bed Frame Construction
For wooden frames, look for pegged or screwed joints, not glue or staples, as these do not last as long. For metal frames, make sure there are no sharp edges and that nothing squeaks when someone gets on the bed. For both metal and wood, make sure the frame does not wobble or sag. For used frames, check for any corrosion or rot.
Bed Frame Size
The frame and the mattress need to fit each other. Sizes are generally standardised, so finding a match is not complicated. People who do not already have a mattress can use this opportunity to decide what size bed to get. A bed should fit the sleepers, but it also should fit the rest of the room. There should be at least 60 centimetres of clearance around a bed, except where it abuts a wall. If the room is to be used for anything other than sleeping, more space is necessary. Try using newspapers spread out on the floor to get a sense of how much room beds of different sizes actually take up and how much clearance that leaves between the bed and the other furniture in the bedroom.
Buyers who already have a mattress can lay the mattress out on the bedroom floor to determine if there is room to spare or a fancy frame that extends out into the room some centimetres, or if a space-saving design, such as basic metal, or something with drawers underneath, is really the way to go.
Bed Frame Height
A bed's height is important, especially for people with limited mobility; the bed needs to be comfortable to enter and exit. Because the height of mattresses and box springs is not standardised, and some mattresses are designed for use without box springs, this can be complicated. A thick mattress over a generous box spring could be almost 50 centimetres taller than a thin mattress used by itself. Get some idea of how thick the mattress and box spring might be, and then keep this figure in mind when shopping for a frame.
Bed Frame Style
The bed is the dominant piece of furniture in the bedroom, so its look has a disproportionate influence on the look and feel of the room as a whole. A big part of the look of the bed is the style of its frame; a sleigh bed, which is a wooden frame with curved head and footboards, has a very different look than a plain metal frame does, for example. The bed frame does not absolutely have to match the style of every other piece in the room, especially since not everyone decorates a bedroom with matching furniture, anyway. Every piece in the room could be different. What is important to remember is that the look of the room as a whole is the result of the interaction between the style of the bed and of the other pieces. The bed can therefore contrast with the rest of the room, but should not clash.
How to Buy a Bed Frame on eBay
With all this information in mind, it is time to go shopping. Fortunately, eBay offers a wide variety of bed frames. The site is also convenient to use and simple to search. Start by typing 'bed frames' into the search box. It may be necessary to use the menu options to focus the results on just bed frames. Then, filter the results but colour, material, and condition, and browse. Alternatively, use the Advanced Search feature to search for a particular item or check out eBay Deals for the best prices of the day within a particular category, such as bedroom furniture. Use the contact link on the seller's profile page to ask any questions. The profile page also lists the seller's feedback score and other policies. Some sellers offer free shipping or other extras.
Conclusion
A bed frame is the first part of a bed many people buy. It is literally the foundation of the bed. Considerations such as the bed's height, its style, whether it has storage space underneath, and other options all depend on the frame. Some people might find buying a bed frame a bit overwhelming, but the choice really is completely up to the buyer, so there is no way to do it wrong. Just look for a quality bed of the size, height, and style desired, and the remaining possibilities should be narrow enough to manage easily. Since most people spend roughly a third of their lives in bed, it is important for buyers to choose bed frames they really enjoy.