Belly Dangles or in fact, just about any costume jewellery is generally gorgeous to look at, stunning to wear and often, changed regularly.
Having said that ... Belly Dangles in particular should NOT be worn to bed or during vigorous exercise. For those situations, a general barbell with acrylic or jewelled balls should be used.
This is an example of a typical flexi belly bar ...
or you could use a jewelled one ...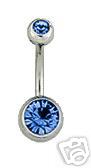 ...
or you could even use a 316L Surgical Steel one, with acrylic balls ...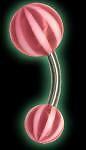 Why? Simply because the gorgeous dangling belly bars you buy, such as these .....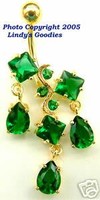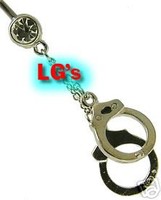 ARE costume jewellery and will last indefinitely with normal wear and worn for special occasions. But please, don't expect the dangles to be able to withstand being caught on cotton threads from your warm and snug flannelette sheets or pyjamas, or threads on your soft and fluffy towels ... the chances are the jump rings will get caught and when tugged on, either in your sleep or from drying your body when you hop out of the pool or the shower, and the tugging will break the link.
This is NOT normal wear and tear and therefore not only will the item not be exchanged by your eBay seller, but if the ring is actually broken from the belly bar itself, it won't be able to be repaired. If it's only the jump ring that's broken, very often, a jeweller will be able to sell you another link to reattach the dangle. That's fine if you lost it in your bed, or your bathroom, but that can prove somewhat difficult if you lost it somewhere in the sand at the beach!
Hope that helps all you girls (and guys) lucky enough to have gorgeous, sexy bellys where you can hang just as stunning belly dangles!
PS This obviously applies to other dangles such as nipple dangles.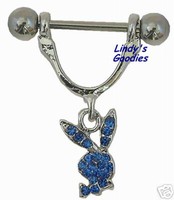 This Guide has been written with the best of intentions for those who avail themselves of our information. It is not intended to offer ALL available situations/options/responses etc. but we feel it's a 'good beginning'.
Take care and have fun eBaying. Oh! If you think this Guide may be of interest to someone else you know, please ask them to have a read and perhaps show us what you think, by reviewing it for us?
Many thanks,
Lindy's Goodies