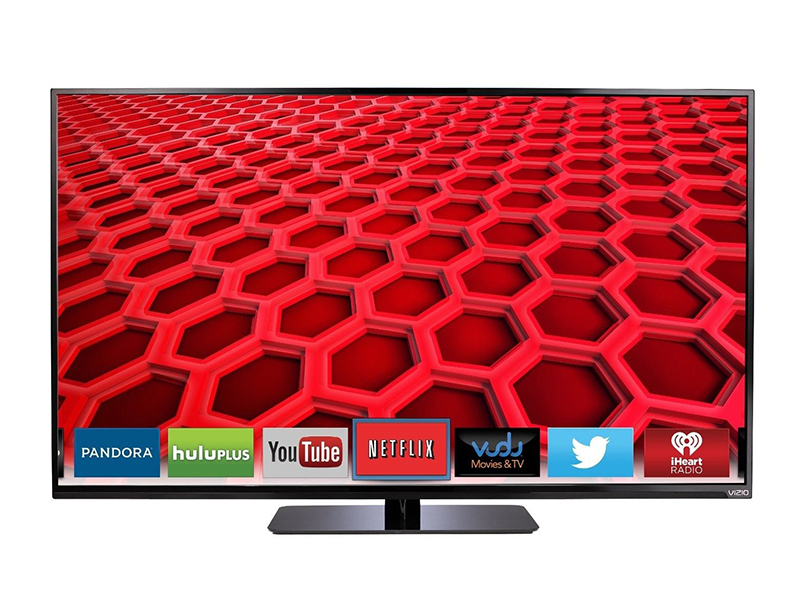 50-inch TVs are Australian favourites. The dimensions are ideal for showcasing the qualities of a great telly, as 3D technology becomes all encompassing and the fine details of a high-definition screen can be appreciated.50-inch TVs are also great for a large room, while not draining the wallet too much. The top 50-inch tellies display world-class ingenuity and innovation. In terms of display, features, style, type, and energy efficiency, these TVs boast the best available technology.
Countdown of the Top 5 Televisions
An array of important factors were considered in ranking the top TVs. Consumers can rest assured that these top five tellies cover a large price range and numerous brands.
5. Vizio E500i-B1
A mixture of affordability, extensive features, and great picture quality place this Vizio TV among the best. LED back light technology ensures superb picture uniformity and a sharp image. The setup is outstanding as well. Apps can be accessed quicker than any other television, and they can be easily personalised. The surround-sound system is immersive, too. Overall, Vizio's 50-inch E-series TV is a hit -- at a price much lower than its competitors.
4. Sony KDL50W800B
This 50-inch 3D LED TV wows with its display. The X-Reality PRO display engine sharpens the picture quality and screen contrast, and Motionflow XR 480 technology allows the screen to smoothly process fast moving images. Its intuitive interface makes navigating easy and the near-field communication feature allows for easy syncing with other devices.
3. Samsung UN50H6350
This Samsung 50-inch LED TV has all the features and specs about which enthusiasts preach. What's also stunning is that this Smart TV can swivel for flexible positioning. Samsung's Smart Hub is a user interface or menu that simplifies searching and accessing content. It is arguably the best available and ensures that all of the apps are organised into one clear menu. The screen showcases colours accurately, handles fast motion well, and offers wide viewing angles.
2. Samsung PN51F8500
This is the only plasma TV to make the list, but the Samsung F8500 impresses with its 3D capability (four pairs of glasses included), great picture quality even in bright rooms, a user-friendly remote, and metallic finish. This TV utilizes a Super Contrast Panel to improve contrast and picture uniformity. Even fast-paced action video games move exceptionally well.Voice recognition works efficiently, and the Quad Core Processor increases speed.
1. LG 50LB6300
This LG 50-inch TV wins with its user-friendly design and exceptional display. The clarity and clearness of the picture remain the same from all angles, and the screen seamlessly processes motion. Moreover, the interface and remote are incredibly simple to control, and learning how to use the Smart TV to its fullest is generally self-explanatory.
Determining Factors
There are several determining factors that you should take into mind before purchasing, including display, energy-efficiency and durability, as well as features and cost. The following sections outline these important factors.
Display
When you shop for a TV at a store or online retailer, the display is typically the first consideration. To be among the best in the world, a TV must have full HD as this will give the clearest, crispest picture; look for 1920 horizontal pixels and 1080 vertical pixels. Contrast ratio -- or ratio between the brightest and darkest colour -- is also key. Higher ratios are typically better, and the best TVs have at least a 1,000:1 ratio. Other factors in display include how well colours show against a dark background, how well the screen refreshes (at least 120Hz is desired), and how well quick moving images are displayed.
Energy-efficiency and Durability
Energy-efficiency and durability are also key factors, and this is why LED TVs have taken over the market. Although plasma televisions do offer a sharp image in dark settings, they use too much power and are too costly to manufacture (note that the Samsung plasmas are an exception). LCD TVs look great in bright rooms, but the best LED TVs are more energy-efficient, last the longest, and offer great image display regardless of whether the room is bright or dark.
Features and Cost
Great 50-inch TVs are generally sleek, lightweight, and thin. Some newer ones have curved screens to enhance vision. In terms of features, HDMI cables, USB ports, and other connections are vital. Smart TV features, such as wireless internet and apps like Skype, are a must. All of these factors make the best 50-inch TVs much pricier.
Conclusion
As technology and manufacturing are improving, television prices are becoming more accessible for average consumers. This list highlights only the best 50-inch TVs. While every buyer requires something different, these tellies have an impressive array of features that can satisfy a range of needs.