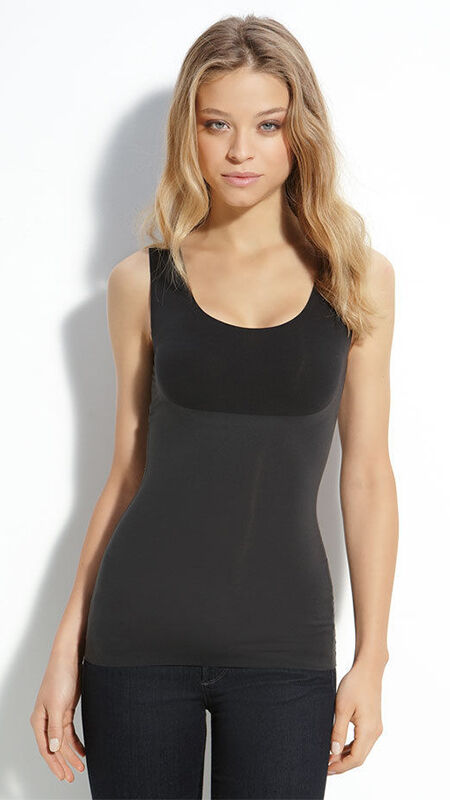 Finding the right shapewear is so important, particularly for women who enjoy wearing body conscious clothing. Every little bump and bulge shows, it seems, so it helps to have something underneath that offers a little more control. The right shapewear does not cut off circulation, and it allows the wearer to move freely. Shapewear can be an investment, though, and that does not always fit into the budget. A better option is to find affordable brands that still offer control and shaping.
Maidenform Flexees
Maidenform, long a staple in the women's foundation garment industry, developed their own shapewear line, called Flexees. Flexees are available as panties, briefs, girdles, bodysuits and even camisoles. Flexees briefs and bodysuits feature a double panel that offers additional control in this common trouble area. Flexees shapewear, made from Spandex, is available in the neutral colours of black, nude, and white to go with most wardrobes.
Choosing colours
In general, black and white shapewear work well under the same colour clothing. Black also works well under dark colours, while white is effective under light colours. Nude shapewear blends in with the skin tone more easily than white, so it is an excellent choice for white clothing or for clothing that is somewhat sheer.
Bali Women's Shapewear
Bali's shapewear line offers camisoles, briefs, and bodysuits made from a blend of nylon and Spandex. The nylon offers a feel that is smooth to the touch, while the Spandex offers shaping control underneath clothing. The nylon also allows clothing to move over the shapewear easily, without catching and sticking. The pieces move with the body, so that they are comfortable and controlling no matter what. Colours include the neutrals, such as black, white, and nude, along with a pale pink that Bali calls "rosewood".
Lace 'n Smooth
The company offers an additional line of shapewear called Lace 'n Smooth. These pieces offer the same control features, but they feature lacy materials. These pieces, meant to appeal to the woman who likes a lacier undergarment, are available in briefs, camisoles, and bodysuits as well. They are also available in black, white, and nude shades to work with any colour clothing.
Spanx
Spanx shapewear is made from a wide range of slimming fabric types, including Spandex, silicone, and nylon. The company offers a range of sizes to accommodate many different body shapes and styles, from smaller sizes all the way to plus sizes. Spanx products are available in a wide array of different styles to accommodate different outfits and body types as well. These different product types include:
Panties
Girdles, high- and low-waisted
Thigh slimmers
Camisoles
Bodysuits
Slips
Open-bust slips and bodysuits
Tights
Cami Shaper by Genie
The Cami Shaper, 95 per cent nylon and 5 per cent Spandex, looks like a plain camisole, but it offers shaping as well. The makers want it to offer shaping in all of the major trouble areas for women, including the back, stomach, and sides. The camisole offers 360 degree shaping, with the camisole coming down far enough to cover the wearer's hips. Available in black, nude, and white, the Cami Shaper is versatile under clothing or even on its own since the front is a modest scoop neck.
Playtex Shapewear
Playtex, a company that is primarily known for its bras, also offers shapewear. Some bras have built-in shapewear in the form of truSupport. The truSupport gives women support where they need it most, in the straps, cups and back of the bra. Playtex also offers slimming briefs, some high-waisted, made from a mix of nylon and Spandex that offer shaping and smoothing.
Bras and shapewear
Bras and shapewear work together well, rather than wearing them separately. A full bodysuit or camisole over a bra provides a slimming effect for the waist and torso area, and it also adds additional support for the bra. Shapewear alone is not a substitute for a bra for most women, however, so it is a good idea to really assess the clothing and what type of support is necessary when combining bras and shapewear options.
How to buy affordable shapewear for women on eBay
The sellers on eBay offer a wide range of affordable shapewear. Determine what type of outfit you need the shapewear underneath. Some outfits need only a slimming brief, while others, such as a pencil-slim dress, benefit from a full slip that controls your entire body. Search for the item that you need, and include colour information as well so that you limit the search to exactly the item that works best with your outfit. If you are shopping for your entire wardrobe, look for a mix of different colours and styles to provide the most options.