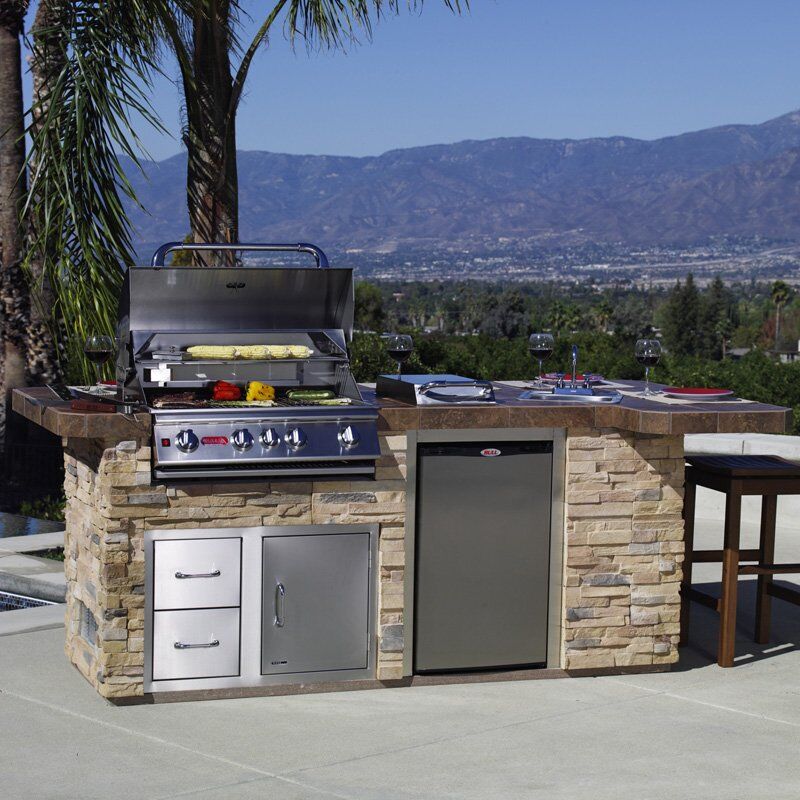 Almost everyone loves a barbecue. There is nothing like getting together with friends and family to enjoy an outdoor meal without worrying about heating up and dirtying the kitchen. For many people, food even tastes better when cooked on a BBQ. The popularity of the BBQ across Australia is one reason why it is so important to find the right one for a buyer's needs. This is particularly important when there is a large party involved. Someone who only has to feed a few people can work around the limitations of almost any BBQ, but once the party grows beyond a certain limit, it becomes important to make sure that the BBQ is sufficient to cook for everyone. Buyers should understand the advantages and limitations of charcoal and gas BBQ grills and decide which factors, including temperature, cooking speed, smoky flavour, are most important to them.
History of the BBQ
In one sense, the BBQ is the oldest form of cooking known to humanity; people have been cooking over fires ever since it was discovered. In Australia, the tradition goes back to the Aborigines, who cooked over open flames long before the first European settlers arrived. When the Europeans did arrive, they very quickly realised, probably spurred by example of the existing inhabitants, that cooking outdoors over hot coals was much easier than sweltering indoors in front of a hot stove or oven. The combination of unique ingredients, national character, and great heat made the popularity of the BBQ inevitable.
The Charcoal BBQ Grill
The key to the charcoal grill is the briquette, first patented in the United States by Ellsworth Zwoyer in 1897. However, it did not enter common use until the 1920s when Henry Ford got into the act along with a relative, one E.G. Kingsford, who founded the first briquette company.
Charcoal grills offer two major advantages over the competition: They produce more heat and can add flavours through the smoke. Different briquettes add different flavours, giving food that distinctive BBQ taste. At the same time, there are trade-offs to be made when choosing a charcoal grill. The first one is time; because charcoal grills generate heat from the coals, they need time for the briquettes to burn down and start producing heat. They also require constant attention, as the user has to move the coals in order to provide a consistent and even heat.
The Gas BBQ Grill
Gas grills appeared later on the scene. The first portable gas grills debuted in the 1950s, but they did not become common on the BBQ scene for another decade. A company in the United States called LazyMan produced these grills. It was also in the United States that the gas BBQ grill was popularised in the following decade when employees of the Arkla corporation converted a charcoal BBQ grill to gas. This was the tipping point that led to the explosion of gas grills in popularity throughout the world.
Perhaps the biggest advantages of choosing a gas grill are convenience and consistency. A gas grill can be ready to cook within moments of being turned on, and keeping a constant temperature is much easier than with charcoal. However, detractors still argue that the inability to reach as high a temperature and lack of smoke make it impossible to match the best of charcoal with gas.
Choosing the Best BBQ for Large Parties
The buyer needs to understand not only their own needs and resources but how the various BBQs available matchup against those requirements to choose the best BBQ for large parties. The obvious first step is to start with determining the amount of people attending the party and what they want to eat. Obviously, size is a factor, but absolute size may have to be balanced against portability depending on where the parties take place. Some may even choose a mini BBQ if they have a special dish for one person, but these are not suitable for large parties.
Choosing a Charcoal BBQ Grill for Large Parties
One of the most popular charcoal BBQ grills is the kettle-style model that Weber introduced in the 1950s. Originally made from the bottom half of a buoy, these practical and portable grills quickly spread throughout the world. However, they are not suitable for a large party simply because of the size. These relatively small grills do not provide a large enough cooking surface to serve a large number of guests.
Hibachi has traditionally focused on charcoal grills, making them in a wide variety of shapes and sizes. Many of their BBQs are rectangular, making them easy to line up for a cook who prefers to use more than one BBQ. They also make a number of fairly large portable charcoal grills, which can be very handy when dealing with a large party.
Choosing a Gas BBQ Grill for Large Parties
The other option for a large party is a gas BBQ grill. These grills can offer expansive cooking surfaces and convenience of use. For many users, the advantage of convenience may prove overwhelming. A gas BBQ, such as a Gasmate, can be ready to use within moments. This means that the owner can spend less time waiting and more time cooking. The precise temperature control is also an advantage here, making it easy to raise and lower the heat for different foods, which is very difficult to do with a charcoal BBQ.
Choosing Between Gas and Charcoal BBQs
The first step in choosing between gas and charcoal BBQs is determining priorities. A buyer who is most concerned about flavour above all else may well choose charcoal, while one who finds convenience more important may turn to gas. There is no single right answer for all situations, but the following table covers some of the more important considerations:
| | |
| --- | --- |
| Factor | BBQ |
| Cooking Surface Area | Gas or Charcoal |
| Cooking Speed | Gas |
| Temperature | Charcoal |
| Temperature Control | Gas |
| Convenience | Gas |
| Smoke Flavour | Charcoal |
No one BBQ matches all factors, so buyers should determine which one matches the factors most important to them. In general though, the most important consideration is surface area as large parties require a lot of food, but that simply depends on the grill size not whether it is gas or charcoal.
Buying a BBQ for a Large Party on eBay
One of the best places to buy a BBQ for a large party is eBay, as the site offers a huge range of both gas and charcoal grills for all needs and situations. All you need to do to start is put your requirements into the search box on any eBay page and watch the results come up on your screen. Once you have your results in place, you can use the filters to narrow them down from brand to your budget. Then you can check out the sellers to see their feedback scores and any policies they may have. Some may offer bundles with BBQ accessories, while others may allow local buyers to pick up their BBQ in person.
Conclusion
Probably the single most important factor to consider when buying a BBQ for large parties is the amount of food that needs to be cooked. The more food involved the larger the cooking surface that is required for it. Going with a charcoal grill is more labour-intensive on the part of the cook but can also produce better overall flavours than a gas grill. On the other hand, those who are cooking for really large parties may well benefit from the use of a large gas grill because the convenience lets them spend more time cooking and they do not have to wait to adjust the temperature. As with any other major purchase, the key lies in having the knowledge to make the right decision about the best BBQ for a particular large party.
BBQ|Gas BBQ|Charcoal BBQ|Grill|BBQ Grill