The best baby toys for infants up to six months old match their developmental milestones. Not only do these toys help babies learn valuable skills, but developmentally-appropriate toys are more fun for infants. Busy parents can shop on eBay or other online stores to get toys delivered to their doors.

Best Toys for 1 to 2 Months
At one to two months, babies don't have the coordination needed to play with toys. However, toys that help them improve their visual ability will also help them improve overall coordination as they develop.
1
Baby Mobiles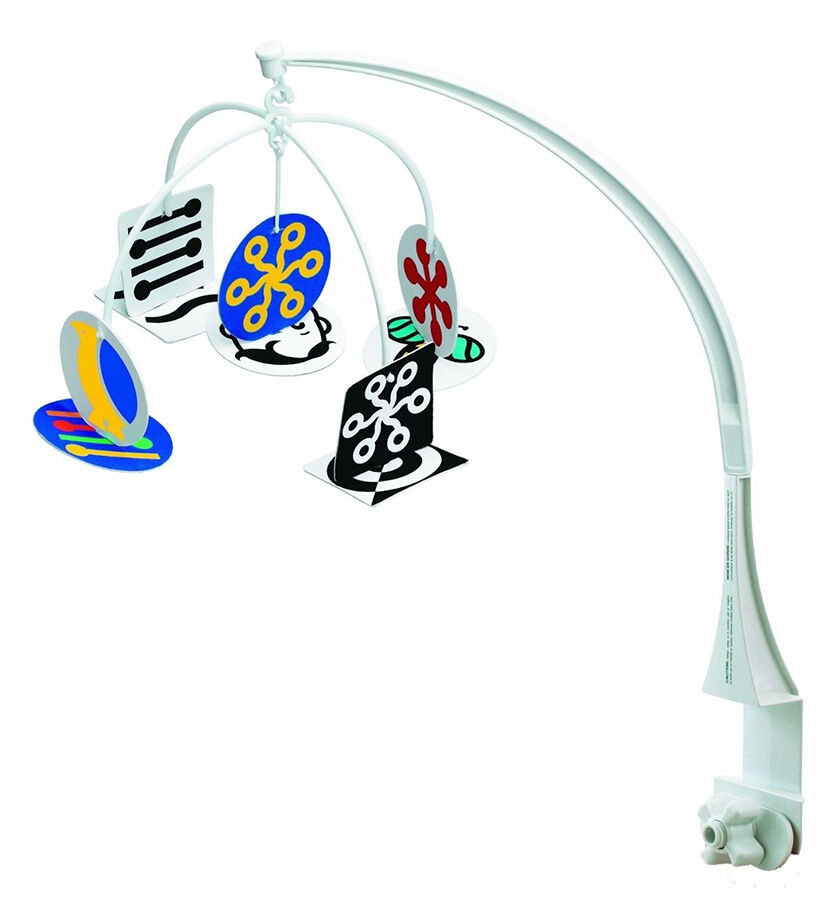 A colourful mobile over the bed can improve a baby's ability to focus and track items as they move.
Wimmer-Ferguson Infant Stim-Mobile for Cribs
This award-winning mobile features carefully designed graphics used to adapt to a baby's visual development. Research suggests that infants respond more to contrast than bright colours during the first few months of their development. Therefore, this mobile has both black-and-white graphics and brightly-coloured images.
Flensted Mobiles
Since 1954, Flensted Mobiles has created modern mobiles for design-conscious families. Most vintage mobiles have abstract designs, but current mobile designs depict dozens of objects, ranging from ladybirds to aeroplanes.
---
2
Soothers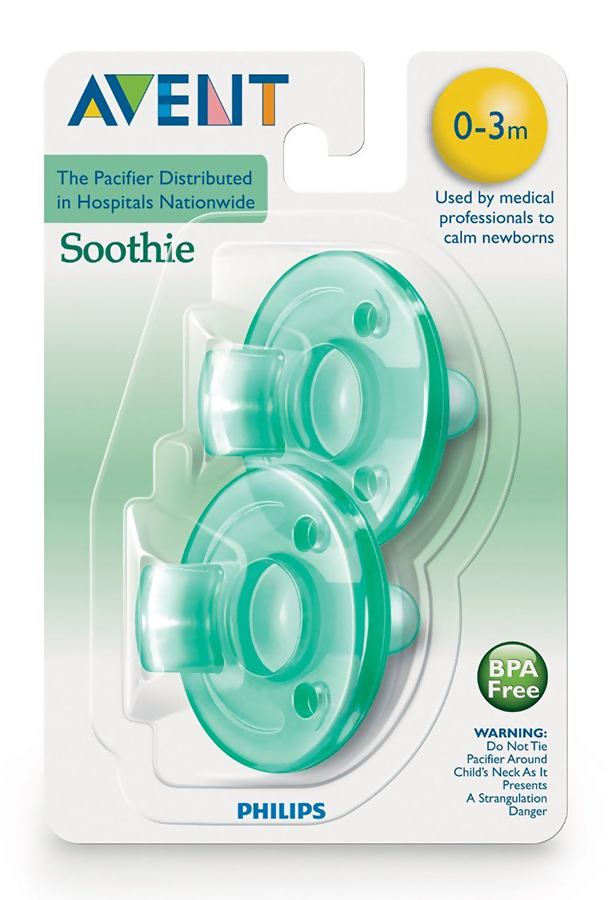 Soothers, also called dummies, can help soothe a restless baby. As the baby learns other ways to calm himself, the soother can be used less often.
NUK Genius Size 1 Silicone Soother
The NUK soother is designed for use by babies from birth through the first six months of life. It was developed with the help of dental health experts to reduce the chance of teeth misalignment. The soft-flex silicone baglet prevents pressure on the jaw. The NUK Genius is also available in several sizes for larger babies.
Philips Avent BPA-Free Soothie Pacifier
The Philips Avent soother is moulded from a solid piece of plastic. Unlike other soothers that are made with multiple plastic parts, the Avent soother cannot break apart and does not have seams that could harbour germs.

Best Toys for 3 to 4 Months
At this age, babies need toys to encourage muscle development, increase their burgeoning hand-eye coordination, and improve their hearing and vision. By three months, babies should be able to support their own heads and grasp simple toys.
---
3
Infant Play Gyms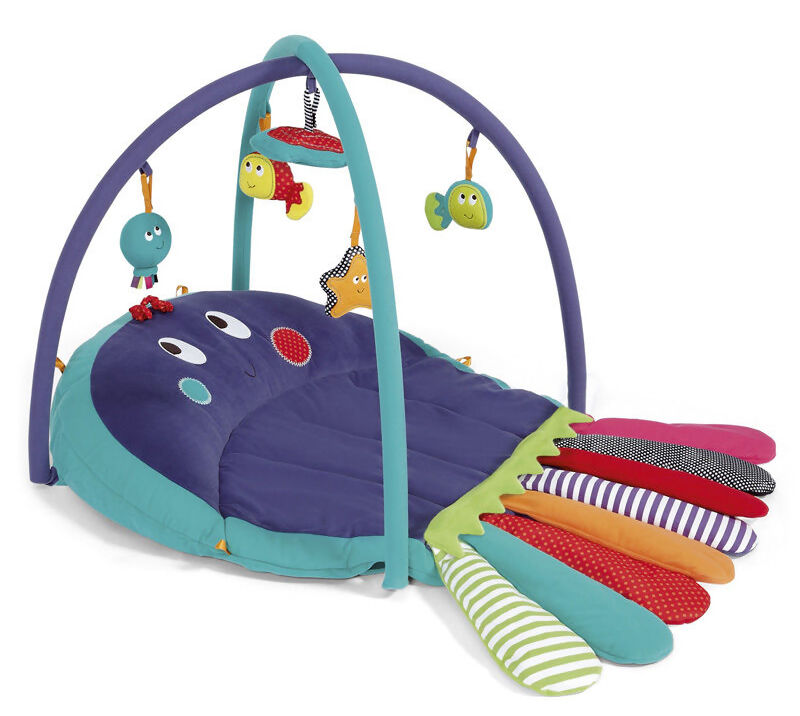 Infant play gyms encourage babies to build the muscles necessary to lay on their stomachs and begin to crawl. Most play gyms are made to grow with the baby until he or she begins to crawl at around eight months old.
Babyplay Tummy Time Octopus
This play gym's wedge-shaped design encourages babies to build the muscles of their upper bodies. Various fabric textures, colours, and sounds helps infants develop their hearing, eyesight, and sense of touch.
Skip Hop Funky Farmyard Play Gym
This play gym can be used with 1- to 2-month-old infants and older babies. A supportive pillow is included to encourage tummy time, and the base can be used as a portable play mat when traveling with the baby.
---
4
Rattles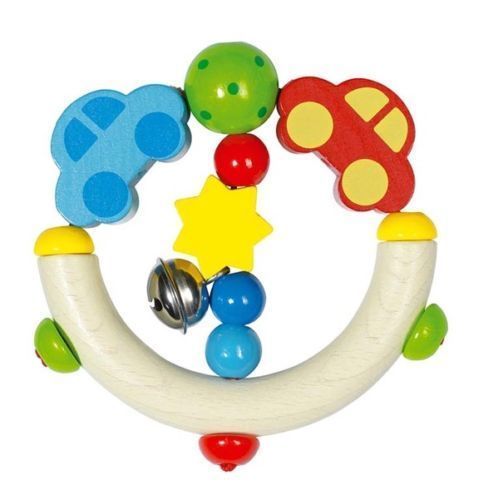 Rattles allow infants to practice their hand-eye coordination while creating their own sounds. Coloured rattles with contrasting colours are best for this age group.
Heimess Car Rattle
Made with solid wood and water-based stains, this rattle gives an infant plenty of texture to explore and is safe to chew. There is a small bell that tinkles when shaken.
NogginStik Developmental Light-Up Rattle
This light-up rattle won the Creative Child Magazine's 2012 Toy of the Year award. Every time an infant shakes the rattle, the toy makes a noise while the LED light changes colour. The NogginStik was also rated highly for children with special needs.

Best Toys for 5 to 6 months
Five-month-old infants begin to develop depth perception and have good colour vision, which helps them appreciate toys with less contrast. Toys that help the baby develop better eye-body coordination are essential to help the infant prepare to crawl.
---
5
Toys with Lights, Sounds, and Mirrors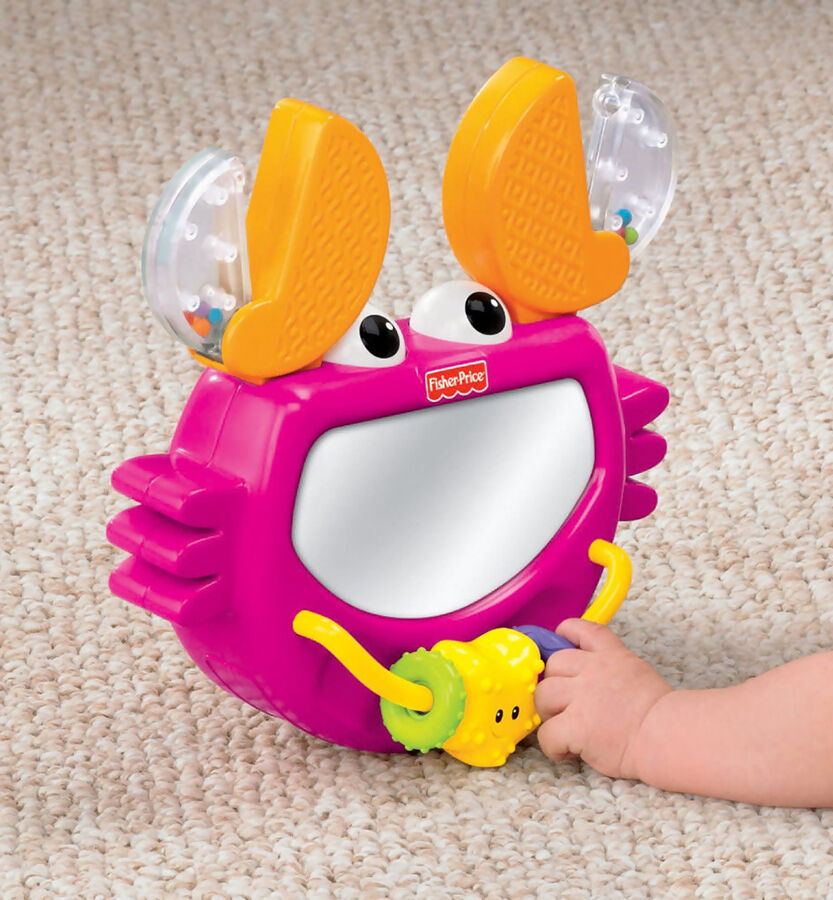 Interactive toys with bright lights and sounds will encourage the baby to interact with the toy and learn associations between movement and sound. Toys that include mirrors can help infants learn to identify their own faces.
Fisher-Price Growing Baby Clack & Play Crab
This crab-shaped toy features a large mirror and makes sounds when it is touched. The Fisher-Price toy's design also encourages infants to stay on their stomachs.
Alex Jr. Cuddly Cube from ALEX Toys
This squishy, squeaking fabric cube includes a mirror, handle, and plenty of fabric pieces to move and manipulate. Unlike soft toys with larger parts, the Cuddly Cube helps babies refine their fine motor skills.
---
Conclusion
The right mobiles, rattles, play gyms, and other toys can help babies improve physical skills while encouraging independent play. Parents may also find that their infants are more interested in toys that fit their current abilities.