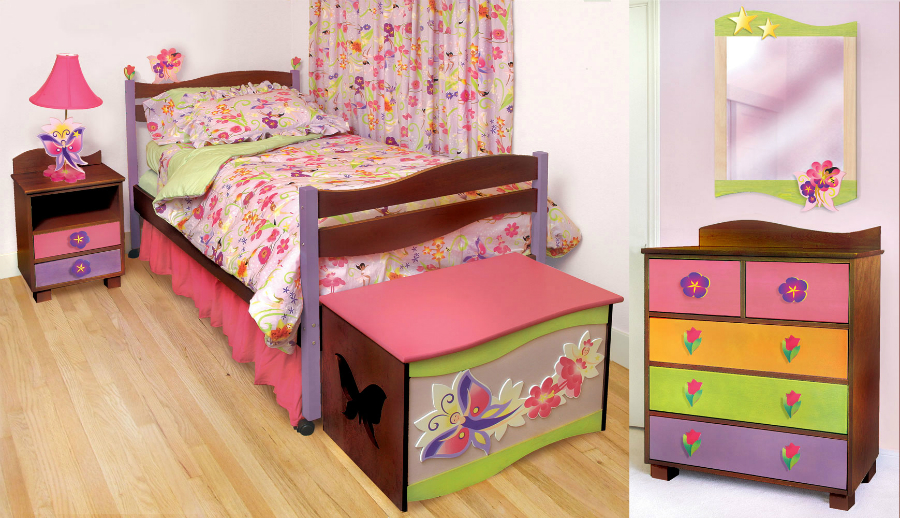 A teenager's bedroom provides a sanctuary from the pressures of everyday life, including school, parents, and siblings. A teen's bedroom usually contains more stylish furniture, such as bunk beds, loft beds, and other bed types that teenagers prefer. Parents also need to consider other items of furniture, including dressers, wardrobes, TV stands, desks, and more.
One of the main considerations when buying a bedroom set involves the amount of space available. Smaller rooms can most likely only fit a simple bed, dresser, and maybe a nightstand. While bigger rooms can fit additional items, such as armoires, bookshelves, desks, and other pieces of furniture typically found in a teen's room. When buying a bedroom set for a teenager, shoppers can find items at local furniture shops and online at eBay.
Typical Bedroom Set
Basic bedroom sets contain a bed, a dresser, and one or two night stands. The following sections provide more information on the items in a basic bedroom set, including beds, mattresses, and dresser types.
Bed Types
The first course of business when selecting a bedroom set for a teenager includes picking the bed type. These range from space-saving bunk beds, lofts, and day or trundle beds to captain beds and waterbeds. The table below details some of the different bed types available.
Bed Type

Description

Two or more beds, one atop the other

Upper beds reached via a ladder

Like a bunk bed but with no lower bunk

Space underneath used for storage or a place to put furniture

A platform bed with storage underneath

Also known as a cabin or chest bed

A daybed functions as a couch during the day and bed at night

A trundle bed slides underneath a daybed and offers a second bed

A waterbed mattress is full of water

Comes in either hard-sided or soft-sided beds

Mattress rests on a solid, flat surface

Provides adequate support to eliminate the need for a box spring

Has four posts, one at each corner, that support the mattress

Posts on a canopy bed extend higher with cloth draped across them

Functions as a couch during the day

Framework pulls out to make a bed at night

Typically outfitted with a mattress pad

Frame folds from a couch to a bed to allow for sleeping
When choosing a bed type, shoppers should keep in mind the size of the room and any other furniture they plan to place in the room. Make sure to measure the size of the room before making any purchases.
Mattresses
The type of mattress selected represents an extremely important decision when buying a bedroom set for a teen. Sometimes, as in the case of a sofa bed or futon, the mattress comes with the item, not leaving much choice to the buyer. Other bed types, such as for a platform or four-poster bed, allow shoppers to choose from a variety of mattresses. The following table includes a description of the different mattress types available.
Mattress Type

Description

Contains coils surrounded by a cushioning material

Ideal for total body support

Conforms to the shape of the body, offering additional support

Ideal for teens who participate in sports

Made specifically for use on waterbeds

Ranges from free flow to ultra waveless options, providing varying levels of support

Not as supportive as other mattress types

Most often manufactured for futons with a variety of stuffing material available
When determining the best mattress type for a teenager, parents need to keep in mind support and size. Mattresses should provide adequate support for a growing teen's body and be of sufficient size for their full body length. A final consideration involves room size and whether the bed and mattress can actually fit within the room's confines.
Dressers
Dressers give teens a place to place their clothing and other items, providing additional storage space outside of a closet. The table below details the different dressers available and their specific functions.
Dresser Type

Description

Tall, wide dressers accessed by two panel doors

Height ranges from 48 to 81 inches

Most common type of dresser

Typically has a low and wide profile

Constructed on a small scale with attached mirror

Most have built-in jewellery armoires
Shoppers typically buy a dresser type depending on the space available in the room. Dressers also make for good additional storage for rooms that might not have a lot of closet space.
Night Stand
Night stands serve as a bedside table where teens can place items, such as alarm clocks and lamps. They can also place other personal items, including watches and jewellery, on them when lying down for a nap or to sleep at night. Shoppers can find a wide variety of night stands differentiated by height, the area they occupy, material, colour, storage space, and whether they come as part of a bedroom set.
Other Furniture
Parents can buy other items of furniture for their teen's room in addition to the basic bedroom set. The following sections provide an overview of some of the other types of furniture that shoppers can buy to place in a teenager's room.
TV Stands
TV stands hold televisions and other items. Coming in all sizes, they typically feature a flat surface on top to support the TV, as well as a shelf underneath to hold items such as video game consoles, cable boxes, and DVD players. Some even have storage space to hold videos, games, and more.
Entertainment Centres
Larger than a TV stand, entertainment centres provide additional space for stereos and a wide range of other objects to make a complete entertainment package. When buying an entertainment centre, make sure that it provides adequate room to hold the TV, and any other components, such as a DVD player, iTunes dock, or any other electronic component.
Bookshelves
For teens who like to read, a bookshelf provides an area to keep all of their favourite books and magazines. Shoppers can buy standard bookshelves or even custom built shelving to fit the room's size.
Find Bedroom Sets for Teenagers on eBay
Shoppers can find a wide selection of furniture and other items on eBay, including bedroom sets for teens or those of any age. Start your search by going to any eBay page. Then, enter keywords into the search bar. Use terms like "oak bedroom set" or "black bedroom set", for example, to begin your search. For more help searching the site, go to eBay's Search Tips page. And, to look for more products, visit seller eBay Shops.
Before finalising any purchase, remember to look through each product listing for cost and any other applicable specification, such as size, colour, weight, shipping information, etc. To ask the seller a question, click on the Ask a Question link on the seller's listing page. Also make sure to look over the seller's feedback rating to make sure they meet exceptional customer service and product standards.
Conclusion
Some of the best bedroom sets for teenagers include a wide array of furniture, including beds, dressers, nightstands, entertainment centres, bookshelves, desks, and more. When buying a bedroom set for a teenager, parents should keep in mind the style or theme of the room, if any, and shop accordingly. This includes keeping furniture within a certain colour range or darkness of wood. They should also measure a room before purchasing any furniture to make sure that they have enough room to place the bedroom set. Most furniture sold online have the item's dimensions listed for this specific purpose. If the size remains unclear, shoppers should ask the seller for more information. With the necessary knowledge, shoppers can choose the best bedroom set from the wide selection available on the market.
Bedroom Sets for Teenagers|Teen Bedroom Sets|Bedroom Furniture|Bedroom Furnishings|Bedroom Items