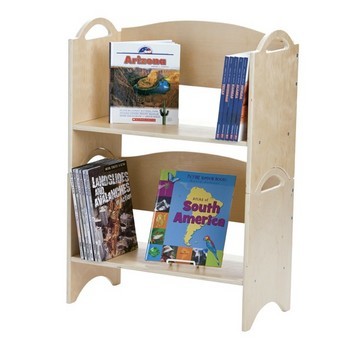 Parents should follow a few guidelines when buying furniture for their children. This includes storage space for a child's book collection, such as bookshelves. When shopping for bookshelves for children, the first consideration parents need to keep in mind includes the overall safety of the bookshelf. Furniture items for children should lie close to the ground to prevent accidental tip-overs, or at the very least secure tightly to the wall through the use of furniture hooks. Bookshelves that remain low to the ground allow children to reach all of their books, even those on the top shelf.
Other considerations when shopping for bookshelves for children include bookshelf type, material, and size while keeping in mind available space. Shoppers can find a wide selection of bookshelves at local furniture shops and online at eBay.
Bookshelf Types
When buying bookshelves, shoppers have a wide selection of types to choose from, including floating, tiered, and display bookshelves. The following table details the various bookshelves available.
Bookshelf Type

Description

Typically attached directly to the wall

Thinner materials allow for the making of invisible shelves

Leans against and secures to the wall

Shelving more shallow at top and deeper at the bottom

Designed to also hold other items besides books

A variety of modern designs available

Have multiple levels, either straight up and down or one behind the other

Made of a variety of materials, including wood and metal

Revolves to give easy access to items

Makes better use of storage space

Holds books and other items

Often functions as a bench in addition to storage

Provides uniform storage space in the form of cubes

Come in a variety of colours and configurations
Shoppers should buy bookshelves that fit in the space they have allocated for them. Some book shelving or storage can be configured, such as cube or floating bookshelves, to take advantage of the space available.
Bookshelf Materials
While shoppers need to determine the type of bookshelf they want, another area of concern deals with bookshelf material type. The sections below cover the various materials used in bookshelf construction, including wood, metal, and plastic.
Wood Bookshelves
One of the most common bookshelf types, the typical wooden bookshelf is constructed from wooden planks of either the hardwood or softwood varieties. Shoppers should keep in mind that the terms hardwood and softwood denote the ability of the wood to resist scratches and not so much its relative strength.
Plywood Bookshelves
Plywood bookshelves, a less costly alternative to wooden material, involves stacking thin sheets of wood together and gluing them under pressure. Plywood makers alternate the grain of the wood to give the sheet more strength. Shoppers can find shelves made out of a variety of grades of plywood, with the top and bottom sheets made out of higher-grade materials to give the bookshelf a finer look. Moulding helps complete the look of these more cost efficient alternatives.
Particleboard Bookshelves
When cost plays a big factor, shoppers can purchase bookshelves made out of particleboard to save even more money. Constructed out of wood chips glued together, bookshelves made out of veneered composite board can look as good as those made out of real wood.
MDF Bookshelves
Multi-density fibreboard, constructed out of wood fibre, chips, and sawdust glued into sheets of medium-density, offers another low-cost alternative for a bookshelf material. MDF, with its consistent strength and excellent shaping ability, makes a good base for a veneer on a bookshelf.
Plastic Bookshelves
Plastic bookshelves offer a durable and lightweight material that gives parents an often affordable and safer alternative to wood or metal. The bookshelves moulded design and often lively colours make them ideal for a child's bedroom or playroom.
Metal Bookshelves
Metal bookshelves give a shelf material alternative resistant to moisture and the subsequent fungus. The low-friction material ensures that book bindings last longer, and they have the ability to hold up under more weight than the typical wooden material shelf. They additionally can provide cost savings, as they tend toward the less costly end of the scale.
Glass Bookshelves
While typically not appropriate for a child's room, glass bookshelves tend towards the heavier end of the spectrum. If used, parents should assemble them only once in wood or metal standards. Most often though, glass bookshelves do not find themselves placed in a child's room that often, mainly due to the fragile nature of glass.
Bookshelf Size
For the most part, when placing a bookshelf in a child's room, parents should buy items of a smaller stature. Reaching all items on all shelves remains important in discouraging climbing, which often can lead to injury when items of furniture become top-heavy and turn over. As far as bookshelf length, that determination depends on the parent's preference. This most often depends upon the overall size of the room, as well as the amount of books or other items that parents plan on placing on the shelves.
Bookshelf Colours
Bookshelves likewise come in a wide selection of colours. These range from black to white, and all of the colours in between. When shopping for a bookshelf for a child, parents should keep in mind the theme, as well as any colours prevalent in the room, in addition to whether the bookshelf matches items already present in a bedroom set.
Bookshelf Safety Features
The safety of a bookshelf remains the most important consideration when making a purchase. Parents have some recourse when it comes to making sure bookshelves remain safe for their children in addition to buying those of an appropriate size to discourage climbing. The following section gives more information on the various safety items parents can use to help keep their children safe.
Furniture Hooks, Brackets, and Straps
Furniture hooks, brackets, and straps provide one way to keep furniture from tipping over, especially when children decide to climb on them. These hooks, brackets, or straps attach to the wall, hooking to furniture and keeping items from falling over when they become top-heavy. While children need to learn at an early age that climbing on furniture is dangerous, having these safety items in place can help give parents peace of mind.
Find Bookshelves for Children on eBay
Go to eBay and begin your search by typing keywords into the search bar. Use terms like "pine bookshelf" or "white bookshelf", for example. You can also find out more about searching eBay effectively by visiting eBay's Search Tips page. Also, consider browsing eBay Shops for more product options.
While looking over each listing, take notice of the cost, colour, size, shipping, and other important details that could affect your purchase decision making. Always check with the seller if you have other questions simply by clicking the Ask a Question link on the seller's product page. You can also review each seller's feedback rating to make sure they meet your expected performance levels. Doing so ensures that you make a quality purchase.
Conclusion
Finding safe alternatives for furniture for our children allows them to play while helping parents gain peace of mind. Securing furniture to the walls of the room can give an added sense of security, though it should not take the place of warning children against such behaviour. When shopping for bookshelves for children, parents need to keep in mind the type of bookshelf they want to buy, colour, size, and the material it is made out of. Likewise, parents need to keep the room theme in mind as well to ensure that the bookshelf matches with the room's other furniture. Considering these factors ensures that shoppers can better sort through the wide variety of quality bookshelves for children.
Bookshelves for Children|Bookshelves|Child's Bookshelf|Bookcase|Book Storage