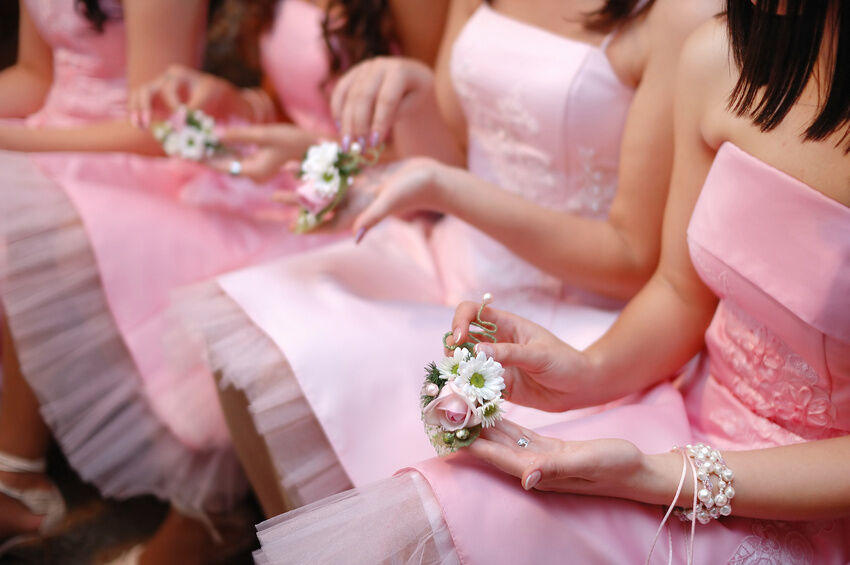 Finding the perfect bridesmaid dress style is a challenge for many brides. In addition to coordinating dresses with their wedding colours and style, they have to consider the different personal tastes and body types of their bridesmaids. As different women feel comfortable in different types of dresses, this can cause some clashing opinions. There are a few dress styles that work well on a variety of body types, so brides can keep their closest friends happy and everyone can feel comfortable on the big day.
Flattering bridesmaid dress ideas
It is difficult to find cuts and colours that flatter a wide range of body types and skin tones, but it is possible. Brides can choose simple cuts in basic colours to ensure that everyone looks good in the wedding photos.
Knee-length cuts
Bridesmaid dresses come in a wide variety of lengths, with some more flattering than others. Long dresses can look very formal and may not be comfortable in hot weather. These maxi hemlines can also dwarf shorter bridesmaids. Mini dresses often make body-conscious bridesmaids uncomfortable and do not look good on all body types. Knee-length hems are flattering on most figures, appropriate for all but the most formal weddings, and comfortable to wear in a variety of weather conditions.
Dresses with jackets
Dresses that come with optional layers or bolero jackets make excellent bridesmaid dresses. Little jackets offer some cover for women who do not feel comfortable showing a lot of skin. They also give a little bit of extra warmth during cooler weather. All brides can opt for dresses with jackets because short sleeve styles and sheer fabrics do not add too much warmth when the weather is scorching.
Little black dresses
The little black dress is a cocktail party classic, but it also works well as a bridesmaid dress. The style is simple, elegant, and flatters most body types. However, it does not upstage the bride. Black is a fairly comfortable colour to wear because it is effortlessly chic and works with most skin tones. It is also an easy dress to wear again after the wedding. Black is easy to coordinate with other colours, so brides can incorporate their wedding colours into their bridesmaids outfits. Details such as coloured sashes, bows, or ribbons enhance simple black frocks. Navy also makes a great alternative to the classic little black dress.
Flexible bridesmaid dresses
Sometimes it is better to choose bridesmaid dresses in different cuts or shades and use a single colour theme to tie the look together. In this way, each bridesmaid has a dress that makes her feel comfortable that flatters her figure.
Infinity dresses
Infinity dresses are also called convertible dresses because they combine several different looks into one garment. Bridesmaids can wrap the long straps around their upper body and neck to create strapless, halter, shawl sleeve, one shoulder, and cap sleeve styles. Each bridesmaid can choose a look that suits her personal style. This type of dress is also easy to wear again because it combines so many looks into single, simple dress.
Mix and match dresses
Mix and match dresses use separate tops and skirts to create different looks. Brides can pick a single colour and then let their bridesmaids choose the looks that flatter their figures. Many manufacturers that produce separates offer a variety of designs, such as halter, strapless, spaghetti strap, shift, and sleeved dresses. Brides can choose a single skirt style to create a uniform look or let their bridesmaids choose between long, short, full, and narrow skirts.
Dresses in different shades
Bridesmaids with different skin tones and hair colours can make it difficult to pick a single shade that works for everyone. Navy and black may suit a variety of different colourings, but even those hues can leave some women's complexions looking washed out. Brides can get around this problem by choosing dresses in different shades of the same colour so that each bridesmaid can wear a garment that suits her skin tone.
How to buy bridesmaids dresses on eBay
Sellers on eBay offer an excellent selection of bridesmaid dresses in a huge variety of colours. You can use the search function to find specific styles of dresses or browse categories to get a broad overview of styles. Specific search terms such as "long navy bridesmaid dress" help you to find specific styles, whereas broad search terms result in a wide range of looks. You can use filters to narrow down your results by style, colour, and price range.