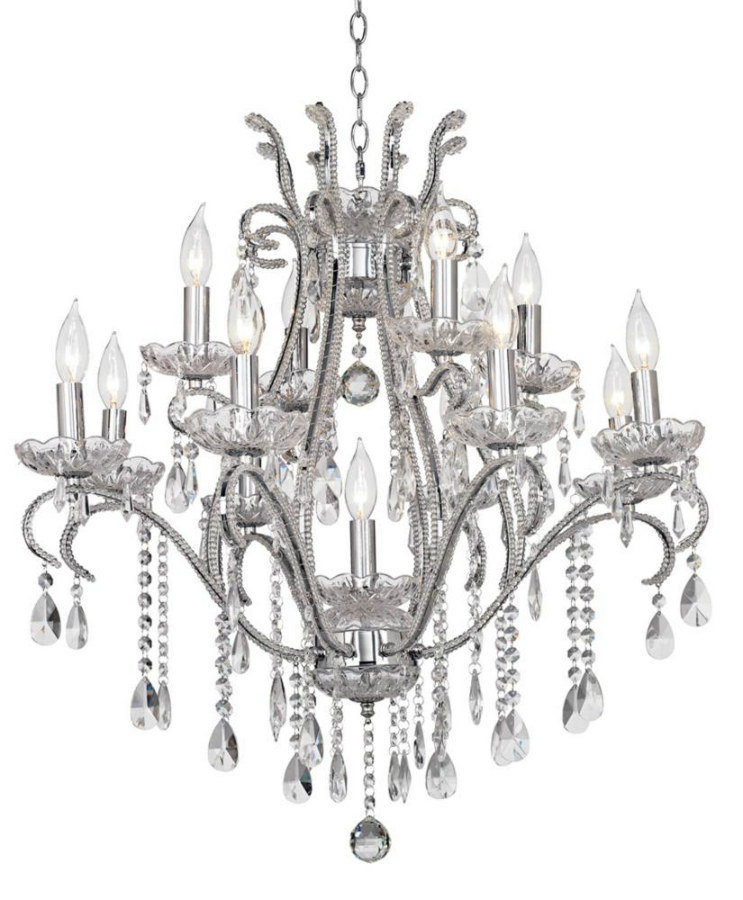 A beautiful chandelier can brighten up any room, serving as a centrepiece or accenting the design of the entire area. When shopping for chandeliers for a luxurious room, shoppers need to first determine the type they want to buy, such as glass, brass, and crystal. They can even buy according to chandelier style. Shoppers also must determine if there is enough clearance to hold the size of chandelier they prefer. They must also make sure the chandelier falls within the budget they set. Finally, knowing how to keep chandeliers clean can extend the product's lifecycle for years. This can save both money and time. When searching for chandeliers, shoppers can look at local furniture shops or online at sites like eBay.
Types of Chandeliers
When purchasing a chandelier, homeowners need to choose the type they want. This includes a variety of options, including glass, crystal, and others, all described in the table below.
Chandelier Type

Description

Most common type of chandelier

Easy to maintain and clean

Glass easily moulds into a variety of attractive designs

Designed to focus light in small spaces

Provides a warm light

Costs less than other chandelier types

Non-rigid in structure and shape moves in gentle motions

Costs less when compared to other chandeliers

Can tolerate high temperatures

Ideal for large areas needing intense light

Easier to clean but takes time due to the amount of crystals

Available in a variety of nature themes, including flower and lake view

Made of coloured glass with copper foil holding it all together

Has a very bright design that catches the eye wherever installed

One of the oldest chandelier materials

Resistant to corrosion

Requires regular cleaning and polishing

Has an aesthetic look born out of pottery art

Very labour intensive to create

Costs more than other chandelier types
Another tip shoppers should keep in mind involves the wattage of the bulbs they plan to use. Bulbs of 200 to 400 watts should provide sufficient light for a medium-size room.
Chandelier Styles
Homeowners can also shop according to chandelier style, including which design matches the room or area the chandelier is placed in. The following section details some of the more common chandelier styles available for purchase.
Modern Chandeliers
Modern chandeliers take advantage of a variety of recent designs that push the boundaries of more traditional chandeliers. These include clean and simple designs, as well as glass designs in a variety of colours and arrangements.
Vintage and Retro Chandeliers
Vintage and retro chandeliers include items from or based on the heyday of metal and glass chandeliers. This style of chandelier tends to feature a look of old-world style and design.
French and Provincial Chandeliers
Based on French styling, French and provincial chandeliers encompass a large selection of glass and metal chandeliers. These include multi-tiered chandeliers for foyers, dining rooms, and wherever else homeowners want to feature the French style.
Elegant Chandeliers
Elegant chandeliers evoke smooth curves, as well as the perfect balance of metal, glass, and crystal. Light up any room with these lightweight and sometimes ethereal designs.
Asian Chandeliers
Asian chandeliers get a lot of their design features from such items as Asian paper lanterns, fans, and shells. They offer a soft glow in a variety of materials, including bamboo, glass, and metal.
Chandelier Size
Shoppers can determine the proper chandelier size for the room they want to place it in by looking at the overall room size. The following table can help shoppers select the correct size of chandelier for the size of room.
| | |
| --- | --- |
| Room Size (m²) | Chandelier Diameter (cm) |
| | 43.18 to 50.8 |
| 3.65 | 66.04 to 68.58 |
| 4.26 | 60.96 to 68.58 |
When installing a chandelier, homeowners should make sure that the chandelier hangs at around 76.2 centimetres above the surface of the table or high enough in a room so that occupants can walk underneath without problems. Another factor shoppers need to keep in mind deals with chandelier width, with chandeliers about 30.5 centimetres narrower than the table that it hangs over presenting the best size.
How to Clean and Store Chandeliers
Chandelier owners can clean them in two ways: dry or wet cleaning. Dry cleaning eliminates the possibility of moisture getting into the electrical components of the chandelier. With dry cleaning, components are polished without using any liquids. The benefit of wet cleaning is that it is a faster process. Choose the method of your choice and follow the instructions below.
Dry Cleaning Method
When dry cleaning a chandelier, use a ladder, two or more microfibre cloths, and glass cleaner. Then follow these steps to clean the chandelier. First, turn the light off and ensure that the bulbs cool down before you start cleaning. Second, set the ladder up. Make sure the ladder is stable. Be sure that the ladder height can reach the chandelier. Third, clean at the top of the fixture and then work around it, cleaning from top to bottom and inside out. Fourth, spray glass cleaner on a microfibre cloth, and wipe each piece of glass thoroughly. Finally, use a separate cloth to polish the glass after cleaning it.
Wet Cleaning Method
Take your time preparing to clean the chandelier so you do not miss anything. To clean the chandelier using the wet method, assemble a ladder, chandelier cleaner, plastic sandwich bags, rubber bands, and a plastic tarp or sheet.
First, turn off the light and make sure the bulbs cool off before starting to clean. Then, spread out the tarp under the chandelier to make sure nothing gets on the carpet or flooring. Afterwards, make sure the ladder is stable before using it. Fourth, climb up the ladder and tighten a plastic bag over each light bulb; tightly wrap a rubber band around the fixture under each bulb. Fifth, spray chandelier cleaner over the entire fixture. Make sure to wet the chandelier thoroughly from each angle. Then, let the chandelier to drip dry. Finally, remove the tarp carefully. Remember to check the manufacturer's website to read its recommendations and tips for cleaning the product you own. Also, to achieve the best results, dust the chandelier before washing or cleaning it.
Find Chandeliers on eBay
When searching eBay for chandeliers, make sure to type specific keywords into the search box, like "black chandelier" or "12 arm chandelier", for example. Remember to use search terms that are relevant to the product, including brand name, product type, and so on. However, a general search for "chandelier" may be useful if you are unsure of what you want.
For extra help on how to search the site, visit eBay's Search Tips page. If you want to cut down the product results page, just click on the various filters to fine-tune the results. When reading over the product listing, to contact the seller with any questions, click the Ask a Question link on the seller's listing page. Also, before making a purchase, look over the seller's feedback rating.
Conclusion
Dark rooms can benefit from the bright glow of a chandelier overhead. These beautiful decorative lighting fixtures add luxury to rooms, thanks to the various materials they are made from, including metal, glass, crystal, and other materials. A variety of available styles, including modern, vintage, and elegant, give homeowners a multitude of options.
Whether the soft light of an Asian fan-shaped glass chandelier, or the ethereal glow of an elegantly styled crystal chandelier, when purchasing chandeliers, shoppers need to make sure they buy according to room size. They should also consider where they want to place a chandelier, by itself over empty space or over an item such as a table. eBay offers a wide selection of chandelier types, styles, colours, and sizes, to fit almost any need or room theme.
chandelier|modern chandelier|vintage chandelier|french chandelier|elegant chandelier