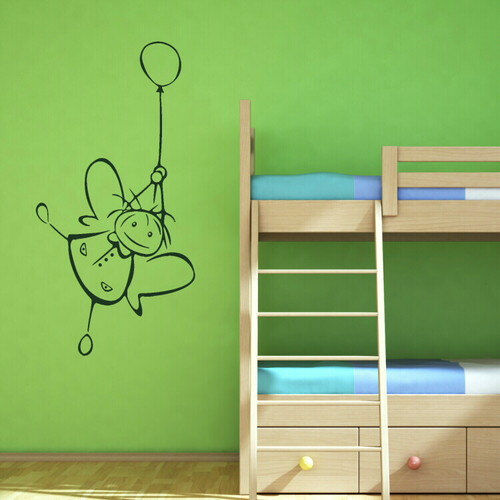 Young children are incessantly curious. Anything in their immediate environment must be explored, sometimes through destructive experimentation. If they find something interesting, it may be redecorated, moved, chewed, or handed over to the family pet in an effort to find a partner in crime. Wall stickers and decals are no different.
Parents can enhance any room with these versatile, inexpensive, and easy to apply decorations. However, in a home with young children, finding child-proof wall stickers is a crucial factor in the effectiveness and survival of these decorative accessories. Wall stickers are primarily made from vinyl and should be free of any dangerous chemical adhesives. The best child-proof wall stickers can be bought from home decor stores and online sources, such as eBay.
Wall Stickers and Child Safety
Many young children explore their world by putting everything they lay their hands on into their mouths. Regardless of the type of wall stickers chosen, always ensure that they consist of non-toxic materials and do not contain harmful chemicals in the adhesive used to fix them to the wall.
Features of Wall Stickers
Before buying the best child-proof wall stickers, consider some key features. For people that decorate frequently, removable stickers are a good choice. If the stickers are likely to get wet, then splash-proof or waterproof products are ideal.
Removable Wall Stickers
Whether wall stickers are used in shared spaces, adult rooms, or children's rooms, tastes can change. Removable wall stickers offer additional versatility, as they can be removed and reapplied or replaced with a minimum amount of fuss, so these stickers make it easy to redecorate. In addition, damaged stickers are easier to replace, without the need to repaint the wall.
When buying removable wall stickers, follow the manufacturer's instructions for application carefully. Store these instructions in a safe place so that they can be found at a later stage. If these stickers are very easy to remove, place them out of reach of little hands or ensure that the edges are difficult to lift.
Splash-proof and Waterproof Wall Stickers
Splash-proof and waterproof wall stickers work well in dining areas, bathrooms, and kitchens. Their sturdy construction also makes them child-proof as they are likely to survive any manner of accidents, whether from juice spills or other splashes. They are easy to clean as they are designed to survive contact with water. Wiping them down should not damage them.
Materials for Wall Stickers
The primary material for wall stickers is vinyl. Vinyl is a synthetic material made from ethylene and chlorine. During processing, these two elements combine to form polyvinyl chloride (PVC) resin, commonly known as vinyl. This material, designed in the 1920s, is used to manufacture a range of products from flooring to records. Vinyl is heat and moisture resistant, strong and durable, versatile, inexpensive, and easy to recycle.
Vinyl wall stickers are easy to attach and remove. Buyers who redecorate often should look for sturdy stickers that they can remove and reapply in a different location. This type of wall sticker is highly customisable; many sellers offer vinyl wall stickers featuring unique designs chosen by the buyer. In addition, they come in all shapes, sizes, and colours, making it easy to find the perfect decoration for any wall. Due to the material's strength and durability, these stickers are difficult to tear and relatively resistant to spills and accidents.
Location of Wall Stickers
One of the most popular locations for wall stickers is the nursery. As the name implies, nursery wall stickers are designed specifically for this location. These stickers are tough and made to last in a demanding environment. Look for nursery stickers in colourful designs, featuring children's favourite animals or cartoon characters. They even come in numbers, letters, and shapes, giving little ones a head start on counting and the alphabet.
Choose stickers that adhere well, are relatively thick, and are not prone to tearing. Ensure that the stickers chosen are easy to remove, easy to clean, and likely to survive spills and mess. Read customer reviews about specific brands in order to find the most durable product.
Chalkboard Wall Stickers
Few children reach adolescence without adorning at least one wall with artwork rendered in permanent marker or crayon. These efforts rarely can be removed, especially from light-coloured walls, which often means repainting the section of wall. Parents that have budding Michelangelos in their homes should consider chalkboard stickers. These adhere to walls and offer children the opportunity to create as many chalk murals as they wish.
In addition, should the young artist miss the sticker and draw on the wall, chalk is far easier to remove than other mediums. Simply wipe the area with a dry cloth and wash the wall with warm soapy water. Remember to keep wax crayons, which children easily confuse with chalk, out of reach when the kids are unsupervised.
Chalkboard wall stickers are not only suitable for children. Add one to a kitchen for on the spot grocery lists, or to the study or garage wall to keep track of projects.
What to Look for when Buying Child-proof Wall Stickers
When choosing wall stickers, take into account their placement and the types of activities in those areas. Child-proof stickers should be non-toxic, durable, and easy to clean. The table below provides a brief summary of the types of stickers discussed to make comparison easier.
Type of Wall Sticker

Description

Removable

Easy to remove

Some can be reused

Remember to store the manufacturer's instructions regarding removal

Widely available in vinyl

Splash-proof and waterproof

Good for dining areas, kitchens, and bathrooms

Easy to clean

Designed to withstand spills

Vinyl

Synthetic material

Widespread uses

Heat and moisture resistant

Strong and durable

Versatile

Inexpensive

Easy to recycle

Easy to attach and remove

Wide range of designs and colours

Difficult to tear

Easy to clean

Nursery

Designed for nurseries

Tough; made to last

Colourful, child-oriented designs

Check user reviews to find the ideal product

Chalkboard

Adhesive one side, chalkboard on the other

Great for little artists

Chalk is easy to clean off walls

Use for lists in kitchen, study, or garage
Ensure that the stickers chosen adhere to the wall well. Edges that are lifting are tempting exploration sites for small fingers.
Buying Child-proof Wall Stickers on eBay
eBay sellers offer a wide selection of child-proof wall stickers for any room in the home. Use the search field located on every page to find what you need. Simply type a phrase, such as "vinyl Disney wall sticker", into the search bar to see the items available and browse the listings for inspiration. For more great deals on home decor items, remember to check eBay Deals.
Before buying on eBay, learn about the item and the seller. Read the full item description before buying to ensure that you purchase exactly the right product. Check the seller's feedback score to see what others think of his or her products and customer service. Contact the seller if you need to check whether the stickers are child-proof.
Conclusion
Wall stickers offer an easy, inexpensive way to customise walls. Choose from a huge selection of colours and designs. Those with young children should ensure that the wall stickers chosen are child-proof. The most important consideration is that the materials and adhesives used are non-toxic.
Removable stickers offer added versatility, making it easy to redecorate the wall. Splash-proof and waterproof stickers work well in dining areas, kitchens, and bathrooms, and are easy to clean. Vinyl wall stickers are durable, difficult to tear, and relatively accident resistant. They come in a range of designs and buyers can choose to personalise the stickers if they wish. Nursery stickers are designed to be child-friendly and chalkboard stickers are ideal for children who enjoy drawing.
child-proof wall sticker|vinyl wall sticker|removable wall sticker|nursery wall sticker|chalkboard wall sticker