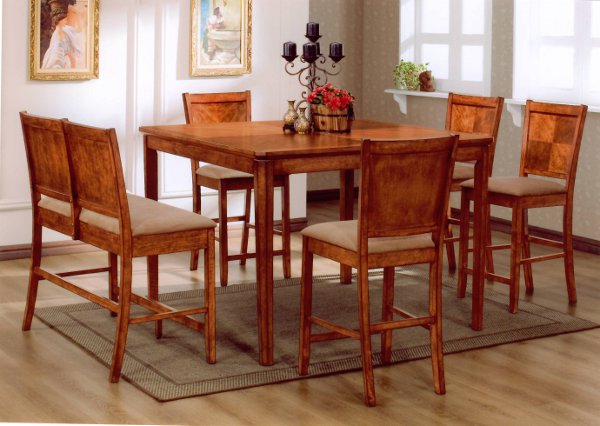 Buyers with small dining spaces face a number of challenges when shopping for dining sets. Since buyers and their guests need to manoeuvre around a dining set comfortably, dining sets must include tables and chairs small enough to fit within a restricted area. Dining sets must also function adequately to allow enough space for table occupants to eat easily. Dining sets are available at local department and furniture shops, but size options are often limited. For buyers who want a wide selection of dining set purchasing options, shopping at large-scale, online retailers like eBay may prove beneficial. Before shopping for dining sets, buyers with small dining rooms should consider a number of features that maximise the available area while still providing tablespace for most occasions.
Dining Sets With Expandable Dining Tables
Better Homes and Gardens magazine recommends that buyers with small dining spaces should consider purchasing dining sets with expandable tables. These types of tables can enlarge or contract as necessary to accommodate an increased number of table guests. To make expanding a table possible, dining set manufacturers apply a number of different methods to allow buyers to change the sizes of their tables.
Expandable Table Options

Description

Leaf inserts

Include hardware on the bottom of the table's top that permits buyers to separate the permanent sections of the table top and add leaves to increase the table's size

Generally fit between the permanent sections of a table's top and include notches on their sides to connect the leaves together securely

Once a leaf insert is in place, buyers push the permanent sides of the table's top together, creating a seamless tabletop surface

Depending on the design of this type of expandable table, it can accommodate one or multiple leaf inserts at a single setting

Drop leaf tables

Include side leaves that are a permanent part of a table

Attached to the table with hinges that allow the leaves to be raised or lowered

Can include one drop leaf or multiple leaves

Butterfly leaf tables

Designed like drop leaf tables, but only include leaves on two opposing sides of the table

This positioning of leaves gives the table a silhouette that is reminiscent of a butterfly
To stabilise drop-style leaves, manufacturers often include brackets that support a leaf when opened. When buyers want to close the leaf, they press a release button or push inward on the bracket's arms to release the bracket's locking mechanism and lower the leaf.
Dining Sets With Built-in Storage Features
Good Housekeeping magazine stresses the importance of having an organised dining room to keep a home clutter-free. This is particularly important for small dining areas where space is at a premium. To extend the storage capacities of a dining room and free up space, buyers can purchase dining sets that include a number of useful built-in storage features.
Shelves
Dining sets with tables that feature shelves allow buyers to store dining-related accessories, like table linens and candlestick holders under their tabletops. Shelves can provide general storage spaces or specific storage options, like wine racks. If buyers opt to purchase dining sets with built-in shelves, they should check how wide the shelves are to determine if there is enough legroom available under the table once diners are seated.
Drawers
Drawers designed into a dining table offer buyers space to store smaller dining accessories, like flatware and napkins. These drawers are typically shallow so they do not constrict a diner's space when seated at a table. The design elements of some tabletop drawers add visual interest to a table and include decorative handles and intricate carvings. Conversely, other drawers blend into the overall design of a dining set's table discreetly so they are not obvious to guests.
Round or Oval Dining Sets
Better Homes and Gardens magazine advises buyers with limited space to choose dining sets that include tables that are round or oval. Because rounded tables do not feature definite sides, it is easier to accommodate additional table settings for guest. Additionally, the cornerless shape of a rounded table opens more space in small areas for diners to move around the table.
Pedestal Bases on Round or Oval Tables
When buyers shop for round or oval tables, they should look for table models that include a pedestal base. A pedestal base supports the table's top from the centre of the table, eliminating the need for table legs positioned around the table's circumference. Having a centre pedestal increases a buyer's ability to add more people comfortably to the table when dining.
Dining Sets With Armless Chairs
The chairs of a table set impact how much space is necessary to use the set. Buyers with small dining spaces benefit from armless chairs because this type of chair needs less space when positioned around a dining table. Armless chairs do not restrict a diner's movements as much as chairs with arms so diners can turn to the side to rise from their chairs if needed. Generally, chairs with arms require diners to push their chairs back to stand, which is problematic in tight spaces.
Dining Sets With Foldable Chairs
Foldable chairs in dining sets offer buyers with small spaces the ability to collapse and store chairs when they are not in use. Once folded, these chairs can be stacked in closets to free space around a dining set. When purchasing dining sets with foldable chairs, buyers should look for chairs that are sturdy and contain padded seating to increase their comfort levels.
Dining Sets With Benches
Better Homes and Gardens magazine suggests that buyers with small spaces purchase dining sets that include bench seats. Bench seats provide accommodation for more diners than individual chairs and can often function in multipurpose ways, depending on the style of the bench. For example, high-backed benches typically contain ledges that buyers can use as narrow shelves to decorate their dining areas, a plus when space is limited.
How to Buy Dining Sets for Small Spaces on eBay
Buyers with restricted eating areas can increase the likelihood of finding dining sets by visiting eBay. Through its wide network of sellers, eBay supplies buyers with new and used dining sets in a variety of styles and sizes. Buyers with limited budgets for decorating can also visit eBay Deals ' Furniture category to browse through a selection of dining sets at discounted prices. Since the dimensions of a dining set are critical in small areas, buyers should review the measurements of potential purchases as listed in their eBay product descriptions. Buyers should carefully measure the room they have available for a dining set to establish the maximum size set that they can purchase. If a dining set requires assembly when it arrives, buyers should make sure that the set's purchase includes any necessary hardware and tools.
Conclusion
Buyers with small spaces available in their dining areas often struggle when shopping for dining sets that fit their rooms and provide enough table area for everyday use. To compound the space problem, buyers who entertain periodically for special events find that adding additional places to a dining table creates a densely-packed environment that limits people's movements. To combat this issue, buyers can make strategic purchasing choices when shopping by choosing dining sets with the best features for small areas. Expandable and rounded dining tables offer buyers more options for creating an adaptable dining area. Dining chair features can also make the most of limited spaces. Once buyers determine which options are essential for their particular situations, they can shop on eBay to find the best dining set for their needs.
Dining Set|Dining Table|Dining Chair|Dining|Furniture