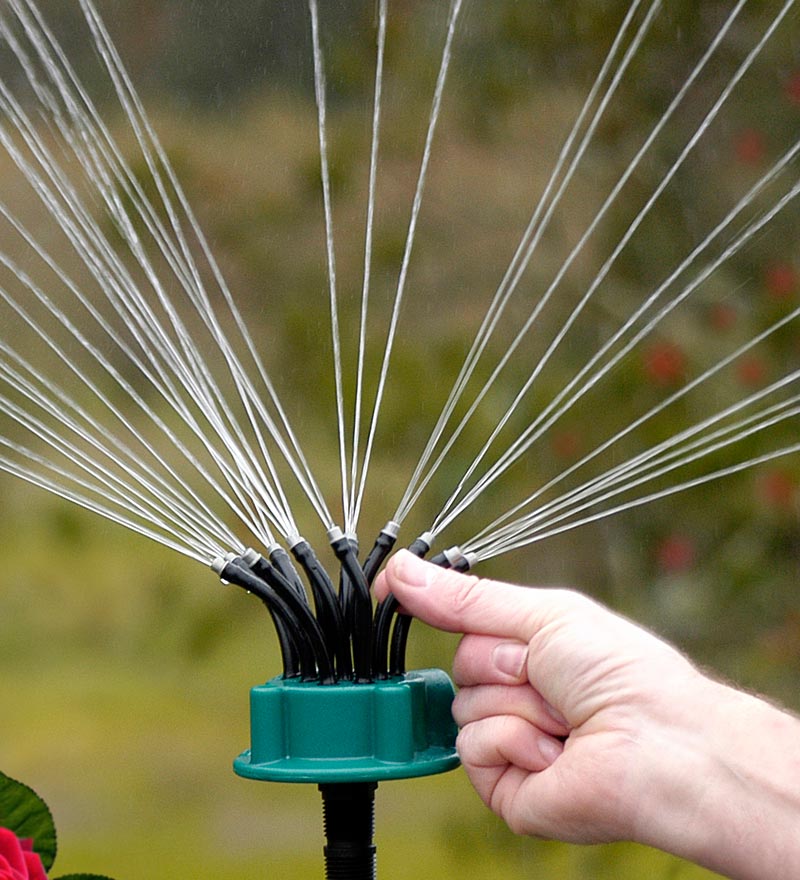 It is the dream of many homeowners to have a lush, well-manicured lawn without having to do a lot of work. These homeowners need to consider which type of sprinkler is best for their needs. There are seven different types of sprinkler systems: fixed, impact, in-ground, oscillating, rotating, sprinkler hose, and travelling. Each has its own advantages and purposes. By educating themselves on the different types of sprinklers available, as well as their advantages, homeowners can get the well-manicured yard that they are looking for without a lot of work. Sprinklers can be purchased at many different locations, such as large box retailers, department stores, and online. One of the best places to get a lawn sprinkler is on eBay.
Fixed Sprinklers
Fixed sprinklers are a perfect solution for many gardens, landscapes, and small areas less than 6 m in width. These sprinklers distribute water in the same pattern the entire time that they operate. The advantages of these systems are that they deliver fast and precise water, and homeowners can configure them to water hard-to-reach areas. Fixed sprinklers are usually relatively inexpensive to buy, making them a prominent choice for homeowners who do not need to use a sprinkler often. They also make a good choice for homeowners who do not plan to stay in their homes for long. The best-fixed sprinklers have automatic timers allowing them to turn themselves on early in the morning, the best time to water before the heat evaporates the water quickly. The best fixed sprinklers also have flow rate controls so that the homeowner can adjust the watering amount to the needs of the yard.
Impact
Impact sprinklers provide a stream of water in an adjustable pattern. According to experts, each impact head can handle an area that is between 4.5 and 19.8 m in diameter. For best results, another impact sprinkler should overlap at least 50 per cent of the area. In addition, impact sprinklers operate best when there are at least three bars of water pressure. The best impact sprinklers are wind-resistant and have adjustable water patterns, although experts warn that they do not work well on landscapes that contain large curved areas because of the amount of overwatering that must occur. Impact sprinklers may make a fabulous solution for front yards, back yards, and other large areas. The best of these systems have many spray patterns that are easy to set. The best impact sprinklers also have automatic timers, so that watering occurs in the early morning hours when most effective.
In-Ground
There are many quality in-ground sprinklers available on the market, and they make a great choice for many homeowners because they apply the water to the root system. Therefore, they reduce wastewater runoff by up to 70 per cent. Applying water to the root system also reduces the number of weeds allowed to grow. Homeowners should choose a system that has several water emitters since these allow precise watering of shrubs and trees based on the plant's requirements. In addition, look for an in-ground system that has a multiple-programme timer housed in a weatherproof outdoor cabinet ensuring that winter's colder temperatures do not harm the system. The best systems have an anti-siphon valve that controls the flow of water in one direction, preventing backflow contamination. Homeowners need to consider a system that has PVC risers, especially if they live in a cooler area.
Oscillating
Oscillating sprinklers are another solution that some homeowners may want to consider. These systems are excellent for gentle watering of newly seeded areas. Oscillating sprinklers cover large rectangular or square areas very well, although some homeowners complain that the water tends to puddle at the end of the watering pattern. Look for a sprinkler with multiple timers and design the system so that one starts when the one ahead of it finishes for the most effective watering. A water hose provides water for an oscillating sprinkler, so it is vital to buy a sprinkler that fits the diameter of hose used, with a larger hose providing more water quicker than a smaller diameter hose.
Rotating
Rotating sprinklers are a choice for homeowners who have an area between 5.5 and 17 m. These work quickly and distribute the water evenly across flat areas. Buyers should look for a rotating sprinkler with multiple nozzles so they can control the water output depending on their needs. In addition, buyers should look for a rotating sprinkler with a radius reduction screw, so that water goes only as far as needed. Different rotating sprinklers have different pop-up heights so buyers should make sure to buy one that fits their needs best.
Sprinkler Hose
Sprinkler hos es are good choices, especially for those with long, narrow strips of grass or other unusual shapes in the lawn. Homeowners should consider fastening these hoses in place to avoid causing a trip hazard. Using a sprinkler hose is a very efficient way to water and the low-flow rate from these hoses help to minimise plant diseases. Since these hoses have very few parts to wear out, most last for a remarkably long time. Homes with hard water, however, need to use a filter to protect the lifespan of their hoses. The hose supplies the same amount of water along its entire length, so it is impossible to control for individual plant's needs.
Travelling
Travelling sprinklers are an excellent option for those homeowners who need to cover a large area. Furthermore, they are extremely effective for hilly and uneven terrain. Another advantage of these sprinklers is that lying out different patterns is easy, ensuring that all areas of the lawn are water-efficient. Look for a travelling sprinkler that has automatic water flow control and an automatic timer. The best travelling sprinklers have speed controls so that different areas receive different amounts of water. Homeowners should also look for a sprinkler that has a way to determine how far the water reaches. In addition, homeowners should look for a system that has automatic shut-off when done watering. Finally, look for a sprinkler constructed of materials that do not rust.
How to Buy Sprinklers on eBay
There are many places where homeowners can buy sprinklers, but the best place is on eBay. You can easily type "water sprinklers" into the search box found on any eBay page. On the other hand, if you have already decided which type of sprinkler best fits your needs, you can also enter the term into the search box. Consider entering "travelling sprinklers", "oscillating sprinklers", or "impact sprinklers". Look at the different deals and decide which one best meets your individual needs. When you have narrowed the list down to two or three possible choices, be sure to consider the buyer's feedback before making a final selection. When you make a purchase on eBay, know that your information is extremely secure.
Conclusion
Homeowners seeking a well-manicured lawn have many choices in sprinklers. By educating himself or herself, the homeowner can choose the system that best fits their needs. Fixed, impact, oscillating, and rotating sprinklers are easy to move and easily adjust to meet individual landscape requirements. In-ground systems stay in place all year long and require very little maintenance. These systems make a great investment for homeowners planning to stay in their homes longer, and can make a strong selling point. Soaker hoses are very efficient, but are hard to determine the exact amount of water provided to the landscape. Finally, travelling sprinklers are great for landscapes that require unusual patterns. Whichever sprinkler is right for your needs, make sure that you buy it on eBay.
Fixed Sprinkler|Oscillating Sprinkler|Rotating Sprinkler|Travelling Sprinkler|Lawn Sprinkler