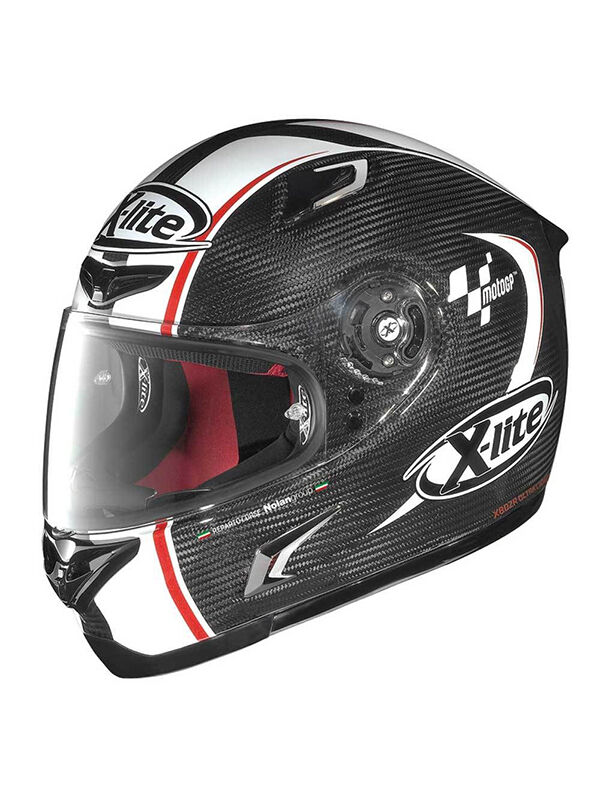 Those just getting into Motorcycle Grand Prix riding may have outfitted their bike with top gear like racing tyres and suspension, but rider gear must be budgeted in, too. MotoGP can reach high speeds at steep angles and full protective gear is essential for safe riding. A full protective outfit includes a full-face helmet, pants, jacket, gloves, boots and knee sliders.
The most important factor to consider when choosing Motorcycle Grand Prix gear is comfort. Gear has to fit well and allow the rider to move. Uncomfortable gloves, a helmet, or leathers may hinder the rider on the course and lead to accidents. Or, the rider may forgo wearing of some of the protective gear altogether if it just doesn't feel right.
MotoGP Gear Must-Haves
Choosing gear is as important as choosing a bike, maybe more so. Riders should take their time choosing gear, trying different styles and manufacturers to find the best fitting protection for them. Here is an overview of the essential gear.
Helmet
With bikes running at more than 300 km/h, a good racing helmet should be at the top of the gear list. A good fit and good construction are of paramount importance.
A helmet should fit tight on the head without creating pressure points. The rider should still have a good amount of peripheral vision and should be able to hear the sounds of the riders around him. A visor should be added to protect the rider form debris, insects, and rain.
There are loads of extras to look for also, such as rain-specific helmets that help with fogging or misting, visibility, and comfort. Minimally, a helmet should fit snugly whilst allowing for ventilation.
Riders should look for Australian Standard certified helmets and visors.
Racing Leathers
Racing leathers are essential considering the angles and cornering speeds of today's races. A high-quality racing suit should have reinforced chest and spinal protection pads. These are usually made out of lightweight material such as Kevlar or titanium so as not to weigh the rider down.
Leathers should fit snugly to keep the built-in protectors in place. Leathers can be worn over a regular shirt and should be ventilated and breathable. Some suits come with a built-in gel cooling system that circulates cool water. Riders should be able to walk around comfortably in their leathers when off the bike.
Most importantly, racing leathers should work in combination with other gear, especially the helmet to provide full-body protection in the case of a crash. The back protector of the suit should work with the back of the helmet to protect the head, yet still allow movement.
Gloves
Gloves must allow the rider to feel the controls, while providing protection for the hands and wrists in a crash. Gloves should have reinforcements at key abrasion points such as the wrist, palm, and thumb. The level of protection is measured either by abrasion resistance time (in seconds) or the thickness of the leather.
Boots
Super-light boots are the way to go for Moto GP riding. However, the boots must still be stable, sturdy, and able to protect the riders toes, feet, and ankles should he start sliding across the pavement. In addition, boots must not hinder the rider's ability to operate the controls.
Some boots provide extra protection for the shins, heels, and ankles. The best way to know if a boot meets the criteria for comfort and functionality is to try them out. Be sure you understand the return policy, however.
Knee Sliders
Another Moto GP essential, knee sliders are not part of the leathers. Knee sliders brush over the pavement when riders lean into the corners. Because they come in contact, they are usually replaced after nearly every ride for Moto GP riders. Riders can go through one hundred pairs of knee sliders in a season.
The tough plastic construction is durable and lets the rider feel the pavement when they slide at a 60-degree angle through the corners, looking for the edge. Riders today are pushing limits as never before; some elbow sliders are used to test the tilt angle of a bike, pushing to gain a tenth of a second.
Serious Moto GP riders will have a full range of gear to choose from depending on the race and the weather. Gear from top manufacturers such as Alpinestars and Moto GP can be found at specialty gear shoppes or online.