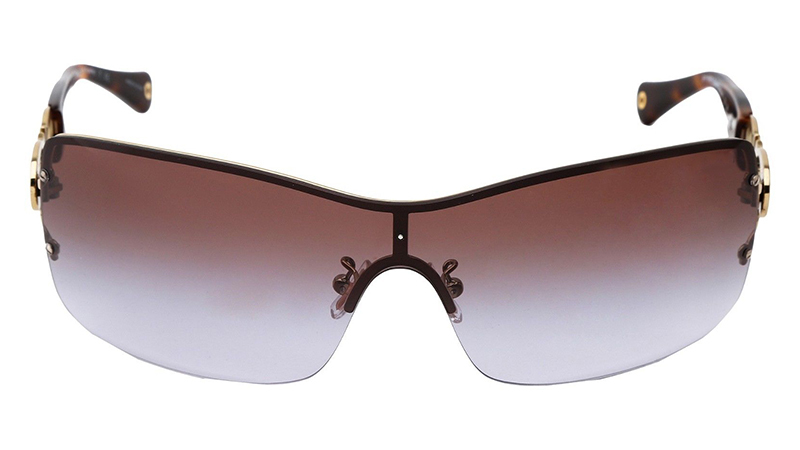 The utility of sunglasses often defies season and temperature – this is far more than a summer accessory. Oftentimes there is no better way to get noticed in any season than with a few key statement pieces in combination with a stylish pair of sunglasses. However, sorting through the best sunglasses for women takes more than fashion knowledge, including some serious consideration about what shapes and brands work best for each face.
Sunglasses for round faces
The full features of women with round faces look best with sunglasses in other, more angular shapes such as oversized square frames, cat's eye, and wrap-around sunglasses. Coloured lenses are another issue for round faces, as they tend to exaggerate facial fullness.
Bon Look Venice Beach
Channelling the California sun, Bon Look's Venice Beach sunglasses in frosted petals add a distinct element of fun to any outfit. Though coloured, the matte finish downplays the difference and balances out a round face. Other features include mirrored lenses two additional colours, black and "frosted beach".
SALT Holtz
The SALT Holtz style was originally intended for men, but they are great for women as well. The broad bridge of these glasses orients the eye towards the top of a round face rather than its full cheeks. Available in two colours, caramel gradient and smoky tortoise, the lenses are also polarised.
Sunglasses for heart-shaped faces
Cat's eye and round frames look great on a heart-shaped face, but, honestly, so do aviators, square frames, and Wayfarers. Basically, the wide forehead and narrow chin of the heart-shaped face does well with almost any frame. Heart shapes should avoid embellishments or top-heavy styles that add emphasis to the fuller top part of the face.
Prada Rimless Aviators
The rimless look is flattering on a heart-shaped face because it highlights the cheekbones and draws the attention away from the fuller forehead area. Prada Rimless Aviator sunglasses come in two colours, silver with blue gradient lenses and gold with brown gradient lenses, and, though subtle in style, they feature the Prada logo engraved on the side.
Tod's Injected Butterfly
Butterfly lenses are another way to really accent the beauty of a heart-shaped face. Tod's Injected Butterfly sunglasses offer the wide frame that compliments the heart-shape along with equally-wide, embellished ear pieces to create a flattering wrap around look. They are available in two colours: grey with smoke lenses and red with violet lenses.
Sunglasses for oval faces
The oval or oblong face shape is narrow from top to bottom. Therefore, it needs full-framed sunglasses or wrap-around styles that add volume to narrow features. Cat's eye and Wayfarers are also popular options for this facial shape.
Coach Noelle
The rimless bottom of the Coach Noelle frame and the wide, wrap-around look is a really pretty accent to the oblong facial structure. Available in two colours, silver/black and gold/tortoise, these glasses also feature gradient lenses with enamelled Coach "Cs" on the side for a more open look on the earpiece.
SALT Milla
The SALT Milla Wayfarer sunglasses feature a really beautiful pattern in both the Bisque Havana/Dark Chocolate and Matte Burlywood/Tawny Brown colour choices. This pattern adds volume and interest to the narrow face which really evens out its shape.
Sunglasses for square faces
Often considered a "regal" facial structure, a square face's broad forehead, prominent jawline, and wide chin require a softened look. Anything too boxy or geometric only emphasises an already-angular face, so squares are better off with rounded and curved frame shapes such as cat's eye, aviators, and wrap sunglasses.
Ray-Ban Vagabond Sunglasses
The beautiful cat's eye shape of Ray-Ban Vagabond sunglasses pairs extremely well with an angular face because they sit high on the forehead, which tends to balance the jawline. Available in both tortoise brown and black, these vintage-style sunglasses are also incredibly trendy and are prescription friendly as well.
A/X Armani Exchange oval sunglasses
The oversized oval frames found on A/X Armani Exchange sunglasses adds the right touch of volume and shape to a square face. These glasses feature intricate designs on their metal earpieces which add character to their look as well as feature durable polycarbonate plastic lenses.
How to buy sunglasses for women on eBay
No matter the style you seek, it is easy to find a delightful variety of sunglasses for women on eBay. The large inventory of designer and discount eyewear with accessories from the site's reliable sellers makes finding the best pair of sunglasses for your face – and your wallet – a relief. To find the perfect pair, simply start a general search from any page on the site through the keyword search bar. Then, use the limiters provided to narrow your options according to brand, colour, and more until you have found your perfect pair.