September's Rally Australia is a regular stop on the FIA World Rally Championship circuit. All entries in WRC events are based upon production models that meet stringent specifications, including a 1,200 kg weight minimum (before drivers or fuel). Rally cars are fueled by a special blend designated by the FIA.
In 2014, the Rally Australia course tested drivers and race cars alike as it traversed highly technical, rolling, winding stretches through the forests of New South Wales and high-speed stretches in wide-open areas. The course included smooth gravel, coarse grit, clay, and loamy dirt. The 48.92 kilometre Nambucca stage featured steep inclines, stretches across farmland and wooden bridges. It was the longest and perhaps the most interesting of the 20 stages. Volkswagen won the 2014 event.
Top Rally Cars Today
Although Volkswagen's recent dominance on the WRC circuit is without equal, new teams are emerging as well. Here are some of the top rally cars competing in the World Rally Championship series today.
1
Volkswagen Polo R WRC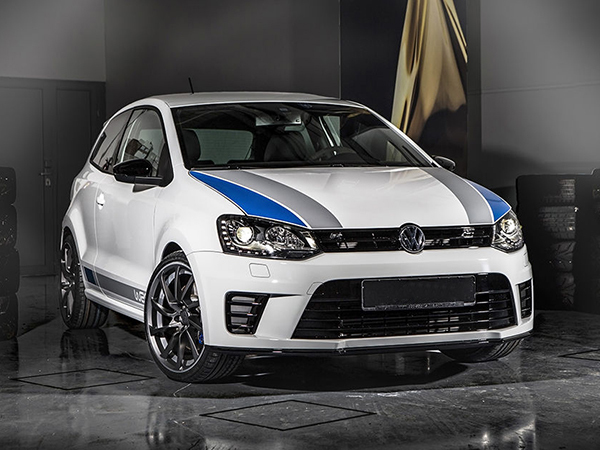 Volkswagen's success at the 2014 Rally Australia featured a remarkable 1-2-3 finish. This performance allowed VW to clinch the FIA World Rally championship victory for the year quicker than any other team has over the past 25 years. With its victory, Volkswagen also successfully defended its Manufacturers' Championship title.
It was VW's very first 1-2-3 finish at Rally Australia. The Polo R won an impressive 17 of the 20 stages at Rally Australia. Since it debuted at its first WRC race in Monte Carlo in 2013, the four-wheel-drive Polo has won 297 of 428 total stages on the WRC circuit, an unprecedented performance.
The powertrain of the Polo R includes a turbocharged 1.6 litre straight-four engine with a turbo anti-lag system. The transmission is a six-speed sequential manual with a racing clutch. A mechanical-type limited slip differential is employed both front and rear. MacPherson struts complemented by ZF Friedrichshafen dampers are used in both the front and rear of the vehicle.
The Volkswagen team uses 38 cm Michelin competition tyres for rally events on gravel, and switches to 46 cm tyres for events on tarmac. The racing-version Polo includes a reinforced body and multi-point roll cage, per FIA specifications.
---
2
Citroen DS3 WRC
The Citroen DS3 made its debut on the WRC circuit in 2011 at Rally Sweden. In 2012, it received the "Rally Car of the Year" award at the AutoSports Awards in London.
The DS3 features a multi-point, welded roll cage and a reinforced body. The specially designed, transverse-mounted 1.6 litre turbo four generates 223.7 kW at 6,000 rpm and 35.7 kgf-m at 3,250 rpm. The engine is mated to a Sadev sequential manual transmission with six speeds. There are mechanical front and rear auto-locking differentials and front and rear MacPherson-type struts. The WRC entry from Citroen Racing rides on Michelin tyres. The Citroen is 3,948 mm long and features a 2,461 mm wheelbase.
---
3
Hyundai i20 WRC
Hyundai's three entries at Rally Australia all finished in the top ten, so Hyundai deserves to be mentioned in any discussion of the top rally cars. The four-wheel-drive Hyundai i20 world rally car made an unexpected debut at the 2012 Paris Motor Show. It entered its first WRC competitive events in 2014.
The i20 is powered by a 1.6 litre turbocharged inline four that is mated to a six-speed sequential manual transmission. The engine can generate 200 kW at 6,000 rpm, and torque is rated at 400Nm at 5,000 rpm. Drivers use power-aided, hydraulic rack-and-pinion steering to guide a vehicle that is 4,030 mm long, with a wheelbase of 2,525 mm. Braking is supplied by ventilated Brembo discs with air-cooled, four-piston calipers on all four wheels. Brakes used on tarmac are 355 mm while 300 mm brakes are employed on gravel routes. The suspension employs MacPherson-type struts featuring adjustable dampers. Mechanical, limited slip differentials are deployed in the front and rear.
---
Conclusion
One reason rally car competition is so fierce is that manufacturers add to brand recognition with every victory. One can only wonder how many Volkswagen Polo or Hyundai i20 production cars have been test-driven by potential buyers after the WRC versions took home first-place accolades. These production versions of today's popular rally cars can be located on eBay. New and used rally tyres and other car parts and accessories are also found on eBay.