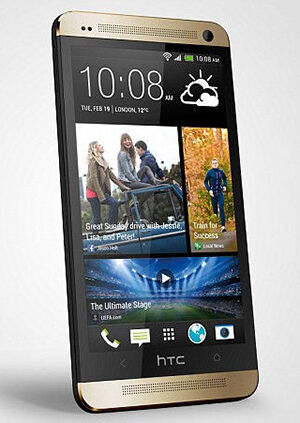 Founded in 1997, HTC stands for High Tech Computer Corporation, a Taiwan company valued for their smartphones; complete with sleek designs, excellent screen resolution and innovative functions.
The company is credited with numerous achievements, including the first smartphone with Beats audio (HTC Rezound in 2011), the first 1080-pixel display smartphone (HTC Droid DNA in 2012), and the first smartphone boasting f/2.0 aperture (HTC One X in 2012). With so much to offer, HTC phones are popular in Australia for good reason.
The top selling HTC phones on eBay today tend to be their newest and most advanced products. However, certain budget and niche HTC phones are also very popular throughout the country. Any kind of mobile phone user is certain to find a suitable option among the following seven.
1. HTC One M8
With the HTC One M9 set to take over the market, HTC One 8 won't be on top for long. However, the HTC One 8 is a formidable device with a stunning design, expandable memory and ample features. Features include a 90 percent metal chassis, a microSD card slot and it comes with cool apps like Blinkfeed™ (home screen updates), Sense TV™ (remote control) and Zoe™ (video and photo sharing). The Duo Lens camera has large pixels and intuitive tilt control, which means users get a much crisper image.
2. HTC One M7
HTC One M7 came out in early 2013 and quickly captured the eyes of techies and smartphone enthusiasts across the globe. A flagship phone from HTC, the One M7 is a solid upgrade from its predecessors. The quad-core Qualcomm® Snapdragon™ 600 processor gives this phone seamless performance, and the gorgeous industrial design makes using it all the more enjoyable. No wonder it's still a hit on eBay.
3. HTC One Mini 2
Some consumers don't enjoy using certain smartphones simply because they are too large and are quite frankly a hindrance to carry. Among the most sought-after mini-smartphones, the HTC One Mini 2 sells well partly because of its elegant metal body, with an approachable 11.43-centimetre screen, but also because of its impressive operating power (thanks to the Qualcomm® Snapdragon™ 400 processor). The Android software used is cutting edge as well.
4. HTC One Mini 1
The predecessor to the Mini 2 also makes the list. The HTC One Mini 1, with its 10.9-centimetre screen and weight of just 122 grams, has enjoyed sales success. It was released in late 2013, about eight months before the One M8. It has the premium metal body like the One M8 and many similar apps (though performance isn't as good).
5. HTC One Max
HTC One Max, a smartphone tablet, came out in 2013, roughly half a year before the HTC One M8. It still remains a popular buy on eBay for folks across Australia. The near 15-centimetre screen is massive, and the 1080-pixel display is gorgeous. This makes it attractive for gamers and those who simply want or need a bigger device. Though it's not as equipped or advanced as the One M8, it has a fingerprint scan and apps like Blinkfeed™ and Sense TV™ are still on there.
6. HTC Desire Eye
The Desire Eye appeals to users largely due to its awesome camera, which has dual-tone LED flashes. The intuitive 13-megapixel front-facing camera is set up for taking selfies easily, and the rear camera also has 13 megapixels. The Snapdragon™ 801 2.3GHz processor runs the device quite well. It's also water-resistant and boasts 2GB of RAM (random-access memory). More than just a picture taking machine, it's a powerful phone.
7. HTC Desire 510
It's not the dynamite performer that the One M8 is, but the HTC Desire 510 performs common functions easily and is very simple to navigate. A reasonable price tag (usually around $175), capable processor and long battery length are other reasons why this is an appealing phone.