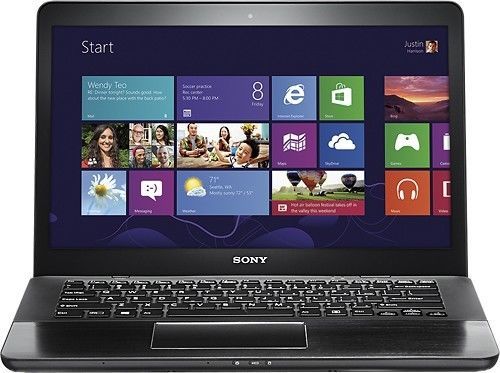 The Sony Vaio brand is iconic in the world of personal computing. On the market for 20 years, the Sony Vaio line is an innovative collection of PC's and laptops that sold well for years. Sony sold off the Vaio line a year ago, to focus on other devices and computing platforms, but the Vaio name live on as its own company, having be acquired by a venture capital firm to be run as its own company. Let's look at the Best Selling Sony Vaio laptops.
1. Vaio Fit 15 Ultrabook
Designed to be used while travelling, the Vaio Fit 15 Ultrabook is made for the road. It's a lightweight laptop with a 15" screen and a thickness of just over 21mm. The Vaio Fit 15 is also pretty powerful, with an 1.8 GHz Ivy Bridge processor, Intel HD Graphics 4000 video processor and an SSD+Hard drive configuration for improved performance. The Vaio fit is also designed well, with a brushed-metal lid and matching palm rest, and it weighs just 4.26 pounds. The Vaio Fit 15 also features 8 GB of DDR3 memory, 750 GB hard drive, a DVD burner and a HD touchscreen.
2. Vaio S Series 15
The Vaio S Series 15 is a traditional laptop, albeit with some impressive stats in its own right. The S series is still quite compact, balancing its size with a sturdy construction an Intel Core i5 processor that runs up to 3.1 GHz. The S series also has pretty solid entertainment capabilities, offering an internal Nvidia GeForce GT 640M graphics card that provides support for gaming and the 1920x1080 HD screen. The Vaio Series 15 is also sleek, with a magnesium alloy lid and an open keyboard. The S Series 15 also features enhanced sound quality as well, something that previous Vaio models lacked.
3. Vaio Tap 11 Touchscreen
A design triumph, the Vaio Tap 11 Touchscreen is essentially a tablet PC, based on the Microsoft 8 operating system. The Tap 11 comes with an Intel Core i5 processor and 4GB of DDR3 memory, along with an 11.6-inch screen that boast a resolution of 1920x1080. And all of this comes in a package that weighs just 1.7pounds, making the Tap 11 one of the lightest, smallest PCs on the market. The Tap 11 has a larger screen than the Microsoft Surface Pro 2, while also being thinner and lighter. The Tap 11 features an Intel Core i5 processor, 128GB SSD drive, and 4 GB of RAM.
4. Vaio Flip 15
A member of the convertible laptop-tablet category, the Vaio Flip 15 is a convertible laptop with a reversible screen that essentially turns the Flip into a tablet. The Vaio 15 is well-designed, and the ability to change between PC and tablet mode is actually quite simple. The Flip 15 also features a 15.6 inch screen with 1920x1080 resolution, an Intel Core i7 processor, and an Intel HD Graphics 4400 graphics card with 1.8 GB of memory. The Flip 15 also offers a 1 TB hard drive, along with built-in WiFi and Bluetooth capabilities.
5. Vaio Pro 11 Touch
A prototypical ultrabook, the Vaio Pro 11 weighs less than 2 pounds and packs a lot of power into it diminutive size. At the heart of the Vaio Pro 11 is an Intel Core i5 processor, which provides a lot of horsepower with relatively little power, making it an efficient choice. Like the Vaio Pro 13, the Vaio 11 is just .68 inches thick, which means that it's very small and very portable, making it ideal for use on the road. The Pro 11 also features 1080p resolution on the screen, and it's a touchscreen to boot. The case is made of carbon fibre, which keeps the weight low while enhancing the strength of the case, further making the case to be an excellent travelling laptop.
6. Vaio Pro 13 Ultrabook
The older sibling to the Pro 11, the Vaio Pro 13 Ultrabook is similar in many ways to the Vaio Pro 11. Like the Pro 11, the Pro 13 is small. It's a little heavier than the 11, coming in at 2.3 pounds, but it maintains the same thickness while being just a little larger overall. But where the Pro 13 is different is in the processor, an Intel Core i7, and an 13.3 inch screen at 1080p resolution. The screen's native resolution is 1920x1080, and it uses IPS technology, which means that it looks good from lots of different angles, not just head-on.