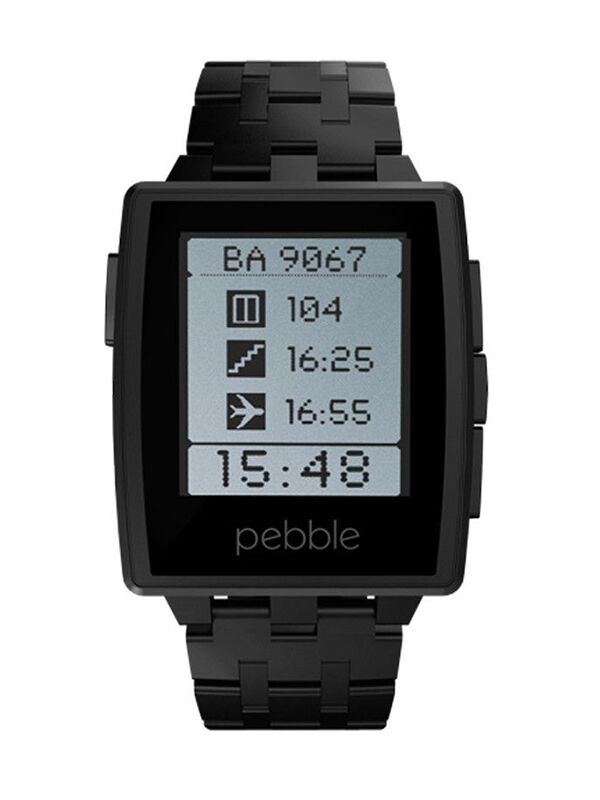 Wearable tech is still a new concept, but already the market is flooded with various makes and models of smartwatches. Even with the modern advances in computing technology, fitting numerous functions into something as small as a watch is still a challenge, but the best smartwatches manage to balance pragmatism and style.
Pebble Steel
The newest smartwatch from Pebble stands out because of its fashionable design, which includes a leather band and rectangular steel casing. But the Pebble Steel has the substance to match its style. It is compatible with Android and iOS smartphones, enabling the user to add or subtract apps, including the Misfit fitness app, the Dashboard app that grants control over some smartphone functions, Futura Weather 2, Music Boss, and many more. Not only can this smartwatch be purchased on eBay, but Pebble even offers a free app that allows the wearer to search for other products on eBay. While much of the competition needs daily recharging, Pebble Steel skips on having a colour screen and other flashy functions in favour of a streamlined approach that keeps its battery life at five days or more.
Motorola Moto 360
The Moto 360 is another one of the few smartwatches that pairs looks and abilities. It has a round face held comfortably on the owner's wrist with a soft leather strap, and can even be upgraded to a metal link band. Users of the Moto 360 will need to match it with a smartphone that runs Android to access the many Android Wear apps, such as Evernote connectivity, ordering a taxi, voice-activated messaging, and Internet searches. As Google software, the Android Wear system smoothly connects to the weather, traffic, flight, sports, and other information supplied by Google Now.
Martian Notifier
Rather than being designed with futuristic slickness or high fashion appeal, the Martian Notifier has a classic clockface (moving hands and Roman numerals) to give it retro style. A narrow LED screen and small light show that this watch is wearable tech, but it's unlikely anyone except the owner will even notice, letting it blend in with professional attire. Its durable plastic body makes it lightweight, splashproof, and helps keep the price down to an affordable level. The Notifier earns its name by notifying the user of texts, calls, Twitter messages, and emails they've received on their smartphone. This smartwatch from Martian even has a setting that lets the wearer know the type of function that's being notified by using a different pattern of vibration for each alert.
Samsung Gear Fit
The Samsung Gear Fit gets its name not because of its snug fit on the wearer's wrist (though it has that too), but because this wearable tech was created to help its owner stay in shape. It tracks sleep time and heart rate, as well as acting as a pedometer to count walking, running, and bicycling distance. But the Gear Fit isn't just a fitness tracker. It also has smartwatch capabilities, working with Samsung smartphones to notify the user of missed calls, weather reports, alarms, text messages, and even display those messages and allow quick replies of customized phrases. The Gear Fit design embraces innovation with a wide, sleek face that lights up with just a quick move of the arm, along with touchscreen controls. Its strap can easily be changed from black to grey, orange, red, green or blue.
Sony SmartWatch 2
Sony was an early player in the smartwatch field and has improved on their earlier offerings with the SmartWatch 2. The base model has a black rubber strap, but the watch can be better paired with business clothing by choosing a stainless steel band or matched with the owner's personality by selecting from seven different colours of leather bands. Its interface connects to Android phones and is also compatible with Bluetooth. The Sony SmartWatch 2 has a large, square touchscreen that lets the user flip through apps such as Gmail, Twitter, and Facebook, along with games, music, a calendar, and much more.
Conclusion
It seems like a new smartwatch is available every week, with each one boasting special capabilities. By choosing one of these top quality smartwatches made by reputable companies, shoppers can be assured of getting everything they want out of their wearable tech.