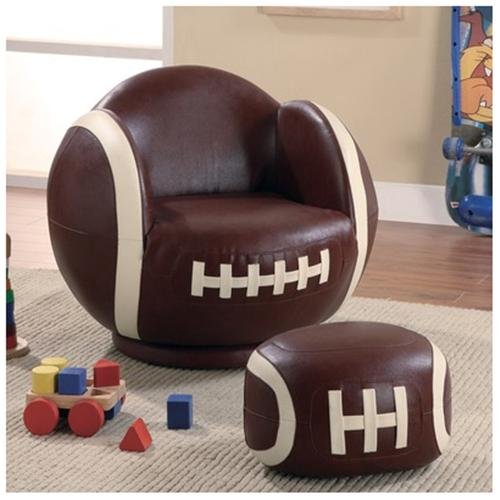 Since suites are almost always the largest piece of furniture in the room, they tend to attract the most attention. While this may not be the primary concern that parents have when setting up a child's playroom, it is still recommended that they shop for a sofa that is both functional and visually appealing since they are likely to have it for quite some times. A child's playroom can be set up in any way that the parents want, adding a suite to the space give the kids something to sit on and play on as well. Since the suite is likely to be subjected to a lot of wear and tear, there are certain things to consider when selecting the best sofa for the room. It must be durable, able to withstand rough play, and safe.
Get the Right Size
Large furniture can be a pain to pick out and suites are usually around 1.8 to 2.4 meters. There is at least enough seating for 3 adults on a standard suite. When it comes to buying suites, bigger does not necessarily mean that is better. Think of the children's needs. For example, if they are going to take naps on the couch, make sure it is long enough for them to lie down on. If there are multiple children, get a suite that is large enough to seat them all at once.
Start out by measuring the room to get its dimensions. Then determine what other furniture is going to be in the area. If the suite is placed in the middle of the room, make sure there is room to move around it comfortably. Also consider whether or not room for side tables, toy boxes, or other items is needed.
Next, consider whether or not the suite is small enough to get into the house. Some are so large that they cannot fit through the doorways. If this is the case, only get a suite that can be taken apart and reassembled inside the room.
Best Suite Materials and Features for Children
In order to be used in a playroom, suites must be very durable in order to withstand spills, getting dirty, and the potential to tear. Parents must consider how easy it is to clean the suite materials, how easily the fabric is stained, and if it is hard to rip or tear it.
Microfibre Suites
One of the greatest things about microfibre is that is is resistant to stains. It has a soft texture that is comfortable and welcoming, and since it is a thick material, it is hard to tear. Most microfibre suites, such as suede ones, are easy to clean with a damp rag so parents can easily keep the fabric looking good.
Wool Suites
Wool is a very thick, durable material that last a long time and doesn't wear down. It is not prone to pilling, snags, or rips like some other fabrics are. Wool suites can also be cleaned with a vacuum and some fabric cleaner.
Leather Suites
Leather suites have an elegant appearance, are very durable, water resistant, and are easy to clean. It is the smooth surface that makes it easy to wipe down. The only downside to it is that it can be scratched and, depending on the colour of the leather, it may be very noticeable. Leather also requires a conditioning treatment once or twice a year depending on how much it is used. The conditioner keeps it in good condition and helps it keep its colour.
Vinyl Suites
Vinyl suites are similar to the leather ones. It looks the same, is just as easy to clean, and feels almost identical. The only difference is that vinyl is a synthetic material so it may not last as long as leather. Many people choose vinyl because of its sleek look but more affordable price.
Denim Suites
Denim is a casual looking material that is not stain resistant, but it is durable. It can easily be marked up and does fade easily, but denim suites are affordable and can last for years even though it may not look good by the end of its life.
Slipcovered Suites
Some shoppers turn away from suits because of the light colour or the fabric that may not hold up to wear and tear well. However, a suite that has a slipcover is easy to maintain. It can simply be removed, thrown in the wash, and then put back on. Slipcovers are also a good option for used couches that aren't visually appealing and need an update. There are generic covers to choose from as well as ones that are stretchy and have a more fitted look. Although white is a colour that tends to shop up all dirts and stains, a white slip cover can also be bleached to fix all of the discolouration.
Patterned Suites
Consider getting a suite with a pattern on it. Dark colours and patterns help hide any stains or signs of wear and tear that may occur from kids playing on the piece of furniture. There are many designs to look at that range from stripes to floral patterns. However, if the pattern consists of all light colours, it may not do a very good job of making blemishes less noticeable.
Quality Check the Suite
Before buying a suite, make sure that it is made well and appropriate for children. For example, kids often jump on suites or climb all over them. To make sure that the sofa is well padded, plop down on it and feel around. Make sure that the arm rests in particular have ample padding to children in case they fall.
Next, check the springs and the construction of the suite. It is important that is be well made so that it doesn't end up breaking after being played on. For example, high quality suites have eight-way, hand-tied coils. If the frame and coils are just stapled together, the suite is less likely to last a long time.
Considered a Used Suite for a Child's Playroom
Since the suite is likely to undergo harsh treatment in a playroom, it may be a good idea to purchase a used one. Pre-owned suites cost less and it is not as big of a deal if it gets damaged. However, used furniture may not last as long as new furniture would.
How to Shop for the Best Suites for a Child's Playroom on eBay
Most people think that internet shopping is only for smaller items. However, big products can be found online as well and sometimes there are great sales on the eBay Deals page. The site has a huge selection of both new and used suites to look through and sometimes sellers offer free delivery. If they do charge for postage, there is also the option of sorting the listings so that you view the ones nearest to you first. This way you can go pick up the suite from the seller directly. To see what is available, type the product name or category into the eBay search bar. For example, you can pull up a list of "leather suites" or "suede suites".
Conclusion
Putting a suite into a child's playroom is a great way to give them a soft surface to play on, sleep on, jump on, and make forts out of. Having one in the room that can be played on may even deter children from playing on the other furniture in the house. Shopping for a suite can be done in a few simple steps. First, parents must measure the space and decide how much room they have for a suite. Next, a durable, yet easy to clean material for the suite needs to be chosen. Lastly parents need to consider the pros and cons of buying a new suite versus a used one that costs less. If the suite is used, they also have the option of purchasing a slipcover to make it look better.
suite|child suite|leather suite|microfibre suite|slipcovers