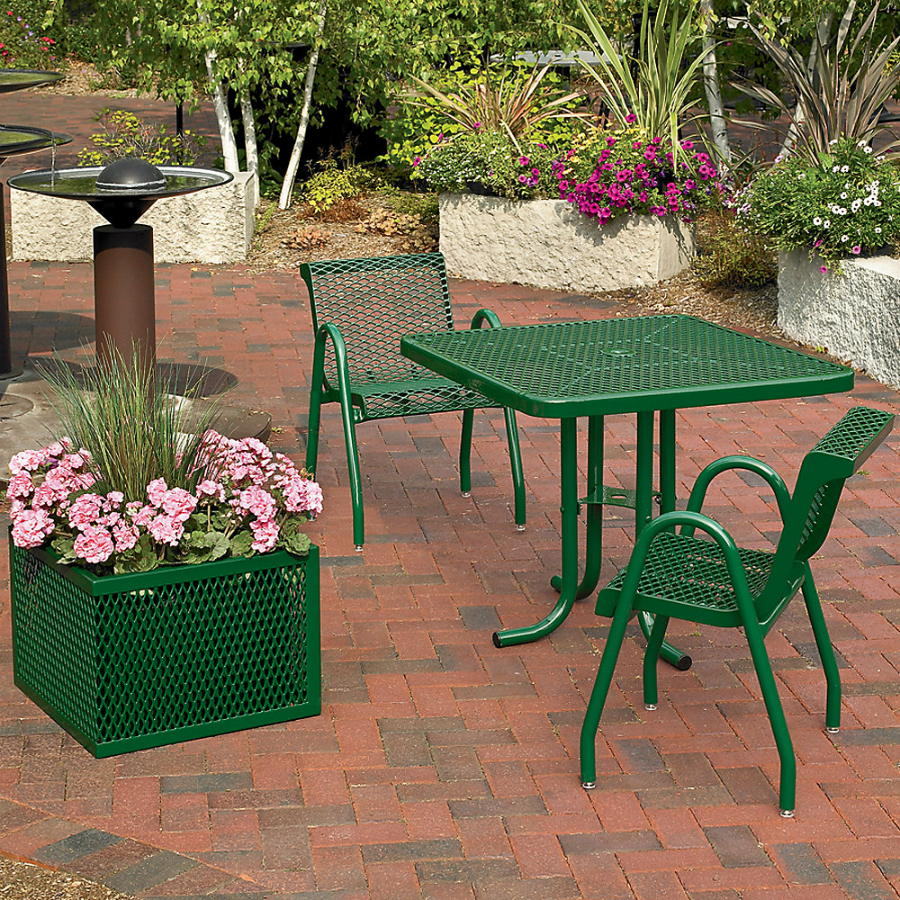 By getting some patio furniture, people can extend their home's living space and increase the enjoyability of spending time outside. Eating or mingling outside is a great way to entertain guests, spend quality family time, or just soak up the sunlight. Tables for outdoor use are designed to hold up against the weather and be easy to clean. There are many options to consider and since everyone has different needs, the best tables for outdoor use varies from person to person. As long as they assess their needs and learn about all of the features and options available, shoppers can easily find the perfect table for their lifestyle. Not all tables are created equal and there are so many variations that it is necessary for shoppers to understand the basics before they begin their search for an outdoor table.
What to Look For in an Outdoor Table
In order to effectively shop for a table, people must ask themselves some questions about their lifestyle and needs. For example, tables come in all sizes so they must consider how large their outdoor space is and how many people they need to seat. Keep in mind that chairs are also needed which requires even more space. Shoppers also need to be aware of the types of materials, because how the tables are built makes a difference in how they hold up and are maintained. It is also important to be aware of all the possible features to look for such as an umbrella or movability options.
No matter what kind of outdoor tables people are looking at, they must find one that is comfortable and blends well with their home's landscaping and decor. The furniture is the centrepiece of the patio so it should be chosen with care because owners are likely to have it for a long time.
Outdoor Table Materials
A wide range of materials are used to make outdoor tables and not all of them are necessarily capable of lasting a long time in the elements. Because the furniture is left outside, it is constantly being exposed to the sun, rain, snow, and wind. Some materials fade quickly, while others can rust or build up mildew. It all depends on the type of material and what the climate is usually like. Where someone lives does make a difference in what materials are best for them.
In addition to being able to hold up outside, tables should also be durable. Patio furniture is often moved around a lot to rearrange or make space for something else temporarily. Flimsy materials can easily break, especially when the weather has made them brittle. If the table is likely to be moved around, also consider that some materials, such as metal, are very heavy.
Material

Properties

Maintenance Requirements

Lightweight

Doesn't rust

Durable and easy to maintain

Comes in a variety of colours and styles

Aluminium with a powder-coat finish is easy to wash simply by spraying it down with soapy water

To give it a shine, simply use car wax

Lightweight and easy to move around

Can be recycled

Does not rust, though it can become brittle from the sun and heat

Can be washed with soap and water to get rid of any dirt or mildew buildup

Lightweight

Easy to maintain

Can break from too much weight or becoming brittle

Simply wash and rinse with soap and water

Heavy and durable

Comes in many styles

Can be difficult to move around and can rust

To prevent rust a protective finish must be applied

A form of decorative wood that has a pleasant look

Lightweight and durable

Can rot from the sun and become brittle after time

Wash and rinse wicker with a mild detergent

There are several kinds of wood to consider, such as teak and cedar, each with its own unique look

Durable, but can be heavy

Lasts a long time if maintained

Must be treated with UV protectors in order to prevent fading and rotting

To wash it, just use soapy water.

May also have to be re-stained occasionally to get its colour back

Very heavy

Sturdy

Rust protection treatments must be applied and even then it may still rust

If this happens, it has to be sanded and repainted
Since each material has their own benefits and drawbacks, which one to get is up to the buyer. Appearance is something that most people focus on and then get distracted by. Try to keep all of the other considerations in mind as well.
Outdoor Table Features
There are many table designs available and also some features to consider that could make things easier or more comfortable.
Caster Wheels
If the table is being placed on a patio, and it is likely to be moved once in a while, consider looking for a table that has wheels on the legs. These are especially useful on heavy tables.
Modular Tables
For those who do not intend to leave their patio furniture out all year around, a collapsible table may be a good option. It folds down into a smaller size which makes it easier to move and store it.
Accordion Tables
These tables are expandable. They have extra leafs that can be placed in them to make them longer and fit more people at the table. Accordion tables are great for people who like to entertain and have guests over, but don't want their table taking up so much room all of the time.
Table Umbrellas
Tables that come with umbrellas can greatly add to the comfort of being outside by giving people some shade to relax under. They come in many materials, colours, and patterns which can add to the designer look of the patio space.
How to Shop for the Best Tables for Outdoor Use on eBay
eBay is a great place to find a huge variety of products to select from as well as awesome sales. Just check out the eBay Deals page to see what items are listed there for the day. If you don't see anything there that catches your fancy, use the eBay search bar to find anything you need such as "patio furniture" or "patio tables". After the list of products is brought up you can begin your shopping. Start by sorting the listings according to their distance from you. This way, you can look at the products first that have the option of being picked up rather than shipped. Some sellers offer free postage, but not all of them. Lastly, be sure to verify the size of the table. It is easy to assume how big it is based on the pictures but then be surprised to find out it is either smaller or larger than expected when it arrives.
Conclusion
Spending time outdoors in the fresh air can be relaxing and therapeutic. Anyone who has the room in their backyard should take advantage of it and turn it into their own private, outdoor living space. Having a table gives people the ability to eat or put their things on while outside, but they shouldn't just buy the first table they come across. The best tables for outdoor use are the ones that meet the needs of the owner's lifestyle. There are various materials, designs, sizes, and features to select that each make a big difference in its usability. In addition, there are multiple accessories that can be purchased along with the tables to increase a table's functionality or comfort.
outdoor table|tables for outdoor use|patio furniture|wood table|wicker table