Newborn babies have specific needs with regard to toys, and it's important to understand what types of toys to buy and why. Babies begin to learn about their world as soon as they are born, and the toys you choose can help them explore their environment in meaningful ways.
What to Consider
Babies up to three months have limited capabilities, and it's best to choose toys that stimulate their learning and yet do not overtire them.
Newborn Abilities
At first, it seems that newborn babies can't do much, yet they are remarkable communicators. Crying lets you know when they are distressed, and playful gurgling sounds tell you when they feel comfortable and safe.
Babies can see from a distance of about 30 cm., and although they don't recognise specific people at first, they do respond to round shapes like faces and eyes. Colour vision is not yet fully established and babies tend to react more to black and white before being able to distinguish bright, bold colours, especially red, rather than pastels.
Safety
Parents need to be extremely discerning about what toys to purchase for their babies. It is important to ensure that soft toys are stuffed with safe fillings, have no small parts, and are lead-free and non-toxic before making a purchase. When hanging a mobile, make sure that the baby can see it, but not reach it, as the risk of strangulation is high.
Types of Toys for Newborns
When you think about a newborns and their learning capabilities, you will come to realise that it's best to choose toys that stimulate their senses and developmental skills.
1
Mobiles

Mobiles help stimulate sensory development and inspire curiosity, motivating your baby to explore and discover the environment. They also allow a parent and child to have fun interacting with characters on the mobile as they are pointed out and named. Choose mobiles that:
Play music. Pick a mobile with a variety of tunes, and when they play, sing, or hum along to encourage your baby to mimic you, using his or her vocals.
Change position. Moving the mobile to a different hanging point will help renew your baby's interest and and can even build on depth perception.
---
2
Soothers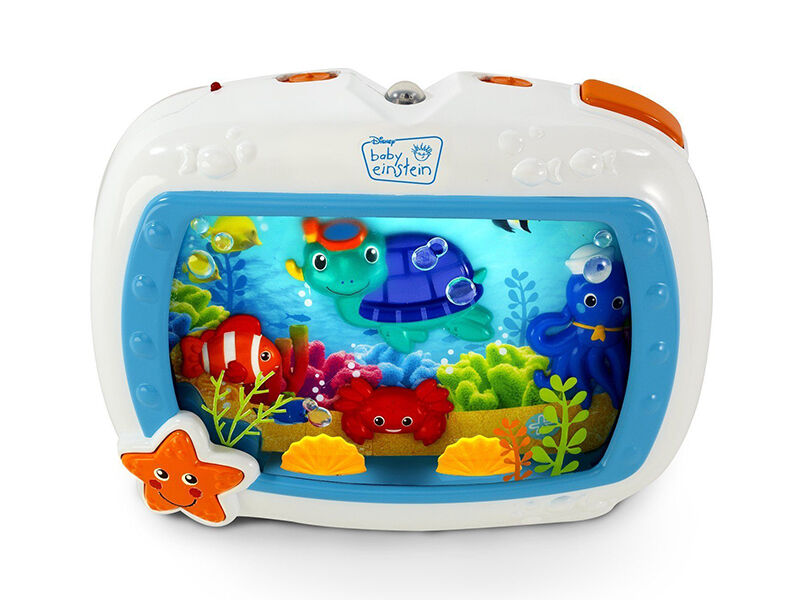 These toys help newborns calm down and relax. Soothers can help teach your baby positive feelings of well-being. This peaceful state often helps your baby fall asleep quicker at nap times. Soothers usually feature soft music, lights, and calming graphics.
---
3
Baby Gyms

Baby gyms are ideal for newborns. They promote sensory capabilities in your baby and assist in the development of fine and gross motor skills. When you think about it, the different textures of objects on play gyms help babies learn to differentiate between hard and soft or smooth and rough surfaces. Fine motor skills are also being developed when your baby begins to grasp toys. The action of reaching out to grab a toy at the gym develops both arm and leg muscles, and teaches your baby coordination and movement control.
---
4
Soft Toys and Books

Soft toys help to give babies comfort and are ideal for interactive play. Bright colours, happy faces, different textures, and high contrast patterns are things to look for when choosing soft toys. Toys that make a sound when moved or pressed will heighten your baby's curiosity, encouraging interaction and learning.
Soft books introduce babies to the concept of reading. Even though newborns don't understand the words, soft books are an excellent way for babies to look at pictures and connect to sounds. Soft books should have only one uncomplicated graphic per page and consist of various textures and colours.
---
5
Other Toys

A number of other toys are suitable for newborns, including:
Unbreakable baby mirrors, which are great fun for babies and gradually make them more aware of themselves.
O balls are lightweight and ideal for attaching to strollers.
Sock and wrist rattles are appropriate toys for babies.
Soft blocks and balls with different colours and textures are ideal for simple games like "All Gone!"
---
Conclusion
Toys are tools that help to give a newborn a sense of security, stimulation, and happiness. Consider safety first when choosing a toy for your child.