While technology has provided children with instant access to friends around the world, the Internet has also caused kids to spend more time indoors on a device, rather than enjoying the great outdoors. Luckily, trampolines offer a fun and exciting alternative that is sure to get your kids outside during nice weather. With options for doing numerous tricks and flips, as well as more leisurely bouncing, this toy is a great way to encourage childhood health. When shopping for a trampoline, safety should always be the top concern. Look for a trampoline that uses padding over the springs to prevent injuries and one that has enclosed netting.
1
Vuly Thunder Trampoline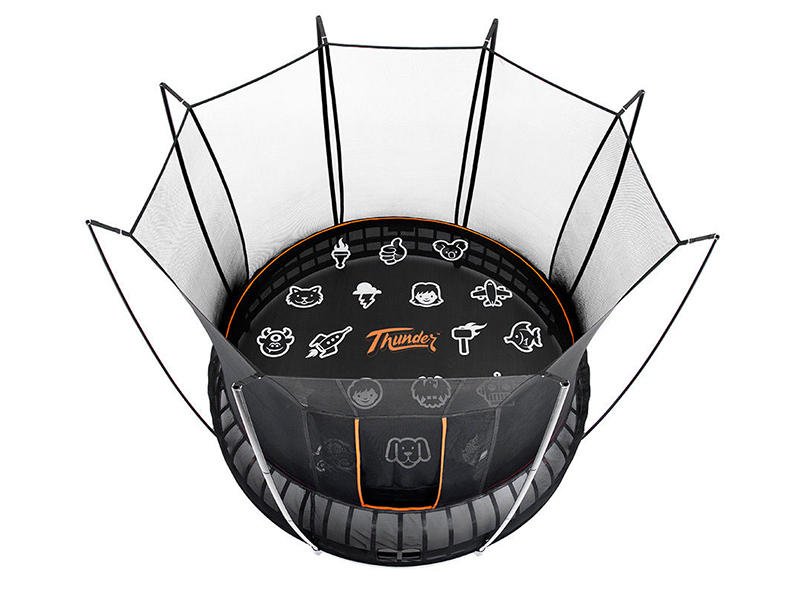 Designed by industrial engineers, the Thunder is the strongest trampoline in the world. Designed to deliver the most bounce possible, this trampoline is the first in the world to use leaf springs instead of the more common coil springs. As a result, the springs are hidden from sight and virtually non-existent to the person who is jumping on the trampoline. This means that they do not have to worry about only jumping in certain areas for fear of landing on a painful coil. To ensure safety, this trampoline has specially designed netting that can absorb a person's body weight so that they can bounce right on and right off. Because the frame is resistant to rust, corrosion, and scratches, this trampoline is built to last.
---
2
OZ 8 X 12 FT Rectangular Trampoline Slam Dunk
To ensure durability, this trampoline utilises reinforced T-sockets that help stabilise the enclosed frame while preventing the structure from twisting after constant use. For safety, this rectangular trampoline includes an enclosed net that easily snaps into place. Because it is four feet off the ground, the trampoline includes a metal ladder to climb inside the enclosed space. Padding along the perimeter of trampoline is cushioned to prevent injury if a child falls while jumping. Additionally, this set includes a basketball backboard in the corner for practising slam dunks.
---
3
JumpStar 16 FT Trampoline with Enclosure and Ladder
Measuring 16 feet in diameter, this JumpStar trampoline is rated for use by up to four kids at one time. Made from a galvanised steel base, the structure is easily able to withstand weights of up to 150 KG. For added safety, the perimeter of the trampoline is encased in plastic padding that hides the springs from view. The trampoline surface is designed to enhance the maximum height a person can jump. This set includes an optional net that can be installed around the side of the trampoline for safety.
---
4
Action Pro Jumbo Trampoline with 2 String Mat
Similar in size and function to the trampolines used to train Olympic gymnasts, this trampoline comes with a patented yellow two string mat that is proven to have better bounce and long term durability. Although it does not include an exterior net, it does have extra thick safety pads on every side to prevent injury.
---
Conclusion
Although a trampoline is very durable, it is important to understand how to make minor repairs. The more times a trampoline is used, the more likely it is that the netting will begin to show wear and tear. Use this eBay guide to learn " how to repair a trampoline net." The four aforementioned trampolines are a great starting point, but it is important to remember that there are hundreds of different types to choose from. Be sure to ask the right questions when shopping for a trampoline and test it out before allowing a child to use it.