Cases and
covers
are crucial for protecting an expensive tablet, such as the iPad Air. They provide important protection for the screen, bezel, and back panel of the device, and some manufacturers take those protections more seriously than others. Among the best iPad Air cases and covers are those that focus on providing a few additional features, such as stands, keyboards, and wallet-like storage compartments. Other iPad Air cases and covers offer a touch of style and sophistication.
Protective iPad Air cases and covers
Dropping the iPad Air on a hard surface, spilling a cup of coffee on the device, or exposing it to dirt and dust are all potential risks for people on the go. Users cannot simply protect the iPad Air by locking it in a backpack if they want to use the device frequently. There are power, headphone, and other ports and buttons that need to be accessible. It also defeats the purpose of an iPad Air if its case makes it dramatically bulkier or heavier.
1
iPad Air cases and covers for extreme conditions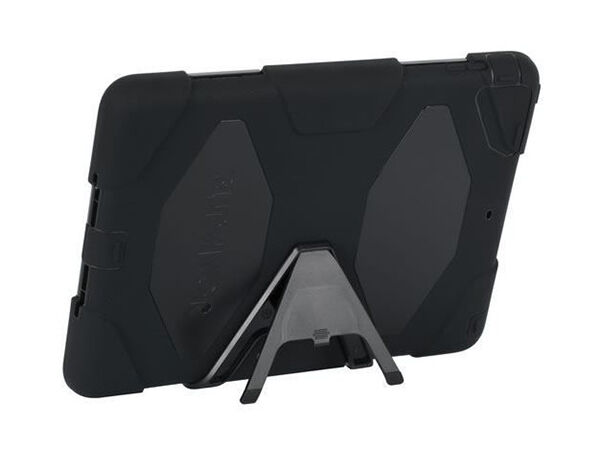 iPad Air cases that focus on protection, such as the Griffin Survivor, are tested rigorously to meet or exceed a military standard that determines equipment resilience in tough conditions. A truly robust iPad protector must withstand:
Drops
Vibration
Impact
Wind
Rain
Spills
Dirt and dust
The Griffin Survivor envelops the iPad in a shockproof polycarbonate frame reinforced by vibration-absorbing silicone that withstands hours of intense rattling and a 1.8-metre drop onto concrete. The polycarbonate and silicone Trident Kraken A.M.S. case is similarly tested to withstand dozens of 1.2-metre drops. Both cases have protected access to ports and buttons, integrated weatherproof screen shields, and detachable stands.
iPad Air stands, keyboards, and wallets
Lighter-duty cases and covers are ideal for people who do not make a habit of being prepared for a disaster, but do enjoy having a stand, and possibly a keyboard. These cases also provide some protection, although they specialise in maintaining the iPad Air's sleek size and weight, while adding some practical features.
---
2
iPad Air Smart Covers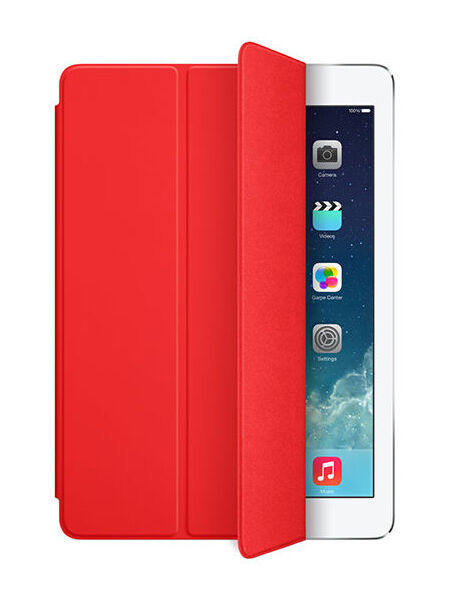 An Apple-branded Smart Cover is the simplest and most effective option for owners of the iPad Air. It is lined with microfibre that helps to keep the screen clean. The pliable polyurethane cover bends into a stand, wakes the iPad when opened, and automatically triggers the sleep mode when closed.
---
3
iPad Air Bluetooth keyboards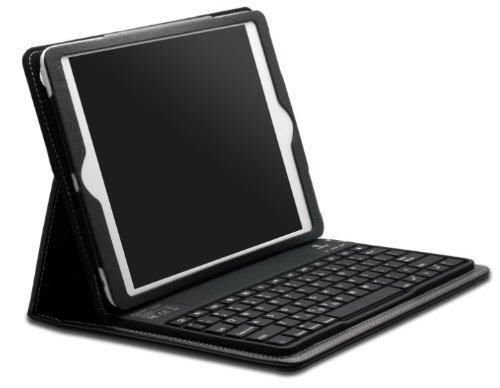 A number of effective solutions exist for iPad Air cases that include Bluetooth keyboards. When open, with the keyboard extended, these cases create a laptop-like experience. Logitech, ZAGG, and Kensington all have solid products in this category. The Belkin QODE Ultimate Keyboard Case is a popular version that has a solid, lightweight, aluminium body and backlit keyboard. The powerful magnets make it easy to adjust the position of the tablet. The long-lasting battery has intelligent power-saving sensors.
---
4
iPad Air wallet folios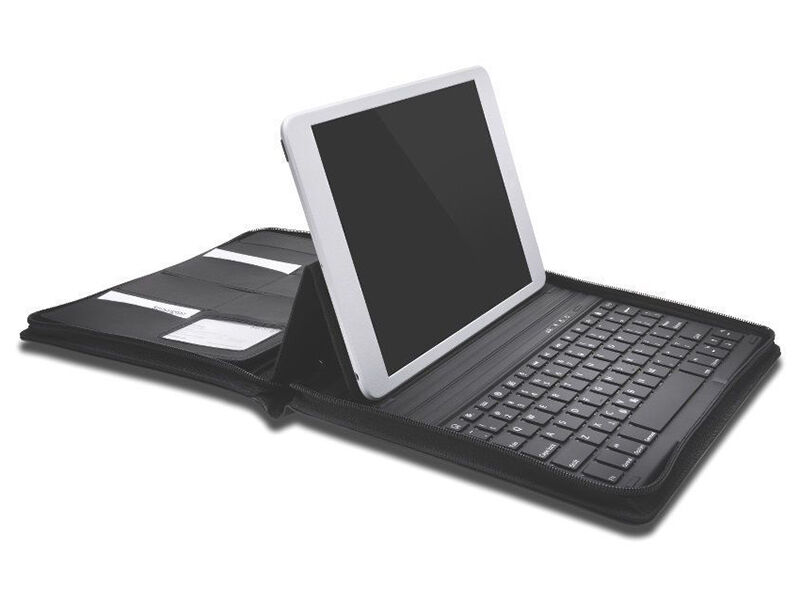 Wallet folios are handy for anyone with an iPad Air that is only one element of a portable productivity kit. Wallet-style folios are protective, attractive, and sometimes function as a stand. They have slots and pockets for notes, business cards, a pen or stylus, and other slim accessories that users may carry. The Kensington Executive Plus Zipper KeyFolio is a versatile example that incorporates all of these features, along with a Bluetooth keyboard and zipped closure.
---
Stylish and sophisticated iPad Air cases and covers
While the iPad Air is an attractive device in its own right, some covers and cases add new levels of fashion and charm. There are numerous cases available in handsome materials, such as leather, with eye-catching designs. DODOcase and other manufacturers craft classy and adorable cases that look like hardcover books to disguise new technology in an attractive, retro fashion. High-end designer cases are also available from the likes of Burberry, Versace, Gucci, and Chanel.
How to buy iPad Air cases and covers on eBay
To find a case or cover that keeps your iPad Air stylish and secure, enter keywords, such as "iPad Air case", into the search bar at the top of any
eBay
page. You can add a brand name or a desired feature, such as "keyboard" or "leather", to narrow the search results. Read each item description carefully for details about the materials and features of the case or cover. Examine any photos and check the ratings of the seller before committing to a purchase to ensure a smooth transaction.