This is the author to watch- Famous for tackling controversial issues and turning them into bestsellers, Jodi Picoult has once again soared into the limelight with her latest novel 'The Tenth Circle'. Here's a guide to one of the most popular (and my personal favorite) author on Ebay.
Her novels (listed in ascending order of date of publication) with summaries by me:
Songs of the Humpback Whale (1992)
A neglected wife leaves with her daughter on a journey across America, leading her oceanographer husband to follow on a soul-finding journey.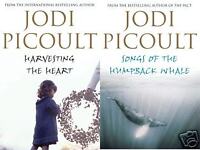 Harvesting the Heart (1993)

A young woman's struggle with a past that shames her, a mother who left her, and a child of her own makes this touching book a favorite of mine.

Picture Perfect (1995)

Upon discovering that she is the wife of a famous Hollywood actor, an amnesia-suffering woman, Cassie, begins to have misgivings about her all too perfect life. Her uneasiness begins to be justified as her memory returns, revealing shocking lies about her past...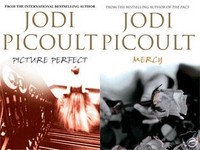 Mercy (1996)

When Jamie confesses that he killed his own wife, his policeman cousin Cameron immediately arrests him. The claim that Jamie's wife ultimately asked for Jamie to kill her makes this novel a magnificent study of morals and what people will do for love.

The Pact (1998)

Growing up as next-door neighbours, everything seems perfect when Emily and Chris become lovers. When Emily is found dead by shot to the head and Chris at the scene, an intense courtroom drama unfolds as the reader is prompted to question how well we really know the ones we love.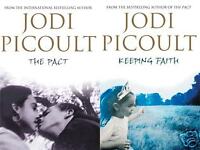 Keeping Faith (1999)

After the divorce of her parents, Faith begins to talking to an invisible 'friend', recites passages from the Bible, develops stigmata and performs miraculous healings. When the media becomes involved, Faith is threatened to be taken away from her mother and an explosive custody battle ensues.

Plain Truth (1999)

When an infants' dead body is found in an Amish village, an 18 year old girl who had just secretly given birth denies that she is the killer. Defense attorney Ellie Hathaway decides to defend her, but finds herself amid a justice system which is very much different from her own as she tries to unscramble the pieces of a murder.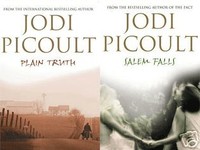 Salem Falls (2001)

After serving out a wrongful sentence for statutory rape, Jack tries to start a new life in the town of Salem Falls. However, when a girl is assaulted, Jack is once again accused of the crime and a courtroom drama begins as we find out that everyone has something to hide.

Perfect Match (2002)

When her 5 year old son Nathaniel accuses their priest of raping him, Nina, an assistant district attorney familiar with the unreliablity of the justice system, kills the priest in open court. However, when it turns out the priest was indeed innocent, Nina is left to defend her actions and a powerful is raised: are terrible actions justified if they are done for the right cause?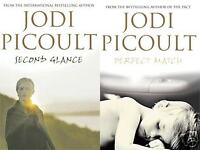 Second Glance (2003)

A suicidal paranormal investigator is asked to invesitgate strange happenings on a plot of land that's being developed against the wishes of an old Abenaki Indian tribe, who claims it was a burial ground. Upon meeting a beautiful woman named Lia, old secrets are revealed and the reader is prompted to question whether love can transcend time.

My Sister's Keeper (2004)

Anna has been a 'vessel' for her older sister from the moment of birth; her sister Kate has leukemia, and it is Anna's blood and organs that can save her. But Anna is sick of having no control, and her decision to sue her parents for rights to her own body makes a heart-wrenching novel about morals, family and love.




Vanishing Acts (2005)

When Delia, a search and rescue worker, starts having flashbacks of a life that doesn't seem like her own, she is forced to put her wedding on hold and embarks on a search to find herself and question everything about her identity.

The Tenth Circle (2006)

When his daughter is (allegedly) raped by her boyfriend, a comic-book artist relives demons dormant from his childhood bullying in an eskimo village. This book also contains comics, a form of depicting the artist's emotions when words cannot.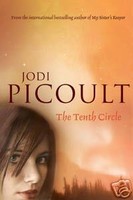 ----

Whether buying from Ebay or a bookstore (her books are so sought after the prices are very similar), all of her books are highly recommended. Truely an author for the 21st century!