Our Diamonds Make You Look Fabulous
Every person deserves to have a bit of fabulousness in their lives, whether they are buying something special for themselves or giving a gift to a loved one, our diamond range has something for everyone. The fundamentals of our diamond range are based on value.

Choosing The Right Diamond

For most people, buying a diamond is a new experience, but that doesn't mean it should be overwhelming. Understanding a diamond's quality characteristics is straight forward and simple. To evaluate a diamond's value, jewellers use the 4C's - cut, colour, clarity and carat weight.



The cut of a diamond determines its brilliance. There are 2 components of cut - the quality and the shape.



The weight of a diamond is measured in carats. Carat is the most objective of the 4 C's, it invloves no estimates.



Diamond Colour is graded using a letter scale D to Z. A diamond's colour grade actually refers to the lack of colour.



Clarity is symbolic of purity and defined by the presence of natural characterisics. All diamonds have tiny imperfections.



Our Diamond Promise



Diamond Cut

There are two components of cut – the quality of the cut and the shape.

Quality of the Cut
The cut gives each diamond its unique sparkle and brilliance. The cut of the diamond impacts the amount of light that enters and reflects out of the diamond.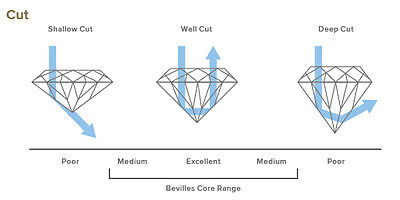 Shape
Diamonds are cut into different shapes. The most common shapes in the Bevilles range are Brilliant, Princess and Baguette.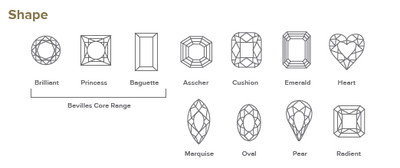 Diamond Carat Weight

The weight of a diamond is measured in carats. As diamonds are weighed to hundredths of a carat, they must be weighed on extremely precise and sensitive scales. When a single piece of jewellery has multiple stones, the total mass of the diamonds is referred to as 'Total Diamond Weight' or T.D.W.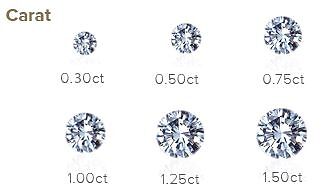 Diamond Colour

Diamond colour is graded using a letter scale of D to Z. The closer a diamond is to being colourless, the rarer and more valuable it is.
Bevilles solitaire diamonds are predominantly within the G-H colour range.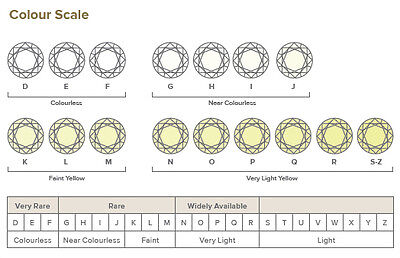 Diamond Clarity

Clarity in a diamond is symbolic of 'purity' and defined by the presence of natural characteristics. The natural characteristics of a diamond give a diamond its uniqueness. Difference in clarity can be very subtle. Bevilles solitaire diamonds are predominantly graded between SI1 and I1.






Our Diamond Promise




Lifetime Diamond Guarantee
A diamond should last a lifetime, this is our philosophy and at Bevilles we live and stand by this, that's why we will guarantee you a diamond which lasts a lifetime.

Independent Certificate & Valuation
Each solitaire diamond is accompanied with our certificate of authenticity, as well as an independent valuation so you can be assured of your diamond's quality.

Lifetime Cleaning & Servicing
Even everlasting diamonds require a shine every now and then, and as long as you own your diamond we will always be here to offer a lifetime cleaning service.

365 Day Returns
We understand the intricacies involved in buying jewellery, therefore if you are not happy with your piece and it's still in new condition, we will happily exchange it within 365 days of purchase.

© Copyright 2014 Bevilles Jewellers, All Rights Reserved