How to spot a fake Sony memory stick (counterfeit)
Virtually all of those cheap Sony memory sticks (normal and duo pro) being sold on Ebay and Amazon Marketplace are counterfeit. As the sellers of these items are trying to out do each other on price, the prices for these memory sticks has gotten ridiculously low. 1GB =$50 for example. A real 1GB memory stick cost more than that from the factory! Although a counterfeit labelled as "1GB" may NOT actually contain 1GB of free space... I'll write about that in a minute.
The market is flooded with counterfeits bearing the Sony logo, imported from Taiewan and Malaysia, which are very hard to spot, One clue that hit me was the way the box came with no instruction manual. They even come with holograms, warranty cards etc nowadays. Previously, the counterfeits weren't sold with holograms, but now the maufactureres have cottoned on. When a trained Sony technician has difficulties in spotting the difference, the average customer stands no chance!
At first sight, a 1GB memory stick for $50 or les may seem like a good deal. It's not, because what you'll receive isnt't actually a device with 1GB of genuine storage space.
The fake packaging says "1GB" and when you put the memory stick into your PSP or mobile, camera etc, the device will also show 1GB of space. The trick here is very simple. What the fake memory sticks actually contain is a smaller generic chip (lets say 256MB or less) which has had a higher number (512MB, 1GB, etc) hardcoded into its circuitry. As you can imagine it's not very difficult to do these days.
Counterfeit memory sticks will store smaller files without any problems. However, if you're wanting to store something suck as a large movie file (600Mb+), thats when you'll start to run into file corrption problems (because that much space does't REALLY exist on a fake Sony memory stick).
I bought a Sony duo pro memory stick from a seller on ebay, I thought the price was resonable, not too low and the merchandise still turned out to be counterfeit! I guess the only thing to do is to leave negative feedback. But it was too late for me as I left positive feedback upon testing to see if it worked.
example of fake packaging
Real and fake side by side. Which one is real and which one is fake?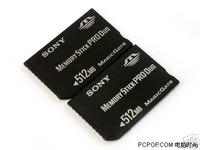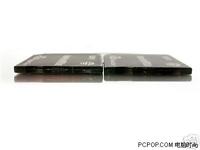 Height comparison Connection point comparison
Turns out
-fake is on the left side, real is on the right
-fake is slightly higher than the real (not that you can compare since you only have 1 card)
-fake contact points are lighter in colour, real is darker
-fake's imprint is lighter and not carved in, real is carved in and darker
Buyers Beware and sellers too, as passing off of a fake prduct (especially for a well known brand) as a real or genuine item amounts to misrepresentation and this is in fact an offence under the consumers protection act and action can be taken against you.
Hope this guide helps