When you shop for mobile phones on eBay or any auction sites, take extra 5 minutes or so to go through a seller's transaction history, if the seller haven't had much recent transactions, or has some transaction and is suddenly selling a huge range of items that does not belong to their original field of items, for example they had a couple of transactions with shirts and suddenly selling a huge range of the newest and hotest mobile phones at an attractive price, beware, this is most likely a hoax that's been used widely in Asia Pacific regions, even with accounts that has a couple of hundred feedbacks. Best to be avoid.
Our Japan provider has just notified us that the 3000+ high-end DOCOMO handsets stolen from Japan at the end of last year has already been distributed to most auction channels on yahoo and eBay. Related news on last year's theft action can be found easily on google, Asahi news websites and sina news websites etc. We're not allowed to provide links in the guide so please google for it, the news is on many websites.
In terms of purchasing DOCOMO mobiles, becareful where you purchase these items from. If you see some seller that did not sell much DOCOMO phone before and suddenly provides cheap and abundent variants of DOCOMO handsets, they're most likely fraud or selling stolen mobile phones. Of course, this doesn't apply to every seller, but it's a method used widely online. They only have to trick a couple of buyers to fall into the trap to be beneficial, and they can use another account to do the same things again using other set of items for example cameras.
So please go through seller's transaction history to see the items they sold the most and does it fit into what they're selling now? There's only a couple of legal DOCOMO phone suppliers in Japan, they do not trust everyone and/or do business with anyone who approaches them, hence they will not provide a large number of different stocks at a much lower price that even we can't get.
When you received your mobile make sure you have a piece of DOCOMO warranty paper with your IMEI and barcode printed on it and make sure your mobile IMEI fits the IMEI printed on the box, to check IMEI on your phone, key in *#06# and look carefully at the screws to see if there are marks of unscrew. The best way is to buy from reputable sellers not like that weirdo(not gonna expose the name) who were selling all DOCOMO phones under 700AUD couple of days ago and now banned from eBay.
Becareful when purchasing items on eBay or any auction sites and make it a pleasant shopping experience.
====================================================================================
Introducing All new HyperSIM V2.8
1.Opening screen has now been updated into multi languages(Chinese, Japanese, English)
2.Updated Australia, UK region SIM card compatibility
3.Corrected PIN setting issues
4.Added factory setting restore pass code
There were many non-genuine hypersim on the market, now there's a cheap direct copy of the iNEX SIM being introduced to the market!
****Thanks to some of the mobile01 community members for pointing this out****
DON'T BE FOOLED
What does the genuine Taiwan made iNEX SIM looks like?
When the genuine version being activated, the screen will appear version information as the following pic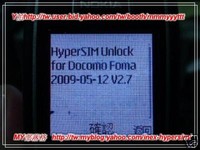 The picture of the new version F300 with small IC has been attached:
Red, Green ones are all counterfeit garbage
The iNEX SIM has the company name and HC-011 printed on it.
Genuine Hypersim has the word "HyperSIM" connected, non-genuine ones has a huge gap between the 2 letters.
Also,
iNEX Tech. Co., GENUINE
iNEX Tech. Co. NON GENUINE