Big League
1974 – 1997 Part 1 NSWRL / ARL
This guide gives a history of Big League the Official Programme of the NRL.
Big League began in 1974 originally titled The Big League(changed to just Big League in 1975) it took over from Rugby League News.

1974 Vol.55 No.s 1 to 37



Inaugural season of Big League began with programme for Charity Match for the Spastic Centre between the Kangaroos & The Rest played at Brookvale Oval on Friday 15/2 this was numbered Vol.55 No.1 but was not titled The Big League nor did it contain any reference to it. So the first programmed titled The Big League was Vol.55 No.2 for the first week of the Wills Pre-Season all Wills Pre-Season programmes were paper covers, the first glossy cover was for the opening round of the Premiership No.8 March 30-31 which also included the first colour pinup Bob Fulton.
NSW v Qld Special issue No.17a
Test Match special issues Aust v GB 2nd & 3rd tests No.24 & 27.
Grand Final No.37

1975 Vol.56 No.s 1 to 31
New logo
2 Special World Series issues Aust v Wales No.17a & Aust v England un-numbered.
NSW v Qld included in No.22
Grand Final No.31
First Big League Annual published.
1976 Vol.57 No.s 1 to 31
Another new logo
No special issues
NSW v Qld included in No.14
Grand Final No.31
Big League Annual also a Brisbane Big League Annual was published even though Big League was not the Brisbane programme
1977 Vol.58 No.s 1 to 33
2 Special World Series issues for Aust v France & Aust v Great Britain both un-numbered
Special issue NSW v GB un-numbered
Big League Annual
Grand Final No.31
Grand Final Replay No.32
Oct/Nov issue No.33

1978 Vol.59 No.s 1 to 31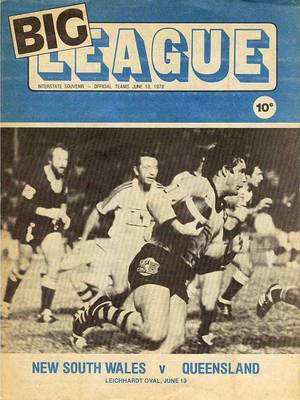 NSW v Qld un-numbered special 8 page paper(not full colour) programme at Leichhardt Oval 13/6/78
Test Matches Aust v NZ 1st & 3rd tests included in No.18 & 22
Grand Final No.30
Grand Final Replay 8 page paper issue No.31
Big League Annual.





1979 Vol.60 No.s 1 to 31
NSW v Qld un-numbered special 8 page paper(not full colour) programme at Leichhardt Oval 5/6/79
Test Matches Aust v GB 2nd & 3rd tests included in No.19 & 22
Grand Final No.31
Big League Annual

1980 Vol.61 No.s 1 to 31
NSW v Qld un-numbered special 8 page paper(not full colour) programme at Leichhardt Oval 27/5/80
Grand Final No.31
Big League Annual
1981 Vol.62 No.s 1 to 31
NSW v Qld un-numbered special 8 page paper(not full colour) programme at Leichhardt Oval 16/6/81
Test Match Aust v France 1st test included in No.19
Grand Final No.31
Big League Annual
1982 Vol.63 No.s 1 to 31
New Logo
State of Origin special un-numbered issue 22/6/82
Test Match Aust v NZ included in No.21
Grand Final No.31
Big League Annual
1983 Vol.64 No.s 1 to 31
State of Origin special un-numbered issue 21/6/83
Grand Final No.31
Big League Annual
1984 Vol.65 No.s 1 to 30
New Logo
State of Origin special un-numbered issue 19/6/84
Test Matches Aust v GB 1st & 3rd test included in No.15 & 19
Grand Final No.31
Big League Annual
1985 Vol.66 No.s 1 to 32
State of Origin special No.16 11/6/85
Grand Final No.31
Big League Annual
1986 Vol.67 No.s 1 to 31
State of Origin special No.15 10/6/86
Test Match Aust v NZ 3rd test included in No.21
Grand Final No.31
Big League Annual
1987 Vol.68 No.s 1 to 31
State of Origin special No.16A 16/6/87
Grand Final No.31
Big League Annual
1988 Vol.69 No.s 1 to 28
State of Origin special No.11A 17/5/88
Test Matches Aust v GB 1st test special No.15A & 3rd test included in No.19(Last Big League badged Test Programme)
Grand Final No.28
Big League Annual
1989 Vol.70 No.s 1 to 28
State of Origin special No.13A 14/6/89
Grand Final No.28
Big League Annual
1990 Vol.71 No.s 1 to 28
New Logo
Special Season Preview un-numbered 7/2/90
State of Origin game 1 included in No.9 9/8/90 & game 2 special No.11A at MCG 30/5/90(Last Big League badged SoO programme)
Grand Final No.28
Big League Annual
1991 Vol.72 No.s 1 to 31
Grand Final No.31
Big League Annual
1992 Vol.73 No.s 1 to 28
Grand Final No.28
Big League Annual
1993 Vol.74 No.s 1 to 29
New Logo
Grand Final No.29
Big League Annual
1994 Vol.75 No.s 1 to 30
Grand Final No.29
Big League Annual No.30(First Big League Annual to be numbered)
1995 Vol.76 No.s 1 to 30
Grand Final No.29
Big League Annual No.30
1996 Vol.77 No.s 1 to 29
Grand Final No.28
Big League Annual No.29(last Annual in current format)
1997 Vol.78 No.s 1 to 30
Split competition with Super League who produced a separate programme.
Complete change of format all glossy pages with new logo contained Volume & issue No.s up till No.16(June 18 -24) when the publisher was changed from Mordey Publications to TMPC.
SoO programme for Game 3 included teams for round 14b(which is issue 17) and issues after that only identified by Round No.
Grand Final issue dated 28 September
No Big League Annual published