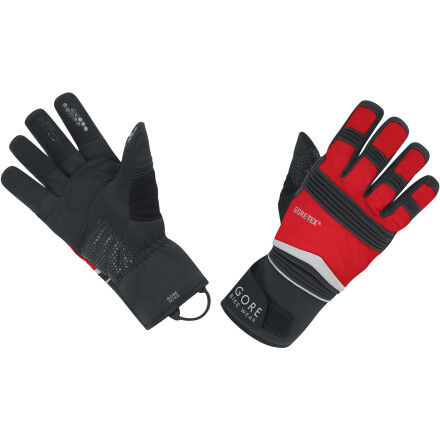 Despite the freedom and great manoeuvrability of the open road, when riding a motorcycle there is nothing between the rider and the pavement. That is why safety is paramount and an entire industry which exists to serve motorcycle riders' safety needs. This so-called motorcycle safety gear includes jackets, boots, helmets, and gloves, all of which contribute to keeping riders safe even in the unfortunate event of a bike dump or crash.
However, new motorcycle riders quickly find that the options for bike riding gloves are especially extensive. That is why it is important to review the safety and comfort of bike riding gloves as well as more universal elements of their design and function.
Choosing Bike Riding Gloves for Safety and Comfort
Like other key safety equipment such as motorcycle helmets and boots, motorcycle gloves play a vital role in protecting a vulnerable part of the rider's anatomy as well as aiding them in the everyday operation of the vehicle. Understanding this dual purpose of motorcycle gloves also reveals important factors to consider when shopping for them.
Bike Riding Gloves for Safety
The most important job of bike riding gloves is to protect the hands in the event of a bike ditch or a crash. Indeed, the hands are often the first body parts to hit the ground because humans unconsciously put their hands in front of them to protect their heads in the event of a fall. Because of this need and risk, certain bike riding glove manufacturers such asJoe Rocket and Scorpion specialise in the design of motorcycle gloves with moulded plastic or foam inserts near the knuckles. This design features additional crash protection with padding in the areas most likely to suffer from a fall.
Bike Riding Gloves for Comfort
Bike riding gloves also include features designed for rider comfort. For example, fingerless motorcycle gloves provide protection while still allowing free movement and air circulation. Gloves such as the Olympia Sports 715 Xtreme gel gloves and River Road Carlsbad gloves include gel padding on the palms designed to insulate the rider's hands from the vibrations of the bike. The insulation in these gloves reduces the vibration effect, especially when the rider reaches top speeds and presses all of his or her weight into the palms for positioning purposes.
Other Important Bike Riding Glove Features
In addition to the basic function of bike riding gloves, buyers also need to consider more universal features which help to balance safety and comfort with movement, style, and riding preference. Minimally, this includes the design of the gloves as well as the material used to make them.
Glove Design
Riders keen on protection above all else should purchase different types of bike riding gloves than those who are also considering elements such as comfort and style. The best gloves, protection wise, cover the hands from the tips of each finger up to and beyond the wrists. These so-called 'gauntlet' style gloves include those made by companies like Alpinestars and Gerbing. These gloves cover all the areas not covered by traditional leathers and give the rider a full layer of coating when combined with proper a motorcycle jacket, pair of pants, and boots.
There is a downside to these gloves, however. They do not allow for the freedom of movement and dexterity common with shorter style gloves. In addition, the air circulation in gauntlet style gloves is poor unless riders opt for ventilated versions which features mesh in certain areas such as the ICON compound mesh gauntlet style gloves.
Glove Fit
Each manufacturer has their own glove fit, however this chart provides a general sense of what size to purchase.
| | |
| --- | --- |
| Hand Measurement (in inches) | Estimated Glove Size |
| | XS |
| 6.5 to 7.5 | S |
| 7.5 to 8.5 | M |
| 8.5 to 9.5 | L |
| 9.5 to 10.5 | XL |
| 10.5 to 11 | XXL |
| 11 to 12 | XXXL |
Glove Material
Another important feature that buyers need to consider is the material used to make the bike riding gloves. In general, the choice is between leather and synthetic fabric gloves. Leather motorcycle gloves, which match well with the classic look and concept of 'motorcycle leathers', are less expensive than more high-tech synthetic gloves.
Leather
Most major motorcycle glove manufacturers such as Joe Rocket, Alpinestars, and Coretech offer leather options for many of their glove models. Buyers interested in leather motorcycle gloves should take note of their thickness and the quality of their stitching. A quality pair of leather gloves lasts a long time. They are easy to repair as well. Unfortunately, however, leather gloves shrink when wet and they puncture more easily if the weather is hot.
Synthetic Fabric
The other option for bike riding glove material comes in the form of modern synthetic fabrics such as ballistic nylon and Kevlar. Again, all major motorcycle glove brands offer these synthetic fabrics, sometimes combining them with leather to create a dual look and benefit. Gloves made of synthetic fabric, however, are much more expensive than leather gloves and harder to repair.
One major benefit of synthetic gloves is that they do not shrink when wet. Synthetic gloves also provide a superior level of comfort and puncture protection as compared to leather gloves. Many of these options also include areas with more breathable fabric or mesh. This addition makes these gloves more comfortable and easier to wear in hot weather.
How to Buy Bike Riding Gloves on eBay
Using eBay to buy bike riding gloves saves riders time and money. In addition to featuring daily deals, the millions of international sellers on the site provide a wide variety of bike riding gloves to meet every need and desire. Simply use the search box from any page and type in your desired gloves, such as "Kevlar gloves".
The utility and protection provided by motorcycle gloves is hard to deny. They offer riders a sense of security when it comes to protecting their hands as well as greater comfort in certain riding conditions. However, when buying bike riding gloves it is important to consider more than personal needs but also style and material. In addition, consider the benefits of shopping for and evaluating individual choices through eBay.