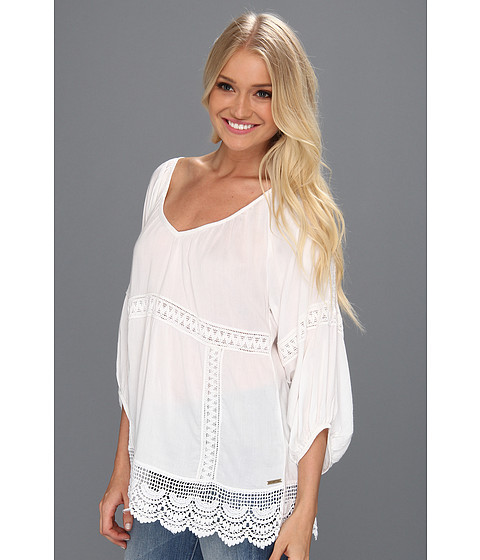 The Billabong brand is popular around the world for their fashionable line of clothing as well as their skateboard products. The apparel is casual with a simulated grunge style. There are Billabong tops for both men and women, as well as other items that can go along with the tops, like trousers and accessories. They key to finding a stylish top is figuring out what people need and what kinds of tops are available. Shopping for clothing can be fun as long as people do not end up overwhelmed by the many options available. Once people know what they want, it is easy to find great sales and deals online.
How to Find the Right Size
Every clothing manufacturer is slightly different in their sizing methods. Before ordering it is a good idea for both men and women to prepare by knowing their current size. Those who already have Billabong tops that still fit can just check the sizing on those. People who do not have Billabong tops can simply measure themselves and then refer to the following charts.
| | | | | | |
| --- | --- | --- | --- | --- | --- |
| Women's Size | XS (in) | SM (in) | MD (in) | LG (in) | XL (in) |
| | 31 | 32.5 | 34.5 | 36.5 | 38 |
| Sleeve Length | 30.75 | 31.5 | 32.5 | 33.5 | 34.25 |
Men have to get their neck measurement if they want to purchase a dress shirt with a collar. To do this, wrap a flexible measuring tape around the thickest part of the neck and keep the tape a little loose so that the collar does not end up being too tight.
| | | | | | | |
| --- | --- | --- | --- | --- | --- | --- |
| Men's Size | XS (in) | S (in) | M (in) | L (in) | XL (in) | XXL (in) |
| | 33 - 34 | 36 - 37 | 38 - 39 | 40 - 42 | 43 - 45 | 46 - 47 |
| Neck | 13 - 13.5 | 14 - 14.5 | 15 - 15.5 | 16 - 16.5 | 17 - 17.5 | 18 - 18.5 |
| Waist | 27 - 28 | 29 - 31 | 32 - 34 | 36 - 38 | 40 - 42 | 44 - 46 |
Those who are looking for used clothing should keep in mind that there may have been shrinkage. If the seller is available, ask them if the top has shrunk any.
What Kind of Billabong Tops to Shop for
A person's top is the centrepiece of their entire outfit. When they go out for the day, they should feel great about their attire. Research has shown that people who dress well feel more confident. One of the biggest factors of dressing in an appealing way is to buy clothing that is flattering. Everyone has a different body shape which means that a top that looks great on one person, may not look good on someone else.
Shop by Body Shape
How a top fits makes a big difference in how it looks. The shirt may look great in pictures or on the rack, but its appearance may change completely once it is on a person. The top could be the most attractive garment ever, but not complement a person's body.
Be Careful with Stripes
Stripes add the appearance of weight or take away the appearance of weight. Horizontal stripes make a torso look wider, so any person who wants to trim off their sides should look for a top with vertical lines instead of horizontal ones. However, those with long, slim torsos can make themselves look more proportionate by wearing a top with horizontal stripes.
Be Careful with Prints
Like horizontal stripes, large prints and busy patterns do not have a slimming effect. Patterns tend to draw the eye in and make a torso look larger. Those looking for an eye-catching top that is still flattering should stick with small, fine prints that are not busy or overwhelming. Usually the lighter colours help tone a pattern down.
Choose Colours Carefully
Colours also affect the appearance of a person's body shape.Dark colours are slimming, while light colours do not really add or take away from size. Skinny shoppers should stick with the light colours and bigger people can achieve the look they want with dark colours.
Accentuate Best Features
The shape of the top is an important thing to consider as well. For example, women who want to hide their stomach can shop for a top that flares out under the chest. This draws attention to their chest area and away from their stomach. To hide bulky arms, avoid tank top shirts and go with short or long sleeve shirts.
Choose a Good Length
Tops vary in length. It is important to look for a shirt that is long enough to cover the stomach without reaching down too far. Very few tops are meant to go more than halfway past the buttocks, especially withmen's shirts. Some women's shirts are designed to be longer, but they should only be worn by those tall enough to pull off that look.
How to Buy
Choosing the style and kind of top is the biggest part of the shopping process. Once you have a pretty good idea of what you want, you can start looking for good deals on eBay. Since Billabong makes so many clothing items, it is easy to find exactly what you are looking for. Start by visiting the eBay Deals page to check out the daily sales. If there are no Billabong products there, go to the main site and use the search bar to look for Billabong tops. You can select whether or not you prefer to view new or used items as well as sort the products by their price. Look for eBay's Top-rated Seller to be sure of great service.