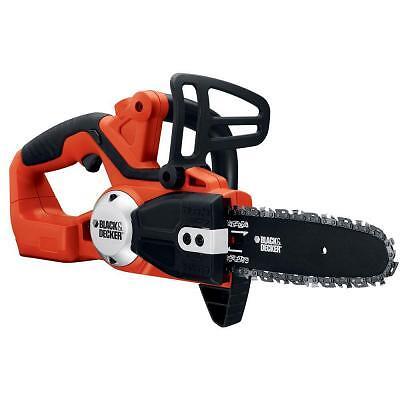 The Black and Decker line of hand and power tools include a number of different items such as drills, saws, screwdrivers, and grinders. Noted for their quality products and affordable prices Black and Decker tools are used by professional tradesmen and home handymen as well. Black and Decker also market a line of outdoor power equipment including blowers, trimmers, and a good selection of chainsaws. Buyers looking to purchase a Black and Decker chainsaw have several options to choose from. Knowing the different types of Black and Decker chainsaw models available can help buyers select the saw that is best designed for their needs. Sellers on eBay offer Black and Decker Chainsaws and replacement chains for a number of different models.
Black and Decker GKC1820L 18v Lithium Chainsaw
The Black and Decker GKC1820L is a battery operated chainsaw that runs on an 18 volt lithium battery. Lithium ion batteries are noted for their ability to provide optimum power for extended periods of time and recharge quickly to be used again. The Black and Decker 18v Lithium Chainsaw comes with a 20 cm chain that provides a 16 cm cutting width, the battery powers the chain at 3.1 meters per second. The chain is auto-oiling and the chain oil tank has a capacity of 25 ml. The 18 volt battery is rated to perform 150 cuts of 3.5 cm per battery charge.
The saw comes with a non slip grip, and safety bar forward of the top grip position, in addition the chain is an anti kickback type of chain. However, the GKC18206 is not equipped with a chain break and is not recommended for heavy duty use. Common uses include cutting small logs, clearing windfalls, cutting firewood and small branch pruning.
Black and Decker GK2240T Chainsaw
For heavier applications Black and Decker offers an electric chainsaw with a 2200 watt high torque motor. The Black and Decker GK2240T is a corded saw that can handle the demands of cutting logs in the range of 30 cm. The 40 cm chain runs at 12.5 meters per second and comes equipped with a dual chain brake system. The GK2240T has an auto-oiling chain with an oil tank capacity of 250 ml to avoid the need to constantly refill the oil tank. At 5.3 kg the saw is a comfortable weight and easy to maneuver. Typical uses would be cutting logs, downing medium trees, pruning larger limbs and clearing tree falls.
Black and Decker's product line includes three other saws that operate with driven chains and are used primarily for pruning smaller limbs and branches. The GK1000, the GKC1000, and the GPC1820L are referred to as loppers and a pruner.
Black and Decker GK1000 Lopper
The GK1000 has an electric driven chain that circulates around a blade in the same manner as a chainsaw. However, the remainder of the saw is quite different than a conventional chainsaw. The Black and Decker GK1000 is a 550 watt Alligator Powered Lopper. The saw gets its name from the lower jaw below the saw blade that clamps the branch or limb against the running blade. Handles on the opposite end of the saw from the jaws and blade are squeezed together to engage the cutting chain with the jaw clamp. With a relatively short bar length of 10 cm, the Lopper is used for pruning small limbs and branches.
Black and Decker GKC1000 Lopper
Virtually identical to the GK1000, the CKC1000 runs on an 18 volt NiCad battery instead of working with a power cord. The same jaw design with the 10 cm chain can perform approximately 150 cuts of 3.5 cm on a single battery charge. The NiCad battery generally takes about 8 hours to fully recharge and is not as efficient at the Lithium Ion battery.
Black and Decker GPC1820L Pruner
The GPC1820L is a pole pruner with a chainsaw blade set on an extendable pole for reaching overhead hanging branches. The chain motor is trigger activated and powered by an 18 volt Lithium Ion battery. The saw cuts approximately 100 3.5 cm branches on a full charge and the pole extends to a total height of between two and three meters. The Black and Decker Pole Pruner weighs a total of 3.7 kg and can begin to wear on arms when working overhead. Users should practice caution to avoid being hit by cut limbs or branches and not to drop the saw during operation.
Buying Black and Decker Chainsaws on eBay
Buyers looking for Black and Decker chainsaws can take advantage of the convenience shopping on eBay provides. Enter Black and Decker chainsaws as keywords into any eBay search bar to display a listing of all matching products. Buy with confidence from eBay sellers, reviewing individual sellers feedback ratings allows buyers to see how the seller handled sales transactions from previous purchasers. Select the chainsaw that fits your needs, complete the purchase on eBay, and fund the transaction using PayPal for the safest and most secure method of transferring money from buyer to seller. Shop from home, get the Black and Decker product you want, and have your chainsaw shipped directly to your door.