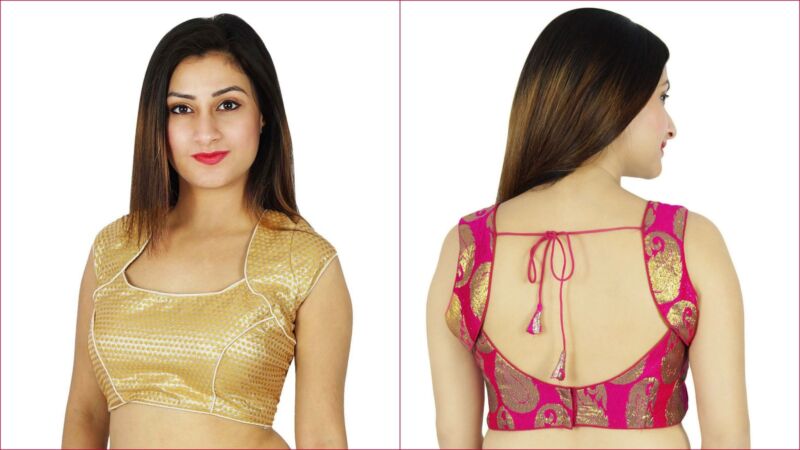 The traditional Indian outfit that makes any woman look extremely gorgeous. To add on to the charm of a saree we have an array of
blouses
that contribute equally to glam up the feminine side of you. It is very much essential to choose the blouse of your body type that would complement your style statement as well as your personality.
If you have a heavy top, try and avoid embellished blouses especially the ones with excessive work on the chest area. Plain blouses carved out of light weight fabrics would suit better. Large prints and deep necklines can get you into awkward positions. Instead bare back blouses would be a better option for you.
If you have a small bust, you obviously need a blouse that would give you an illusion of fuller bust. Therefore, make sure your blouse is well padded and is heavily embellished. Go for halter neck, high neck and collar neck to look stunning. Heavier fabrics such as velvet, tussar silk, brocade etc will complement your appearance.
If you are toned, you would be the last person to be confused about the choice of your blouse. You can wear any pattern ranging from noodle strap to corset style to long sleeves.
It has been observed that women with broad shoulders generally end up choosing a wrong blouse pattern to club with their saree. If you have broad shoulders, focus on highlighting your toned arms. Go for a bare back and opt for broader necklines with short sleeves. This will conceal your shoulders. Thin straps and padded blouses are a big NO for you.
If you have a full body, go for full sleeves or quarter sleeved blouses. This will cover up your arms and shoulders. A bare back will make you look extremely attractive. Try avoiding puffed blouses, noodle straps, halters to hide your flabby arms and yes, go for light fabrics will mild embroidery instead of heavy embellishments.