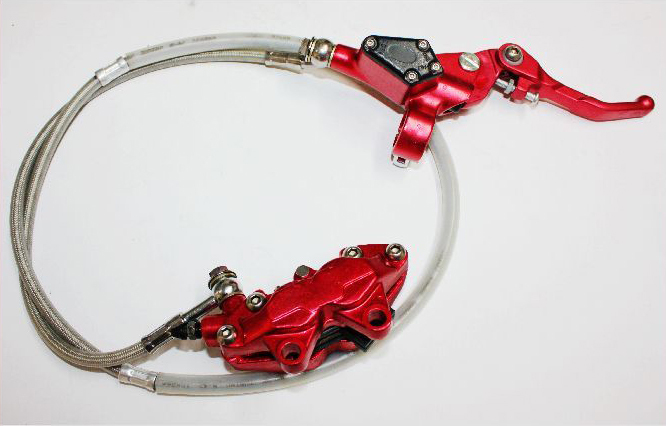 Contemporary trail and dirt bikes utilise hydraulic disc brakes because many bikers consider them the most reliable and powerful braking system. Sports riders should make sure they install a high quality hydraulic front disc brake to assure safety on rough terrains and downhill rides.
Blygo is a popular name in hydraulic disc brakes because they focus on fabricating powerful high-end discs for both leisure and sports riding. Before buyers decide on buying hydraulic front discs for their bikes, they should first understand how the system works, then learn about the different types of hydraulic brake discs, sizes, and materials available. They should also know when it is time to source new discs.
How Hydraulic Brakes Work
Hydraulic brakes are powerful, and operate using a brake lever piston, which pushes fluid to the calliper via the attached hose. At this point, another collection of pistons clamps the brake pads onto the rotor, which causes friction and slows the wheel. Hydraulic disc brakes usually feature dual pistons in the calliper. This applies tension to the rotor from two directions.
Some hydraulic disc brakes use single piston systems, while other models have systems that house up to six pistons. It is always a good idea to upgrade the braking system when necessary. A simple brake upgrade can drastically improve the riding performance. Buyers should never skimp on brakes, as they are an integral part of the bike.
Types of Hydraulic Brakes
The industry separates hydraulic disc brakes by the type of riding applications the disc is intended for, how well they adjust, and the type of hydraulic used. Many manufacturers separate disc brakes into three categories. These are 1) dirt bike disc brakes, 2) trail bike disc brakes, and 3) disc brakes for pit bikes. However, Blygo aims to service all bike types with one set of disc brakes.
Blygo Hydraulic Front Disc Brake Systems
Blygo hydraulic front disc brakes are a full braking system with master cylinder and brake pads. They are suitable for trail bikes, dirt bikes, and Thumpstar pit bikes. Blygo hydraulic front disc brake callipers fit bikes with 150cc, 140cc, 125cc, and 110cc engines. The brake pads also come with high compression hydraulic cables. The hydraulic cable length and the distance between the mount holes vary from system to system, but generally range about 1000 mm to 1100 mm for cable length, and 40 mm to 52mm for mount hole distance.
Sizes
Disc brake systems utilise rotors or discs. The bigger the rotor, the faster it sheds heat, and the more stopping power it has. However, larger rotors also tend to be heavier. Blygo mostly uses 190 mm, 200 mm, and 210 mm rotors for its disc brake systems. The thickness, diameter of cross mounting hole, and diameter of centre hole vary per rotor, even if the diameter of the discs is constant. In addition, when riders change their rotors, they must be aware that different rotor sizes utilise different brake adapters. The adapters mount between the calliper of the disc brakes and the frame.
Materials
Manufacturers use various materials to construct their hydraulic brakes use, but the main material is aluminium. Aluminium is extremely lightweight yet durable, which makes it a perfect material for use as the primary material in many braking parts. Aluminium or magnesium is the metal of choice for the brake lever/handle, lever body, and calliper. The lever blade uses aluminium or carbon fibre, and rotor uses steel for strength and reliability. However, the spiders on the rotor may use aluminium.
When to Get New Rotors
Riders should inspect their rotors or discs regularly. Cracked or warped rotors can result in brake failures. They need not always be 100 per cent, especially after a few months of heavy use, but if the wheel starts to wobble excessively, or the rotors are cracked, it is time to replace to replace them. Loss in braking power can also result from dirt on a disc, so riders should clean then from time to time with alcohol or specialised cleansers.
Blygo Hydraulic Front Disc Buying Prerequisite
Before buyers start shopping for Blygo Hydraulic disc brakes , they should consider whether they need a complete braking system or just the rotor. Determining this helps buyers formulate a budget and a shopping preference, which saves a lot of time. Buyers who only need a rotor should figure out which rotor diameter they require. The overall aim should be to find a hydraulic braking system that is relatively lightweight, but which delivers high performance stopping power.
How to Buy Blygo Hydraulic Front Discs on eBay
There is actually a dedicated Blygo eBay store, but instead of spending time to search for that particular storefront, you can simply perform a search for Blygo hydraulic front discs from the search bar on any eBay web page. When the search results return, you can browse through the selection to find what you are looking for.
If the selection seems too extensive, you can engage some of the filters to narrow down the results, or you can simply refine your search term. For instance, you can add the size disc that you need to the previous search term. Therefore, your search phrase would now read " Blygo 190mm hydraulic brake disc".
After you find the item or items that you are searching for, you can go directly to the checkout, or you may contact the seller first, if you require further information. Buying parts online is not always easy, but eBay is a good place to find great deals on Blygo hydraulic front disc brake parts, and you can easily manipulate eBay's website to find a selection of the items you need.