"HELP! I seriously want a belly bar (tongue bar, nipple piercing etc...) but can't wear metals ... what can I do?"
This is a question often asked of LG's (Lindy's Goodies) staff. What can a buyer wear when they have an allergy to metal?
Well Lindy knows this sad situation only too well ... Lindy can only wear solid gold ... or the wonderful new range of Flexi body jewellery.
LG's have these items available for piercings of eyebrow, tongue, belly, nipple (bars only) and are available as straight bars, curved, captives, circular, monroes, nose etc.
Just a few examples of what's available - more instore!
Great Flexi belly bars for everyday wear.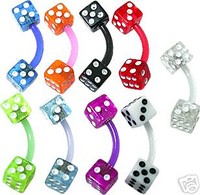 Flexi Eyebrow bars - available also without dice ends, in a wide range of acrylic balls, or silver cones ...
Flexi tongue bars - can also be used for Nipples ...
Flexi body jewellery can even be used for fresh piercings. Lindy's own experience is with a freshly pierced monroe which caused a huge gland infection in the throat with pain radiating to the ear. The doctor prescribed antibiotics and suggested removing the new piercing. Lindy changed the piercing over straight away to a flexi monroe with the swollen gland and associated pain greatly improved within 24 hours (not a result of the antibiotics - only 1 had been taken!). (This is in no way suggested as a treatment for everyone - simply a comment on a personal experience.)
Do consider the alternative to 316L surgical steel - you'll be thrilled with the results!
This Guide has been written with the best of intentions for those who avail themselves of our information. It is not intended to offer ALL available situations/options/responses etc. but we feel it's a 'good beginning'.
Take care and have fun eBaying. Oh! If you think this Guide may be of interest to someone else you know, please ask them to have a read and perhaps show us what you think, by reviewing it for us?
Many thanks,
Lindy's Goodies