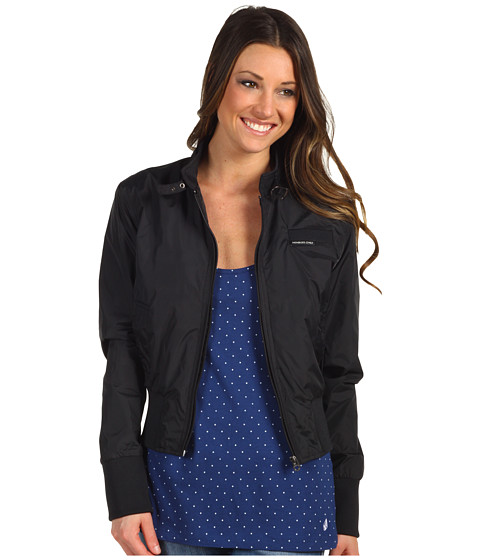 A bomber jacket is a style of jacket most commonly worn by men. They have grown in popularity due to their flexibility to suit a wide range of looks. Many social groups have adopted the bomber jacket to suit their style, whilst newer, sleeker leather versions have made them fashionable in some quarters.
Before making a purchase then consider shopping on auction website eBay to find men's jackets at the best possible prices. As it is individuals who list their items on the site, a profit-orientated company does not regulate them; this means many of the bomber jackets found will be less expensive than on the high street or other online retailers.
What Is a Bomber Jacket?
A bomber jacket is classed as a generally short type of jacket, finishing at the waist with an elasticised band. Because of the narrow finish at the bottom, the jacket traditionally was slightly puffed out from the chest area. They are usually sealed with a zip and have cuffed sleeves.
Contemporary bomber can appear in a more streamlined manner, however, to suit modern style considerations. They can come in various designs, with different materials and colour schemes used.
History of the Bomber Jacket
The bomber jacket is also known as the flight or bombardier jacket because of its association with pilots during the 20th century. It first came to prominence throughout the First World War where some planes did not incorporate an enclosed cockpit. In response to this, armies sought to create a jacket that could keep the pilots comfortable.
Leather was used as the main jacket material due to its toughness, with high collars and fur lining to provide extra warmth. As the Second World War commenced, the design of the bomber jacket improved to help keep pilots extra warm in sub-freezing temperatures. The classic sheepskin version was developed during this era.
As time progressed towards the modern day, bomber jackets gained popularity with various social groups, notably skinheads throughout the 1980s. The jacket's shape can flatter a number of styles, however, which has seen them remain in favour with consumers.
Different Styles of Bomber Jacket
This section will look at the different styles in that a bomber jacket can be produced.
Material
Men's jackets can be manufactured in different materials, resulting in various appearances and feel of the garment. The most common is leather, the traditional and recognisable type of bomber jacket.
High-quality leather used on a slim-line jacket can create a stylish look. Other materials that are regularly used include nylon and polyester, as they provide a more lightweight feel. Wool and fleece lining can help provide warmth when the jacket is worn also.
Design
There is a varying degree to the style of bomber jackets on the market. Their length will all come down to the waist area, but other features can help distinguish them. The position and amount of pockets is one aspect to look at; some may have them integrated into the chest area of the jacket, whilst others will simply be in the traditional area.
Look out also for the fastening method. Zips are predominantly used in the centre of the jacket, although buttons are occasionally included as well. In addition, contemporary bomber jackets can come with hoods attached that can come in handy during any unexpected rainfall.
Colour
There are no restrictions placed on the colour that the jacket needs to be, although blacks and browns are most common due to the popularity of leather in their manufacture. Blue bomber jackets can also regularly be found, along with yellows, greens and reds if trying something less traditional is preferred.
Brand
Some buyers will feel more comfortable wearing established brands. Some famous manufacturers such as Ben Sherman, Timberland, and Armani all produce bomber jackets to a high quality. Other names include Dickies, Regatta, and Walls. They will differ in their design, meaning that a wider range of personal preferences can be catered for.
Buying Considerations for Men's Bomber Jackets
Before parting with money online for a bomber jacket, think about some basic aspects that can be the difference between a successful purchase and an inadequate. The table below will look at some of these in further detail:
| | |
| --- | --- |
| Buying Consideration | What to Consider? |
| Size | Getting the size of the jacket correct is imperative, as online shopping means the jacket can't be tried on first-hand. Most sellers will list it in simple terms, from extra small through to large, and sometimes as far as extra, extra large. If there are any specific size dimensions listed then review these closely, using a tape measure to take personal measurements if possible. |
| Price | Setting a budget for the jacket is recommended, so excessive spending can be avoided. The cost of bomber jackets will vary depending on the quality of the materials used and design. Brand names will also generally be priced higher also. However, some can be found for reasonable amounts as little as $30 or below. For those with no real money issues, some versions can stretch up to over $1000. |
| Condition | When shopping on eBay, the chance presents itself to buy jackets that have previously been worn by the seller. If this isn't an issue then some good deals can be found, as they will generally be less expensive. However, look for any deterioration in the item such as scratches, stains or tears that obviously affect its quality. |
Buying Bomber Jackets from eBay
Evaluate some of the different jackets on the market from various sources, even popping into designer shops on the high street if convenient. This will present a better idea of the range of styles of bomber jacket and also how much to be paying approximately. Check out eBay before any final decision is made, however, in the hope of finding one at a reduced rate.
To make a search on the site, visit the home page and then find the 'Men's Clothing' link within the 'Fashion' section. Select the 'Coats, Jackets' category from the left hand side of the page and then use the keyword search bar to bring up relevant listings. For example, type in 'bomber jacket', or something more specific like 'black leather bomber jacket'.
To reduce the number of results to something more desirable, use the refinements menu to distinguish between the preferred size, brand, and colour of the jacket. A specific price range can also be selected, instantly ridding the search of those out of the set budget if needed.
If interested in the way shopping on eBay can save money, as noted before, pre-owned jackets can be selected. Think about 'Auction' items instead of 'Buy It Now' ones too. Another way is to visit the 'eBay Deals' page, and the 'Jackets & Coats' section of the 'Men's Clothing' category.
Conclusion
Although historically associated with the pilots involved in the two World Wars of the 20th century, modern versions of bomber jackets are still worn today due to their ability to go well with any particular style.
eBay has plenty of designs of jacket listed on its website, from a variety of sellers. When using the site, secure the purchase by reviewing the description of the jacket as closely as possible. Using PayPal is the safest method of transferring money online, so look out for sellers who accept this.