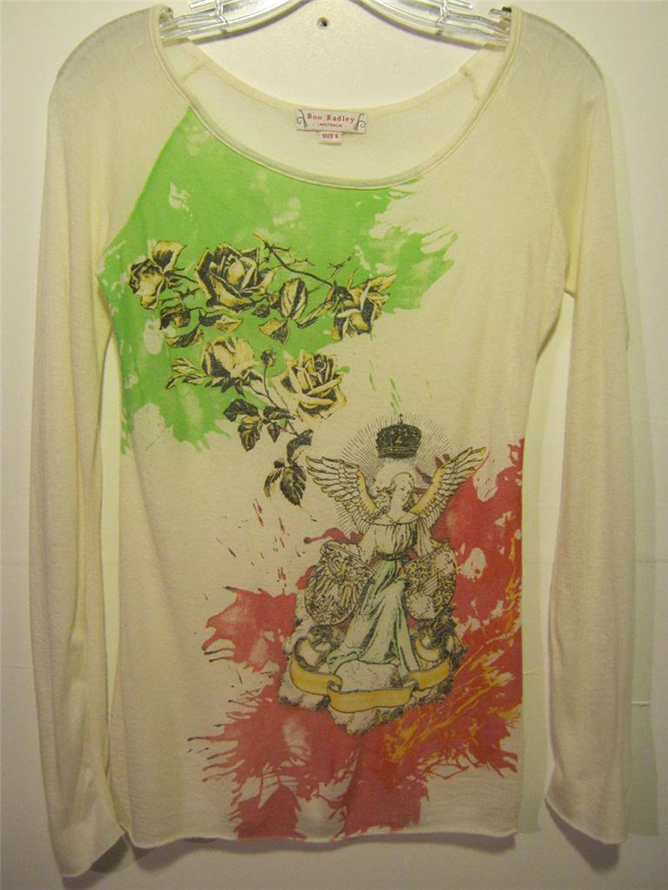 Offering a variety of unique designs inspired by international fashion, the Boo Radley line gives shoppers access to a combination of cutting-edge and high-end styles mixed with casual wear. Boo Radley offers a wide range of tops and blouses, in a variety of styles, colours, and materials. When comparing tops and blouses, shoppers need to know which size they wear, the material and colour they desire, and what they can afford according to their budget. They should also pay close attention to the item condition. Shoppers can find a wide selection of Boo Radley tops and blouses at clothing shops, department stores, and for sale on eBay.
What to Look for When Buying Boo Radley Tops and Blouses
While shopping for Boo Radley tops and blouses, clothing buyers should keep a few factors in mind. The sections below provide more information on these important factors, including clothing material, colour, size, condition, and cost.
Boo Radley Top and Blouse Materials
Boo Radley tops and blouses come in a wide variety of materials, mostly geared toward a specific look or season. Some of the more common material types include cotton , polyester, lace, silk , and other popular material types. Shoppers should buy the materials that best fit the look that they want to accomplish or that complement the outfits they currently own.
Boo Radley Top and Blouse Colours
Material colour also plays an important part in choosing the right tops and blouses for the looks that shoppers want to achieve. These can include more natural colours, such as black , white, beige, and grey . Additionally, shoppers can find a wide variety of more colourful materials, including blue, purple, red, and oranges , as well as multi-coloured garments.
Boo Radley Top and Blouse Size
Measuring for proper top and blouse size represents an important step in the purchasing process. To properly measure for size, shoppers need a flexible tape measure and the help of a friend or family member, if possible. The following details the proper way to measure for top and blouse size.
Measuring for Top and Blouse Size
To measure waist size, shoppers need to determine where their natural waist lies. They can do this by bending to the side, and where the body creases, is the natural waist. They should then measure around the body at the natural waist, placing two fingers between the tape measure and the wearer's body. Where the tape meets represents the correct waist size. For proper bust size, shoppers should measure around the fullest part of the bust, going underneath the armpits while doing so, and placing two fingers in between the tape and body. Where the tape meets is the correct bust size. Shoppers can then compare the measurements they receive to the chart below to find their correct size.
U.K.
Size

Size

Bust (cm)

Waist (cm)

XS

78.5

60.5

8

S

81

63

10

S

86

68

12

M

91

73

14

M

96

78

16

L

101

83

18

L

108.5

90.5
Shoppers should also consider wearing the undergarments they plan on wearing with the top or blouse. This should give shoppers a better fit while measuring for size.
Boo Radley Top and Blouse Cost and Condition
Before buying Boo Radley tops or blouses, shoppers should determine the condition of the item in which they have an interest. This includes examining any photos that sellers provide and asking sellers any questions they may have before making a purchase. Another way to determine top and blouse condition when buying on eBay includes looking for such designations as new with tags , new without tags, or pre-owned . By buying pre-owned and new without tags items, shoppers can save money, which is an important consideration when shopping on a budget.
Find Tops and Blouses on eBay Deals
Another way to save money while shopping includes searching through the products on eBay Deals, which offers daily deals on many items that shoppers seek. Those looking for deals on women's clothing should check back at eBay Deals on a constant basis.
Styles of Blouses
In addition to the different colours and materials available, shoppers have to keep in mind the various blouse styles. The following table includes details about some of the different blouse styles available.
Blouse Type

Description

Most popular blouse type available

Featuring a refined collar, this provides a more refined option

Works with both business and casual attire

Offers a more casual style for work and play

Comes in both collared and uncollared styles

Provides a cooler clothing option during the warm summer months

Fits all body types

Overlaps the bottom material

Ties at the back or side, creating a flattering waistline

Based on European clothing designs

Modern style options vary widely

Some common features include embroidery and beads
Shoppers need to keep the rest of their wardrobe in mind while shopping for tops and blouses. They should consider buying additional items of clothing if the blouse or top they desire does not match the garments they currently wear.
Buying Boo Radley Tops and Blouses on eBay
While shopping for Boo Radley tops and blouses on eBay, shoppers should determine exactly what they want in a top or blouse before entering keywords into the search bar. The filters that are available allow top and blouse buyers to select items based on their material, colour, and condition, among other criteria. While shopping, clothing buyers should look for top sellers, most who may offer free shipping on their items. If they have any questions, shoppers should use the Ask a Question link found on each listing page. Clothing shoppers can find an extensive selection of Boo Radley tops and blouses while shopping on eBay.