Good Books are Better.
Books can be a joy or fire fodder - condition is usually the difference. If you want to buy,sell or just collect books, here are some tips about what's important and what isn't, when talking about books.
Condition.
It is important to notice internal damage such as water stains, repaired tears or rips, children's crayon or ink and pencil underscoring.
If a seller avoids telling you about internal condition, avoid buying it.
If the book has presentation writing/label on the front pages or titles it should be noted, particularly if the author has signed the book as a presentation copy - be careful of celebrity author signings, they could be fakes.
Sellers need to investigate before claiming authenticity.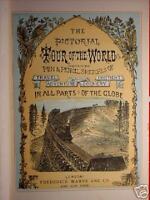 Unusual example of a 19th Century lithograph illustrated title page which should be described and photographed as part of a listing.
Grades of Condition.
Mint or near Mint. Virtually as printed. Rarely offered.
Fine and very fine: Show very little use to pages, covers or dustwrapper.
Very Good and Good: These are what most books are, and should be applied to books in clean, complete and sound second-hand condition.
Poor or Working Copy: May apply to books with obvious cover or text page problems such as being disbound (text pages separated from covers) or scarce reference books suffering major problems, but still of some use.
Value.
As a general rule, scarce books even if listed cheaply will usually find a level close to their real value. But remember, for every scarce title there's a million common books out there. Sellers make use of on-line book listing sites, such as Abe to get a handle on book values - the biggest mistake is to over value the item and overprice the listing with a negative result.
Posting.
Giving good service is to list various postage options for potential overseas and local buyers.
Air mail, economy air or surface mail, with insurance options.
Surface mail to Europe is not to be recommended, as it can involve 3 months or more transit time and buyers understandably, get nervous about the potential loss of their item.
It is useful to include the weight of the book (and its size) in the description.
Packing. Look up entries in the eBay Community Notice Board for good tips on packing books and saving money on postage.
Refunds.
Sellers should offer money back guarantees for items sold - it increases credibility and standing and is plainly just good business.
If a buyer pays too much for postage, some effort should be made to either enclose a money refund or if local, send some postage stamps to refund small amounts.
Payment.
To get prompt, secure payment it makes sense to use Paypal or Bank Deposit, Often overseas buyers will pay for an item within 10 minutes of purchase when they use Paypal (this is an obvious result of clear postage options being given by the seller)
For reasons of time and space some subjects have simply been touched upon, but I hope what I have written will in some way assist book buyers and sellers.