Books are Good.
The buying and selling market for books on Ebay has never been better. Prices and availability of mid-range and scarce books are increasing, but,
Nothing raises the blood pressure more than seeing a book item with a description like, 'what you see is what you get.'
Unfortunately, what you see isn't always what you get.
As a professional book dealer, I'd like to help buyers and sellers cut through the hype and misinformation and finish with a better result all round. Better buyer satisfaction, better sales for sellers.
At the hub lies description - many Ebayers have trouble with jargon and lose interest when a seller fails to deliver on description, or buyers are disappointed when the book finally arrives. Here are some tips:
Good for it's age. Buyers should avoid books described thus. It usually means the item has damage, stains, missing pages or worse. Huge numbers of books published up to 200 years ago exist today in near Mint condition - is this book similar? Faults and good points need to be described and expected.
Missing pages or plates. How many sellers inspect their book to see if it's complete or undamaged? Why wait for a disappointed buyer to make a complaint or send an abusive email?
Descriptions & Book Jargon.
Is it hardback or softcover?
More importantly, does it have a dustwrapper (dustjacket)?
If it has, describe fully, including whether the price on the inside flap has been clipped off or is intact.
Buyers should beware of fake or reproduced dustwrappers.
Buyers need to know if the book's cover is damaged or stained, corners bumped and if the spine is intact.
What is the year of publication. This is usually found on the title page, or after.
First editions can be valuable. If it's not a first edition, buyers need to know the reprint date etc. In recent years it has become difficult to discover if a modern book is a true first edition. A book may have been printed (first impression) in a certain year and reprinted the same year, without that being indicated. I can't deal with this complication in this guide and sellers should do some research on this subject.
Finally, is the book illustrated with photos, maps, tables etc? Check against the index for missing items. List any omissions.
Glossary of Terms.
H/B: Hardback book, usually cloth or leather over boards.
P/B: Paperback. Usually card or paper wrappers.
D/W: Dustwrapper (or dustjacket),illustrated paper cover.
Frontis: Picture or engraved plate adjacent to title page.
Pages: Pp's with number (e.g. pp.150),book has 150 pages
Roman numerals are used (e.g. xi) to list preface/preliminary pages.
Facsimile: Exact reproduction of original text/pictures.
Book sizes: Usually only used by specialist Antiquarian booksellers to describe size of book. Folio, Elephant Folio, demy-Octavo, Quarto etc. Terms not usually used on Ebay.
Foxing: Small rust coloured fungus spots sometimes found on page edges or text, sometimes also found on old prints.
Slipcase: Cardboard case enclosing and protecting the book.
Miniature: Any book under 3 inches in height.
Photographs.
Try to make the best use of them. Digital cameras are cheap.
Get the spine and cover in one photo. If the cover's fine take a photo of the title page - an extra photo might make the sale, or prompt a hesitant buyers interest.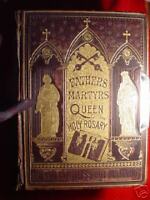 19thCentury Full Leather hand-tooled gilt blocked cover. Despite it's attractive appearance, there is a small split between the spine and cover which should be described.
For reasons of time and space, some subjects have only been touched upon and I hope to deal with other subjects in future guides.I hope what I have written will in some way assist book buyers and sellers.