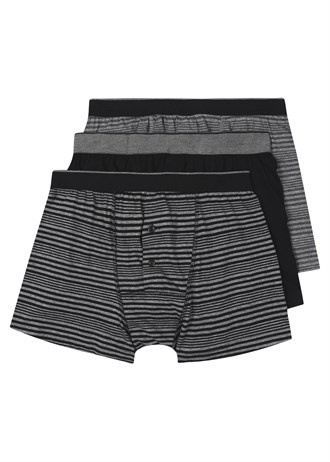 While some women feel that choosing underwear is far too complicated, men can actually find undergarments to be equally vexing. For many men, one eternal fashion question that persistently rears its ugly head is whether to wear boxers or briefs. Both of these forms of underwear offer benefits, leaving men with an endless conundrum when it comes to getting dressed in the morning. When addressing the boxers vs. briefs question, it may be best to focus on a few essentials, including comfort, health, style, and a man's build. Understanding the advantages and disadvantages of each type of garment in these contexts can help clarify a man's choice.
Once he has made a decision, he can also benefit from learning about some of the better retail options for buying either type of underwear. This could include shopping in department stores and men's clothing stores, or online on websites like eBay.
Designs of Boxers and Briefs
As a starting point, it can help that men have a clear idea of the designs used for each of these garments. Having a clear picture of both can help when they are reviewing the advantages and disadvantages of each style.
The Design of Boxers
Boxers are loose-fitting garments that are similar to shorts. They typically have an elastic waistband that fits loosely at the hips, and a front fly, which could have a button or an open-fly design. Boxers fit loosely around the leg and typically descend to somewhere around mid-thigh. Common materials used in boxers include silk, polyester blends, and cotton. Boxers often feature prints and patterns that range from the stylish to the comical.
The Design of Briefs
The design of a pair of briefs is closer to the design of speedo-style swimsuit briefs. It fits closely to the body and does not provide any coverage of the legs. The front of a pair of briefs can feature a smooth design or a fly-style opening. The waistband on briefs is usually a thick, elastic band that fits closely just above the hips.
A popular variation on briefs, the boxer brief, provides a mid-point between the two solutions. Boxer briefs feature the same fit as a classic pair of briefs, but they extend down onto the legs, where they fit closely instead of loosely like boxers. There is also a long leg variety of the boxer brief that goes down almost to the knees. Boxer briefs and classic briefs typically come in flexible cottons or other stretchable materials.
The Advantages and Disadvantages of Boxers and Briefs
Both boxers and briefs offer their own sets of advantages and disadvantages. Weighing all of these issues can help a man zero in on a choice that works best with his lifestyle and tastes.
Sizing
When it comes to sizing, the advantage typically falls to boxers. Given their loose fit and loose waistbands, these garments can fit a wide range of men, even if their exact fit is actually in between sizes. As a close-fitting garment, briefs demand a much more accurate fit, and this leads to many men finding brands they like and sticking with them.
Both boxers and briefs usually fall into alpha size categories, in other words, S for small, M for medium, L for large, and XL for extra large. The following chart lists the typical measurements for men's alpha sizes in Australia. The circumference of the waist in centimetres is the main unit used to reference these sizes.
| | | | | | | | | |
| --- | --- | --- | --- | --- | --- | --- | --- | --- |
| Alpha Size | XXS | XS | S | M | L | XL | XXL | 3XL |
| Waist (cm) | 72 | 77 | 82 | 87 | 92 | 97 | 102 | 107 |
When shopping for either boxers or briefs, men should keep in mind that sizes can vary from one brand to the next. Confirming sizing with a seller can be a good idea during the purchasing process.
Comfort
The difference is split when it comes to comfort and these two options. Boxers clearly deliver the most freedom to men, but this can serve as a disadvantage in some cases, leaving men feeling overexposed. Boxers can also bunch up when they are worn inside slim pants or jeans. Briefs deliver on support and coverage, but they can feel restrictive after a time for some men.
Boxer briefs can help alleviate some of the discomfort of wearing classic briefs since they eliminate the elastic at the top of the thighs that can pinch and chafe, and they provide more room to move in general. Also, both briefs and boxer briefs do not ride up when men wear slim suit pants or jeans.
Style
Briefs, by and large, are viewed as outdated by most men and even by some women. Boxer briefs are a very stylish choice for most men. Boxers can deliver a more attractive look, as well, and they can deliver an especially good look on men with heavier builds. Boxers also extend the benefit of a wide range of colours and styles. Briefs and boxer briefs tend to stick with a narrower range of colours, and they rarely exhibit patterns in adult sizes.
Setting
Many men also like to consider the setting in which they wear underwear when choosing between these two main options. Work and formal situations are best answered, in many cases, by either boxer briefs or briefs, given that they deliver much more coverage and support. Boxers are a better choice when relaxation and comfort are what a man has in mind, and he does not need to prioritise modesty. Boxers also work well in the home since they closely resemble shorts and provide sufficient coverage for a home setting.
Buying Briefs and Boxers on eBay
eBay is a great resource for anyone in the market for men's underwear. The eBay site offers a large catalogue of options, thanks to the fact that it works as an aggregator of multiple vendors. When you first visit the site, you can start looking through this catalogue by using the search interface that is available on any page. Use a general term, such as 'boxer shorts' or 'briefs' to see the entire range of options in each category. You can also narrow your search by adding colours or materials to your keyword search term. Special eBay deals can be found on men's underwear, as well.
Communicating with Sellers on eBay
This site also extends the advantage of a communication interface with sellers. You can use it to ask about particular issues concerning the men's underwear offered by a vendor, such as questions about fit and sizing. It is also a good idea to use this communication along with the feedback on a seller's page to determine whether or not a vendor is likely to provide the briefs, boxer briefs, or boxers you need.
Conclusion
The age old question of whether to wear boxers or briefs does not need to be a huge issue for a man. Men who are in the market for underwear solutions just need to take the time to consider certain personal issues of taste and comfort in conjunction with when and where they intend to wear the underwear. It is not uncommon for a man to have more than one style in his underwear drawer for different purposes. A great pair of boxer briefs can provide an ideal compromise between boxers and briefs, as well.
Once a decision has been made, men can take advantage of a site such as eBay to shop through a variety of styles, colours, and prints in the different categories. With its search interface and communication tools, a retail option like this gives men a fast and convenient way to find their ideal solutions to the boxers vs. briefs conundrum. Men's clothing stores and department stores carry a selection of men's underwear, as well.
Boxer|Brief|Boxer Brief|Boxer Short|Men's Underwear